Welcome to World Class: Raphael Varane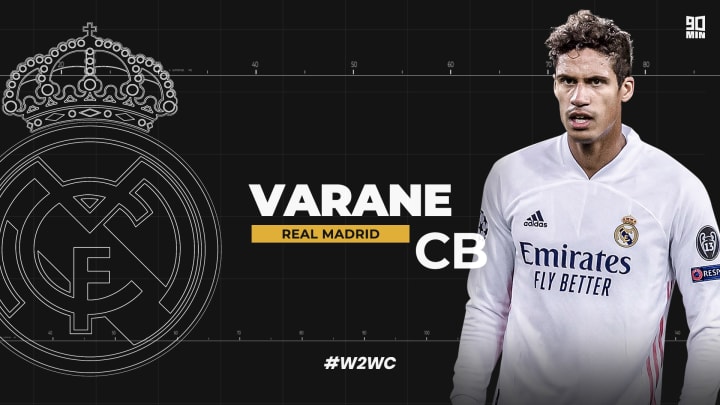 Raphael Varane is one of the most decorated players in the game today / Matthew Burt/90min
Raphael Varane finished seventh in the final Ballon d'Or standings in 2018. Mohamed Salah, Lionel Messi, Kylian Mbape, Antoine Griezmann, Cristiano Ronaldo and winner Luka Modric all received more points in the vote. Yet none could match Varane for trophies that year.
Of all the stellar names in contention, Varane was the only who had won both the Champions League and the World Cup in those 12 months. Everyone else had won one at best, or neither.
Varane played every minute of the 2018 World Cup / FRANCK FIFE/Getty Images
There was a genuine argument to suggest that he should have been the first defender since Fabio Cannavaro in 2006 to win the individual global honour in recognition of his achievements – and only the third defensive player since Franz Beckenbauer in 1976.
2018 was the pinnacle for Varane. He was still just 25 when he won his fourth Champions League title for Real Madrid, adding the World Cup with France two months later.
He played in three of the four European finals for Real, missing out only in 2016 because of injury. He was also ruled out of Euro 2016 that summer and his absence likely contributed to why France fell at the final hurdle and were beaten in the final on home soil by Portugal.
Even now, Varane is only 27 and has several years at the top still left ahead of him. By this age, he has already achieved far more than most of his peers could even hope to in a whole career.
Varane has won the Champions League four times / Chris Brunskill Ltd/Getty Images
He isn't as widely celebrated as the likes of Virgil van Dijk or long-time club-mate Sergio Ramos and is happy to retreat from the spotlight – his 2015 wedding was a low-key affair. But former Real coach Jose Mourinho was prepared to label him the best defender in the world as early as 2014.
Around the same time, Los Blancos legend Fernando Hierro, a player to whom Varane has been compared in style, said similar, specifically commenting back then that, as a 20-year-old, he already had the 'maturity of somebody who has been playing for 20 years.'
According to France assistant coach Guy Stephan in 2018, Varane is 'not afraid to fail', will always look forward, giving him an ability to put mistakes behind him, and 'never loses his composure'.
The centre-back has had a wobble in form in 2020, but his class is permanent and Real coach Zinedine Zidane, whose influence had been huge in taking Varane to Madrid in 2011, declared in November that he is, "Non-transferable for the club. That's clear and unambiguous."
Varane told AS in 2017 the impact Zidane has had on shaping him: "He has invested a lot in me. In my attitude, my play, in the risks that I take. He is someone who doesn't let me stay in my comfort zone."
Varane is grateful to Zidane for the impact on his career / ANP Sport/Getty Images
Varane has grown up at Real Madrid, thrust into the spotlight at 18 after only 24 senior appearances for Lens and has never looked out of place in such a pressurised setting. Few others are subject to kind of intense scrutiny so young, with defenders in particular often working their way up. Yet it is the maturity that Hierro touched on which has underpinned his time at the top.
He has clearly understood from the early days of his senior career the sacrifice it takes to become one of the world's best, adapting his off-field lifestyle to ensure he could deliver on his potential.
"I told myself that I couldn't go to the cinema at eight in the evening anymore," Varane recalled in a 2019 interview with Marca, reflecting on the decisions he made when he joined Real. "When I arrived at the airport and saw so many journalists, I knew that Madrid was something else."
What make him world class is his consistency over several years at the highest level and winning the biggest trophies that club and international football have to offer.
Varane may have struggled with injuries at times, but he played every minute for France at the 2018 World Cup, including the group stage dead rubber against Denmark when there were wholesale changes. Coach Didier Deschamps saw fit to hand him the captain's armband that day.
He has been there for the biggest moments, more so than players like Kalidou Koulibaly, Aymeric Laporte or Harry Maguire, who haven't played in major finals, or like Mats Hummels and Gerard Pique, whose respective peaks and best successes are now several years behind them.
Varane has already won it all and, whether it be with Real or testing himself somewhere new in the future, he still has plenty of time to do it all over again.
---
For more from Jamie Spencer, follow him on Twitter and Facebook!