Welcome to World Class: The Shortlist - Centre-Backs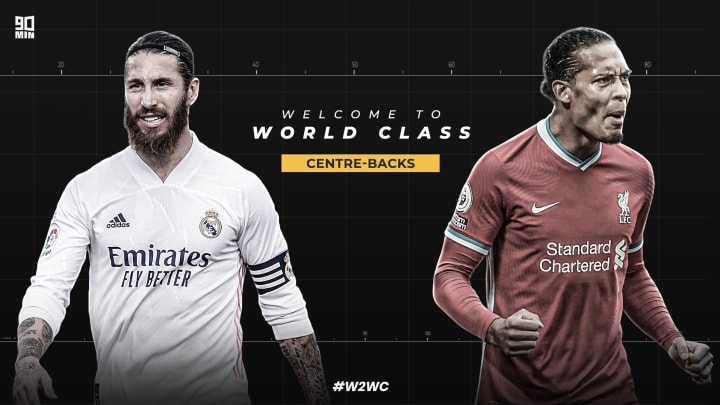 At the heart of any great football team is often a top drawer centre-back.
A player who is able to provide structure, shape and solidity to the rest of the team, as well as a calming and authoritative reassurance.
But to be defined as world class, said player really does need to be a cut above. Often those individuals are the difference between success and second best, while a defence without a player of this calibre will often lack leadership, cohesion and quality.
Over the next month, 90min is running a series to find the five world class players in every position in the game today - and with the goalkeeper shortlist already revealed, it's time to focus on centre-backs, all based on a scoring metric which you can read all about by clicking this link.
What you'll see here is a shortlist of 15 of the world's best central defenders, and why they've been included in the running to be told 'Welcome to World Class'.
David Alaba
Club: Bayern Munich
Country: Austria
David Alaba hasn't always been a centre-back and has easily been among the world's best left-backs and central midfielders at various moments of his glittering career.
But his move into the centre of defence for Bayern Munich has been nothing short of seamless and his skills from mastering other positions have actually served to make him a better centre-back.
Ruben Dias
Club: Manchester City
Country: Portugal
Manchester City saw enough in Ruben Dias to agree a deal worth in excess of £60m for the rising Portugal star, who had been schooled at Benfica for 12 years.
He only turned 23 in 2020 and has enormous long-term potential, but is already regarded as an all-round modern centre-back that makes him a perfect fit for the Pep Guardiola model.
Matthijs de Ligt
Club: Juventus
Country: Netherlands
Matthijs de Ligt made history in 2018 when he became the first defender to win the Golden Boy award. He first played senior international football at 17 and was captaining Ajax to the Champions League semi-finals at 19.
Still only 21 even now, he has gone from strength to strength at Juventus and still has a decade or more at the top yet to come.
Stefan de Vrij
Club: Inter
Country: Netherlands
Stefan de Vrij made his name internationally as part of the Netherlands side that finished third at the 2014 World Cup. He secured a move to Lazio soon afterwards and has spent his time in Italy, which saw him move on to Inter in 2018, continue to develop and take his game to new heights.
His ability to pass the ball out from the back is one of his best traits.
Jose Gimenez
Club: Atletico Madrid
Country: Uruguay
Atletico Madrid coach Diego Simeone has been polishing and moulding Jose Gimenez since the age of 18, when the raw defender was plucked from his native Uruguay.
He is known for his uncompromising and tough style of play, a trait no doubt further developed by working under Simeone for so long. He also learned off Diego Godin for years, who for years was one of the world's very best.
Mats Hummels
Club: Borussia Dortmund
Country: Germany
Mats Hummels, back in his second spell at Borussia Dortmund after two spells at Bayern Munich in an illustrious career that has spanned a decade at the top level, is elegance personified at the back.
He has been compared to German legend Franz Beckenbauer more than once over the years and has won multiple league titles, as well as the 2014 World Cup.
Kalidou Koulibaly
Club: Napoli
Country: Senegal
Napoli paid hardly anything by elite modern standards for a 23-year-old Kalidou Koulibaly in 2014 and have watched the Senegal international blossom into a mountain-like centre-back of global repute.
He has been wanted for years by Europe's very biggest clubs, but Napoli have always resisted selling because they value him so highly.
Aymeric Laporte
Club: Manchester City
Country: France
Aymeric Laporte's long-term injury in the first half of 2019/20 was largely responsible for derailing Manchester City's Premier League title hopes, proving in his absence how important he has become for one of the best club sides in the world.
Bizarrely, he is still waiting for his first senior France cap, having got injured on the cusp of finally making his debut in 2019.
Harry Maguire
Club: Manchester United
Country: England
Harry Maguire is officially the most expensive defender in history as a result of his £80m transfer to Manchester United in 2019.
The England centre-back was quickly named club captain at Old Trafford and actually enjoyed a perfectly solid debut season, despite the immense pressure and spotlight attached to one of the biggest clubs in the world.
Gerard Pique
Club: Barcelona
Country: Spain (retired)
Gerard Pique is one of only a handful of players in Champions League history to have won the competition in consecutive seasons with different clubs – Manchester United and Barcelona.
He has enjoyed tremendous success since returning to Camp Nou in 2008 and has conquered Spain, Europe and the world with both club and country.
Sergio Ramos
Club: Real Madrid
Country: Spain
Sergio Ramos is the full package when it comes to elite centre-backs. A winner of four Champions League titles, his competitive edge is second to none and he will do whatever it takes to win.
He also scores goals at a stunning rate for a defender, over 125 for club and country, and is in a race to become the first male player to reach 200 senior international caps.
Thiago Silva
Club: Chelsea
Country: Brazil
Even at 36 years of age, Thiago Silva is proving he is far from finished at the highest level.
The veteran Brazilian won eight titles in 11 seasons in Europe with AC Milan and Paris Saint-Germain and has now already helped eliminate Chelsea's great defensive weakness since setting his sights on more success at Stamford Bridge.
Dayot Upamecano
Club: RB Leipzig
Country: France
Dayot Upamecano is the young centre-back that everyone has their eye firmly on in 2020, with the 22-year-old one of the biggest success stories of the Red Bull club model.
He was first scouted by Salzburg at 18 and then passed on to Leipzig a year later – now, it is expected that he will have pick of elite clubs in the summer of 2021 when he moves on.
Virgil van Dijk
Club: Liverpool
Country: Netherlands
Virgil van Dijk completely changed Liverpool's fortunes when he joined them from Southampton in January 2018, proving to be worth every penny of the world record £75m fee.
Within five months he was playing in the Champions League final, within 18 months he had won it and two-and-a-half years into his Anfield career he was a Premier League champion.
Raphael Varane
Club: Real Madrid
Country: France
Raphael Varane has been there and done it all, winning the Champions League on four occasions, three La Liga titles and the World Cup – in 2020 he turned 27.
The Frenchman was the only player on the planet in 2018 that won both the Champions League and the World Cup that year, which should have made him a serious contender for the Ballon d'Or.
For more from Jamie Spencer, follow him on Twitter and Facebook!