Welcome to World Class: Sergio Ramos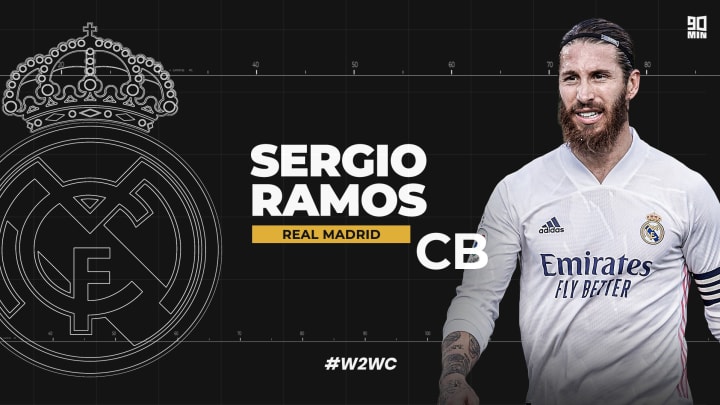 Real Madrid captain Sergio Ramos has been a world class centre-back for many years / Matt Burt/90min
The very best players stand up to be counted in the most important moments. It is what separates them from the rest and what elevates them to world class status.
Sergio Ramos has been ticking that 'clutch' box for most of his career and continues to do so. With longevity and consistency, it has so far delivered him five La Liga titles and four Champions Leagues.
Ramos was won four Champions League titles in his career / VI-Images/Getty Images
Perhaps his single most famous moment came in the 2014 Champions League final that helped bring about the elusive Decima for Real, ending a 12-year wait for the historic milestone.
That the final was against city rivals Atletico in the same year Los Rojiblancos had been newly crowned champions of Spain for the first time since 1996 only added to the occasion. Atletico led for more than half the game after going ahead in the first half and were seconds away from victory.
Ramos, as he has done so often in his career, intervened to change the course of the final. His 93rd bullet header flew into the bottom corner to break Atletico hearts and send the game to extra-time, during which Real went on to comfortably win 4-1.
Ramos scored the key goal in the 2014 Champions League final / Jean Catuffe/Getty Images
"There are defenders with extraordinary technical ability, others have unique defensive qualities – like Cannavaro, brilliant at marking. Others, like Baresi, can command a back line while others influence with strong personalities. But factoring everything together to evaluate a defender then Sergio Ramos is the most complete. He's got a bit of everything: technical ability, strength, personality and leadership."

- Carlo Ancelotti,
In 2016, Ramos was at it again against Atletico in the Champions League final. This time, he scored the opening goal, which was later cancelled out, but also converted in the penalty shootout.
Key goals as well as defending have put him on a pedestal as one of the all-time greats. It is easy to reel off his goal numbers, over 120 for club and country to date, a return that plenty of midfielders and even some forwards would be proud of. But it is so often the nature and timing of his goals. The boost to others that then comes from that impact makes him even more unique.
His Champions League final goals side, Ramos has also scored twice in four minutes in the 2013/14 semi-final second leg against Bayern Munich, irreversibly turning the tie in Real's favour. At the time, it was the fastest brace in Champions League semi-final history.
The first time he reached 10 goals in all competitions in a single season it was a late header to help his team beat Real Betis. Los Blancos went on to win La Liga by just three points from Barcelona and it is those kind of small margins where Ramos has so often made the difference.
In 2019/20, when Real wrestled the Spanish title back from Barcelona, he scored double figures in a league campaign for the first time. His team won nine of the 11 games in which he found the net and picked up 29 points from a possible 33. Without him, it wouldn't have happened.
More specifically, Ramos got four goals in five games in a run towards the end of the campaign that directly drove Real to the title – all four were in the second half of narrow wins.
This is a player who knows no fear and is driven by an unyielding desire to win. Before emerging as a Champions League hero for Real Madrid in the mid-2010s, Ramos scored a Panenka penalty in a Euro 2012 shootout win against Portugal as Spain went on to retain their title – he had previously been part of the sides that won Euro 2008 and the 2010 World Cup, his first taste of real dominance.
What made that moment more remarkably courageous is that Ramos had missed a decisive penalty in a Champions League semi-final shootout against Bayern Munich mere months earlier.
Ramos has never shied away from a challenge / PIERRE-PHILIPPE MARCOU/Getty Images
""I get up every day with the same desire to keep improving which I've had since I was a kid. I'm not looking for recognition. All I want to do every year is do even better, forget what we've won and set new challenges."

- Sergio Ramos
Ramos will never shy away from a challenge and backs himself every time. In his own mind, mistakes earlier in his career were important learning opportunities that have shaped him since.
Asked in 2014 during a FourFourTwo Q&A whether he thinks the world is for the brave, the player responded, "That's what they say. I've never had a problem in that sense. I believe that you learn the most during the bad times and that mistakes make you stronger."
These days, his reputation as a hardened winner comes before him. This was reflected in 2018 when he shook off the claims levelled at him following Real Madrid's victory over Liverpool in another Champions League final, having been accused of deliberately injuring Mohamed Salah, ending his participation, and giving goalkeeper Loris Karius a concussion before his catastrophic mistakes.
Speaking about it soon afterwards, Ramos implied that he would have played on had he been in the same situation as Salah that night, pushing through the pain barrier.
"[Salah] grabs my arm first and I fell to the other side, the injury happened to the other arm and they said that I gave him a judo hold," he commented.
Ramos' reputation as a born winner reached new heights in 2018 / Etsuo Hara/Getty Images
"After, the goalkeeper said that I dazed him with a clash. I am only missing [Roberto] Firmino saying that he got a cold because a drop of my sweat landed on him.
"[Salah] could have played if he got an injection for the second half, I have done it sometimes. But when Ramos does something like this, it sticks a little bit more. I don't know if it's because you're at Madrid for so long and win for so long that people look at it a different way."
The trophies set Ramos apart from most. But the mentality makes him stand alone.
---
For more from Jamie Spencer, follow him on Twitter and Facebook!