10 Years
Why Lionel Messi is the best player of the decade (2011 - 2021)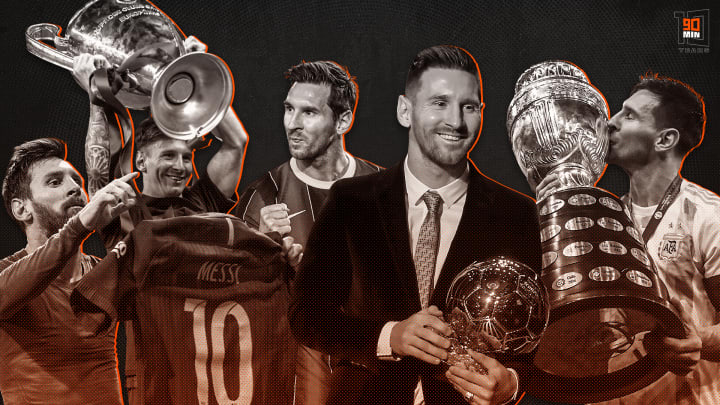 Lionel Messi is the greatest player of the decade / Minute Media
There are so many reasons why Lionel Messi is the player of the last 10 years.
The most obvious metric is that he has been voted the best player in the world four times (2011, 2012, 2015, 2019) in the last 10 years alone, while there has only been one occasion in that period he has finished lower than second. It also took his tally of Ballon d'Or awards to six in total.
Before Messi re-wrote history, the three Ballon d'Or trophies each won by Johan Cruyff, Michel Platini and Marco van Basten were considered incredible achievements. Now, that old record has been completely shattered and no one else is ever likely to get near to breaking it.
An indication of Messi's utterly mind blowing superior quality is that a disappointing season by his standards would still be considered outstanding by anyone else's.
His lowest goal tally in a single season from the last 10 years since 2011 is 31 in all competitions. During that time he has never scored fewer than 25 in a full league campaign.
In the 2011/12 season, Messi found the net a staggering 73 times for Barcelona. Even Cristiano Ronaldo at his absolute peak has never come close to matching that number, while even most world class forwards would struggle to score 73 goals across two seasons.
Messi has never stopped winning trophies or breaking records over the last decade.
He has laid his hands on six La Liga titles during that time, and two Champions League titles. In 2011, his third Champions League triumph overall, he was the talisman and outstanding talent of a Barcelona side widely considered to be the single greatest team in football history.
It takes an almighty talent to stand head and shoulders above players like Xavi and Andres Iniesta, but that was, and is, the level Messi has consistently been at for so long. Ability and outstanding achievements are one thing, but the longevity to repeat and repeat is quite another.
Before Messi, Barcelona's all-time goal record was 232, a mark set by Cesar Rodriguez in the 1950s. Messi was only 24 when he broke in March 2012 and very nearly trebled it to 672 by the time he left Camp Nou for Paris Saint-Germain in the summer of 2021.
At the time he left Barcelona, Messi had also recently gone top of the club's all-time appearance table, on 778. Very few players will play that many games in their career as a whole, never mind for the one of the best clubs in the world. That longevity and consistency is truly remarkable.
He has completely redefined the standards at the highest level of the game.
Even at international level, Messi has shone. He went so close to international glory in 2014, 2015 and 2016 and could have won multiple titles with Argentina but for small margins. But he was still named best player at the 2014 World Cup and finally got his hands on international silverware in 2021 when La Albiceleste at last won the Copa America – he, of course, was instrumental.