The 25 best strikers in world football - ranked
The role of the modern day striker varies hugely depending on team's style of play
Erling Haaland, Harry Kane and Robert Lewandowski among the top performers in world football
25 best players from around the world ranked as part of 90min's Welcome to World Class series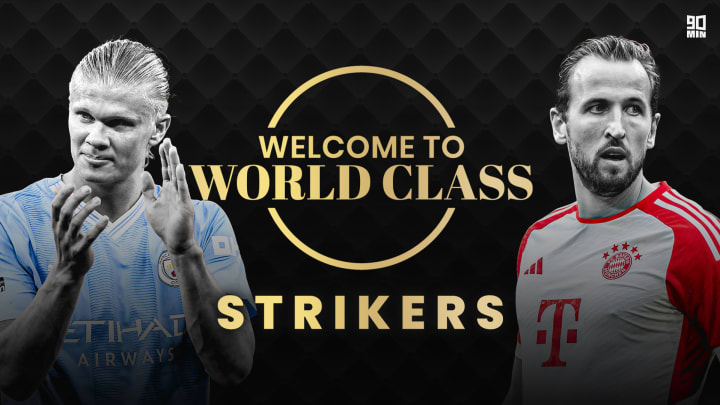 Image by Briony Painter /
You can have the most technical inverted full-back, the most powerful box-to-box midfielder, and the silkiest playmaker in the world, but they're all pretty irrelevant if your side isn't blessed with a player who knows how to put the ball in the back of the net on a regular basis. 
Now, the sport's evolution has facilitated the diversification of goalscoring, and strikers are no longer merely tasked with hitting the target. Still, it's their primary goal (pun very much intended), right? 
However, when assessing the very best strikers in the world, the rate at which they score isn't the be-all and end-all. The development and subsequent complexity of the role mean various factors have to be accounted for.
Here are our top 25 strikers in the world right now as part of our 2023 Welcome to World Class series.
---
WATCH WELCOME TO WORLD CLASS ON 90MIN'S YOUTUBE CHANNEL
Welcome to World Class is back for another series across 90min's Youtube Channel, social media accounts and 90min.com. The guys will be returning through the week as they agree on their 25 man squad and debate the Welcome to World Class XI.
If you can't see the embed, click here to watch the show!
---
25.

Evan Ferguson
Evan is big time / Steve Bardens/GettyImages
Remarkably only 18 years old, Evan Ferguson has made scoring goals in the Premier League look easy in recent months.

His hat trick against a strong Newcastle United side has gotten Brighton and Ireland fans very, very excited about his future.
---
24.

Cristiano Ronaldo
Cristiano Ronaldo is number one in Cristiano Ronaldo's world / FAYEZ NURELDINE/GettyImages
Cristiano Ronaldo, THE Cristiano Ronaldo…at 24! Here come the CR7 stans. 

Ronaldo is one of the greatest footballers of all time, but he's no longer one of the very best in the world. Only the most ardent of Ronaldo supporters would disagree. Signs of the demise were evident during his time at Juventus, but he was still able to score at an alarming rate.

Under Andrea Pirlo, though, while he continued to find the back of the net, some would argue he was more of a hindrance in the progressive system.

He carried the goalscoring load at Manchester United in 2021/22 - impressively scoring 18 times in the Premier League - but he was let go only a few months later and is now plying his trade in Saudi Arabia with Al Nassr.
---
23.

Elye Wahi
Future star / JEAN-CHRISTOPHE VERHAEGEN/GettyImages
Despite being just 20 years old, Elye Wahi has been a consistent goalscorer in Ligue 1 for a number of seasons.

Last campaign's 19 Ligue 1 goals were enough to earn him a £30m move to Lens to play UEFA Champions League football for the first time in his career.
---
22.

Santiago Gimenez
Goalscorer / Soccrates Images/GettyImages
We're in the business of ranking goalscorers on this list, and Santiago Gimenez is certainly a good one.

The Uruguayan has racked up 28 goals for Feyenoord since joining in 2022, and looks set for a big money move very, very soon.
---
21.

Rasmus Hojlund
Big money signing / Michael Steele/GettyImages
Manchester United were so impressed by Rasmus Hojlund's form for Atalanta and Denmark last season that they forked out £72m for his services.

That's a lot of cash and, if you've seen Hojlund play, you'll realise why they paid so much.
---
20.

Alexandre Lacazette
Lacazette's back / Jean Catuffe/GettyImages
Rewind 12 months and this ordering of strikers would have looked utterly bonkers. It's still rather odd to look at but there's at least a reason why we've gone with it.

After looking near enough dead on his feet at Arsenal, Alexandre Lacazette has rolled back the years at Lyon as if he was at...well, Lyon.

Only Kylian Mbappe scored more in Ligue 1 last season. Can't get much better than that.
---
19.

Lois Openda
Openda has impressed / ANP/GettyImages
Lois Openda burst onto the scene during the 2022/23 season by scoring a stunning 22 goals to fire Lens into the UEFA Champions League.

His reward for those goalscoring feats? A big money move to Bundesliga giants RB Leipzig - where he's already scored two goals in three league games.

He's big time.
---
18.

Jonathan David
David is ripping it up in Ligue 1 / Jean Catuffe/GettyImages
Canada international Jonathan David has been a remarkably consistent goalscorer since he made his senior debut with Gent as an 18-year-old.

In his first five full league seasons, David's scoring tallies read 12, 18, 13, 15 and 24. His goals propelled Lille to the Ligue 1 title during his debut season in France, and the form he's displayed for Les Dogues over the past two years has seen him emerge as one of the best strikers in the world. 

David is a versatile forward who crucially excels with both feet. He's arguably better playing off a target man as opposed to leading the line himself, but his multi-faceted skill set means he can perform both roles with aplomb.

A big move beckons.
---
17.

Goncalo Ramos
Portugal's new number nine / Gualter Fatia/GettyImages
Benfica love to sell a rising star for big money and it looks like Goncalo Ramos was the next off the conveyor belt this summer, joining PSG on an initial loan deal.

He stepped into Cristiano Ronaldo's shoes at the 2022 World Cup and stepped up for Portugal.

Expect him to continue his rise to stardom at his new club.
---
16.

Ollie Watkins
Watkins is in-form / Matt McNulty/GettyImages
Ollie Watkins has looked like a natural number nine ever since he took on the role at Brentford, but boy has he hit new heights under Unai Emery.

It felt like the England international was scoring every single week as Aston Villa mounted a successful challenge for a European spot. Can he keep going and lead them to Conference League glory next season?
---
15.

Sebastien Haller
Back in action / Dean Mouhtaropoulos/GettyImages
It takes some physical and mental strength to be able to overcome cancer and then peak again as a striker at the top level.

Hats off to Sebastien Haller for his incredible comeback. A legend in every sense.
---
14.

Darwin Nunez
Finding form / Matt McNulty/GettyImages
The chaotic Uruguayan just makes things happen. His start to life at Liverpool has been a mixed bag to say the least, but he's already shown in the Premier League that he can make plays when the opposition least expects it.

Nunez lacks refinement but the comparisons to Edinson Cavani are valid. The former Benfica star is a physical behemoth whose relentlessness is enough to deter defenders. He runs the channels at will and is a player capable of lifting his side via the energy he emanates both with and without the ball.
---
13.

Dusan Vlahovic
Vlahovic will be a star at Juventus - eventually / Gualter Fatia/GettyImages
Oh, Max Allegri. What are you doing to Dusan Vlahovic?! When Vlahovic arrived at Juventus in January 2022, he was initially regarded as a rebuild-saver in Turin. Juve needed their long-term number nine, and they spent the big bucks to get their man.

And while Vlahovic's goalscoring record at Juventus is decent, it still pales in comparison to his record at Fiorentina.

The young Serbian forward is a physical behemoth who can score an array of goals thanks to his elite ball striking. He's great in the air and good enough technically to retain possession under pressure and bring others into play. 

Vlahovic offers so much, but Allegri's pitiful possession structure means he's so isolated up top and simply doesn't touch the ball enough. We won't see the best of the Serb until the manager leaves town for a second time. 
---
12.

Olivier Giroud
Giroud is still changing games for AC Milan / SOPA Images/GettyImages
The forgotten man in France's 2018 World Cup win, Olivier Giroud is still doing his thing in Serie A.

Often criticised for his lack of pace in the Premier League, Giroud has found a home for himself in the slower, more intricate Italian top flight. The Frenchman led AC Milan to the Scudetto in 2022 and it was his ingenious brace in the Derby della Madonnina that helped turned the tide in the title race.
---
11.

Ivan Toney
Toney is now an established Premier League striker / Mike Hewitt/GettyImages
Ivan Toney plays with a swagger that borders on arrogance, but he's got the ability to back up such confidence. The Brentford striker has enjoyed a steady rise to the top, and he's scored bucket loads at every level he's played at.

The Englishman is technically proficient enough to outwit defenders and strong enough to bully them as well. He'll probably drop down these rankings during his ban, but there's a good chance he'll end the season climbing back up them again.
---
10.

Cody Gakpo
Gakpo is quality / Soccrates Images/GettyImages
Cody Gakpo wasn't meant to be a number nine. He wasn't used to playing as a number nine. It would have been an oversight to play him as a number nine.

And yet Jurgen Klopp persisted and was proven right. The talented Dutchman is the perfect striker for his 4-3-3 system, a modern replacement for Roberto Firmino and someone who fits right in with their philosophy.
---
9.

Alexander Isak
Isak is popular on Tyneside / LINDSEY PARNABY/GettyImages
There were a few eyebrows raised when Newcastle decided to spend a club-record sum to sign Alexander Isak following a subpar season at Real Sociedad, but they clearly had a plan to help him unlock his full potential.

Whether through the middle or coming in from the left, the gangly Swede caused mayhem and gave other teams multi-faceted headaches.

Is he a Zlatan Ibrahimovic regen? Not quite, but he's pretty damn close.
---
8.

Randal Kolo Muani
Kolo Muani is in demand / Christian Kaspar-Bartke/GettyImages
What a whirlwind year it's been for Randal Kolo Muani since leaving Nantes.

He's emerged as one of the Bundesliga's top strikers and has now got his dream move to PSG. Were it not for the giant outstretched leg of Emiliano Martinez, he would have won France the World Cup in the last minute of stoppage time.

Kolo Muani is destined for big things.
---
7.

Gabriel Jesus
A trusted striker / Visionhaus/GettyImages
Pep Guardiola loves Gabriel Jesus and his incredible first season at Arsenal provides a strong rationale why. He lauded the Brazilian's ability out of possession, and Jesus helped transform the Gunners in 2022/23.

Jesus' impact transcends mere goals and assists. He's so strong, excellent with his back to goal, and relentless without the ball. He excels in so many aspects that his samba dribbling skills are almost overlooked. 

The versatile forward is a four-time Premier League winner who performed a myriad of specific tactical functions at Manchester City. He was criminally underrated during his time at the Etihad, and it feels like he's been unleashed in north London by Mikel Arteta.
---
6.

Lautaro Martinez
Martinez is crucial for Inter / Marco Canoniero/GettyImages
Admirers of calcio fell in love with the telepathic 'LuLa' strike partnership at Inter. Lautaro Martinez had struggled somewhat in his debut season at San Siro amid the backdrop of Mauro Icardi's looming departure, but the arrivals of Antonio Conte and Romelu Lukaku brought Lautaro to life.

The Argentine immediately hit it off with the Belgian as Conte's Inter finally ended Juventus' decade-long reign as Italian champions.

The goals continued to flow in Conte's absence and Il Toro has hit new heights under Simone Inzaghi.

Overall, Lautaro is an intelligent, multi-faceted forward who excels out of possession.
---
5.

Robert Lewandowski
Lewa in Barça colours is growing on us / Quality Sport Images/GettyImages
Robert Lewandowski hasn't always been given the credit he's deserved - if not for a cancelled Ballon d'Or during the early stages of the Covid-19 pandemic, he'd surely have one of the shiny golden balls.

After dominating the Bundesliga for a decade, Lewandowski opted to make the switch to Barcelona in the summer and he's continued his fine scoring.

The Poland international combines the finest attributes of his elite contemporaries to create a near-complete centre-forward. Sure, he's not as quick as Kylian Mbappe or as freakish as Erling Haaland, nor can he grow a beard like Karim Benzema or ping 80-yard diagonals as Harry Kane can, but Lewandowski is an efficient monster in his own right.
---
4.

Karim Benzema
"What's this? Oh, just my Ballon d'Or." / Denis Doyle/GettyImages
Cristiano Ronaldo's departure from Real Madrid in 2018 thrust Karim Benzema into the spotlight and, boy, has he delivered.

Following a poor 2017/18 season from a scoring perspective, Benzema then produced 21, 21, 23 and 27 La Liga goalscoring campaigns to re-emerge as one of the best strikers in the world.

The Frenchman leads by example on the pitch, and it was his goals that lifted Los Blancos to a pair of league titles in 2019/20 and 2021/22 and the Champions League in the latter. There's a subtle genius to Benzema's play that sees him outwit defences regularly, and his form over the past 18 months has been nothing short of staggering.

As the most recent Ballon d'Or winner, it would be difficult to drop him out of the top five just yet.
---
3.

Victor Osimhen
Osimhen is a big deal up front for Napoli / Francesco Pecoraro/GettyImages
Victor Osimhen's Serie A record has now justified the mammoth fee Napoli paid Lille to secure his services in 2020.

He has exploded into life as part of a joyous Napoli attack and immediately instils fear into opposing defences as a result of his freakish athleticism and relentlessness when running in behind. 

The Nigeria international is one of the most valuable outlets in the world, leading Napoli to their first Scudetto since the days of Diego Maradona.
---
2.

Harry Kane
Bayern's new star / CHRISTOF STACHE/GettyImages
There have been plenty of times where the England skipper has looked like the best number nine/playmaker in the world. There isn't a pass Kane can't execute, nor a goal he can't score. 

The ever-elusive piece of silverware shouldn't detract from Kane's majesty but his move to Bayern this summer means silverware won't elud him for much longer.
---
1.

Erling Haaland
Haaland simply never stops scoring / Matthias Hangst/GettyImages
Erling Haaland may not be as naturally gifted or as marketable as Kylian Mbappe, but he's currently the best in the world at doing what a striker is employed to do: score goals.

Haaland is a freak of nature, an absolute phenomenon. Standing at 6'5 and blessed with a demonic turn of pace, the Norwegian superstar is football's answer to Ivan Drago. 

His knack for scoring goals has seen him fall into the welcoming lap of Pep Guardiola at Manchester City, and Haaland has made a mockery of anyone who believed that his frightening form wouldn't translate over to the mean and nasty Premier League.

There's a simplicity to Haaland's game that's almost eerie. He's inevitable.
---
READ MORE ON THE BEST 25 PLAYERS FOR EVERY POSITION IN WORLD FOOTBALL