Welcome to World Class: Joshua Kimmich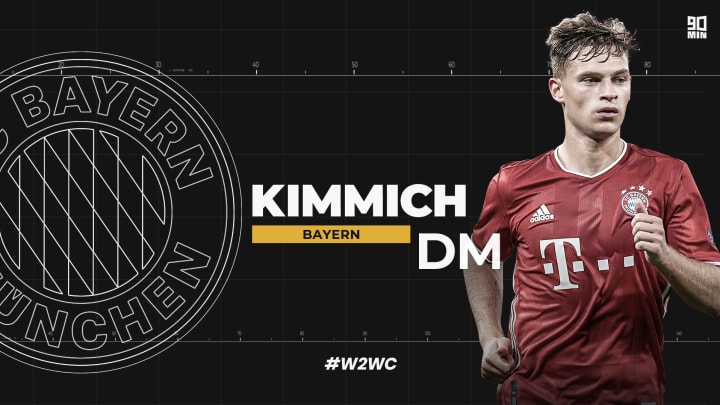 The current Bayern Munich side is one of the best in the club's history.
From front to back and from left to right, the amount of world class talent at Hansi Flick's disposal is, to be frank, quite unfair.
Between the sticks Manuel Neuer has shaken off his post-World Cup wobble to become a reliable stopper once more. He is protected by a fearsome backline featuring the cartoon-like pace of Alphonso Davies, the ice cool composure of David Alaba and the vast experience of Jerome Boateng.
Up front, their options are similarly frightening. Leroy Sane, Kingsley Coman, Thomas Muller and, of course, Robert Lewandowski, are all capable of making even the meanest defences cower like frightened children.
With all these weapons at Flick's disposal, it is no wonder that Die Roten secured a famous treble last season. However, this success would have been achieved in quite the same merciless manner if not for their number six, who played 51 of their 52 games in all competitions.
"I always think about when I can give him a break But then I have to expect he'll be angry. He always wants to be on the pitch."

- Hansi Flick
Joshua Kimmich is pivotal to everything that Bayern do. In possession he functions as a quarterback, picking out the runs of his forwards with pinpoint vertical passes. No one completed more progressive passes in the Bundesliga last season, while he also lead the standings for through balls.
Kimmich taking his rightful place at the centre of things / Pool/Getty Images
Breaking the lines with his dribbling is another speciality. We've lost count of the amount of times he has intercepted a stray pass and immediately started one of his side's irresistible counter attacks by bounding forward, weaving in between opponents as he goes.
Defensively his contributions need to be mentioned as well. His waspish pressing and expert timing in the tackle are obvious features to his game, but his ability to cover the marauding runs of Bayern's full-backs thanks to his impressive stamina is important as well.
Simply put, there is very little that Kimmich can't do.
However, when Bayern spent a meagre €7m to prise Kimmich away from second tier RB Leipzig back in 2015, few predicted that he would develop into the most complete footballer on the planet over the next five years.
Kimmich took very little time to settle in at Bayern / Boris Streubel/Getty Images
Yet, that was exactly what happened with Kimmich's freakish versatility proving useful from the moment he arrived in Bavaria.
During his maiden 2015/2016 season at the club, Kimmich was fielded as a defensive midfielder early on but would also spend time in a more advanced role, as well as at right-back. What you may not remember is that the majority of Kimmich's early Bayern career was spent at centre-back. This is where he played during the second half of the season, which included a 120 minute stint in the DFB-Pokal final.
The youngsters' frankly absurd flexibility drew unavoidable and unhelpful comparisons with one of the club's finest servant, Philipp Lahm. This was some compliment given Lahm won a World Cup, Champions League and no less than eight Bundesliga titles during his incredible career.
Other, mentally weaker players, would have been overwhelmed by these comparisons - but not Kimmich.
Much like Lahm before him, he has thrived off of these high expectations, not only 'doing a job' in several positions, but performing to an elite level regardless of where he plays.
The starting klaxon for act one of Kimmich's emergence as a world class player was fire when Lahm announced his retirement in summer 2017. Taking over the vacant right-back berth, he soon established himself as one of the best full-backs on the planet, registering an incredible six goals and 17 assists from the position during the 2017/2018 campaign.
The season after saw more of the same from Kimmich. By the end of the campaign, he had registered 15 assists and scored twice, once again operating exclusively as an athletic and technically proficient right-back.
For most players, ascending into the upper echelons of one position would have been enough - but again, not Kimmich.
Act two of his world class career would begin last season when Niko Kovac, and later his replacement Flick, began to flirt with the idea of deploying Kimmich in defensive midfield. The move mimicked a similar switch that Lahm made towards the tail end of his career. Early on, it was clear that Bayern had stumbled upon something pretty special.
Kimmich has played some of the best football of his career under Flick / Handout/Getty Images
Although there was promising performances beforehand, it took until their Der Klassiker demolition of Borussia Dortmund for people to sit up and take notice of just how good Kimmich was. All the hallmarks of his world class form over the past 12 months were present in this game.
His relentless pressing, passing to die for and leadership helped Bayern stroll to a 4-0 win over their closest rivals.
Under his new boss, a domestic double and Champions League win would follow over the next few months. At all the key junctures of this journey, the midfielder was there leading things. In the return Klassiker, he scored the only game of the game, chipping to ball delicately over Roman Burki to all but confirm Bayern's status as champions.
Then in the DFB-Pokal final he registered an assist to help he side breeze to a 4-2 victory over Bayer Leverkusen.
Perhaps the best measure of Kimmich's obscene talent came when we reverted back to act one of his world class career, playing right-back as Bayern romped to Champions League glory. In the 8-2 win over Barcelone he scored and assisted, against Lyon in the semis he set up two of Die Roten's three goals.
What about the final? Well, who else was really going to assist Kingsley Coman's winner?
This is another great measure of Kimmich's world class talent. He always comes up clutch for his team and at just 26, there's still so much more to come.
---