Manchester United
Why did Man Utd fans storm Old Trafford?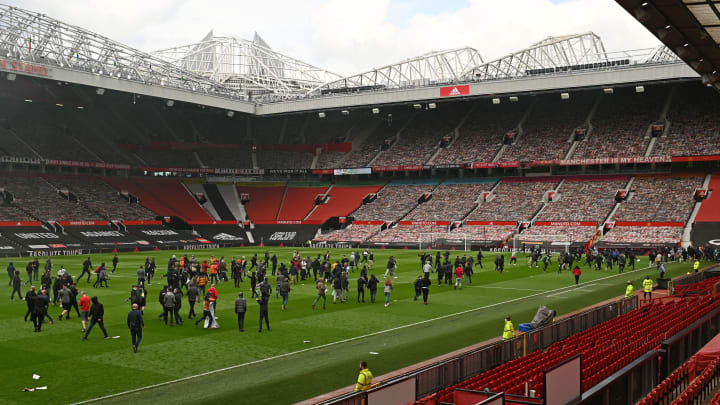 Around 200 Man Utd fans broke into Old Trafford during a larger protest, forcing the Liverpool game tp be postponed / OLI SCARFF/Getty Images
Manchester United fans storming the pitch at Old Trafford ahead of a Premier League clash with Liverpool, which resulted in the game being delayed then postponed, was the culmination of 16 years of anger towards the Glazer family and their ownership of the club.
Around 1,000 United fans had protested outside Old Trafford the week before, albeit with no game on, mimicking similar protests outside Anfield and the Emirates Stadium as football supporters rose up against their clubs for signing up to the quickly defunct European Super League.
Man Utd fans are protesting against Glazer ownership of the club / Getty Images/Getty Images
Fan pressure had seen all six Premier League clubs that planned to join the ESL withdraw within a couple of days after its launch. But the issue, at both United and Arsenal in particular, goes much deeper than simply knocking back a concept designed to destroy the true spirit of sport.
For supporters of these two clubs, it was the final straw in transforming general apathy and ill-feeling towards problematic owners accused of personally profiting at the expense of footballing achievement into a furious movement to gid rid of them altogether.
In the days leading up to the Liverpool game, an estimated 10,000 fans were expected to gather outside Old Trafford to continue making their feelings heard. Despite an increase in security presence, there were reports of concerns from the club that it could escalate if those involved saw the opportunity to increase the spotlight on their protest by disrupting the game.
In the end, that is exactly what happened, with around 200 breaking into the stadium itself and running onto the pitch. Others closer to Manchester city centre blockaded the team hotel.
Man Utd are seething after the club joined the European Super League, but issues run deeper / OLI SCARFF/Getty Images
United co-chairman Joel Glazer had apologised for the attempt to join the ESL in his first public address to fans since 2005 when he made a statement upon his late father's takeover. Glazer vowed to earn back trust from fans. But, as an irate Gary Neville observed during Sky Sports' coverage of the Liverpool game that wasn't, he, nor his family, never had that trust in the first place.
There were enormous anti-Glazer protests at the time of the 2005 takeover, with some United fans even walking away altogether and launching a breakaway phoenix club, FC United of Manchester.
Protests again peaked in 2010 with the very visible green and gold movement, inspired by the colours originally worn by Newton Heath in the late 1800s, prior to becoming Manchester United in 1902. During one particular game in the Champions League against AC Milan, David Beckham, then on loan at the Serie A club, picked up and wore a green and gold scarf thrown from the stands.
The catalyst for the latest round of protests was the European Super League. But even with the ESL issue now put to bed and Ed Woodward insisting on behalf of United they will not be part of any plan to revive it, this feels like just the beginning of the strongest anti-Glazer movement yet.
There have been anti-Glazer protests before but never like this / OLI SCARFF/Getty Images
As Sky Sports filled time while waiting to learn if the Liverpool game would go ahead, pundit Graeme Souness couldn't have been more spectacularly wrong when he defended the Glazer family and claimed United fans were only protesting because of a lack of silverware in recent years.
At the time of the 2010 protests, United were reigning back-to-back-to-back Premier League champions. They had won the Champions League in 2008 and had reached the final again in 2009. At the end of the 2009/10 season they would finish only one point shy of winning an unprecedented fourth successive English title and would go on win a record breaking 19th overall in 2010/11, as well as also reach a third Champions League final in the space of four years.
If these protests were happening when United were winning trophies left, right and centre, they have absolutely nothing to do with not winning trophies now.
The complete lack of communication from the Glazers to fans over the last 16 years has shown a shocking lack of respect. Malcolm Glazer, who died in 2014, never once set foot in Manchester during his nine years as chief owner. Sons Joel and Avram have been seen at games over the years but stopped attending some time in 2019, long before coronavirus provided an excuse not to.
Joel Glazer (R) has vowed to win back trust he never had / Michael Regan/Getty Images
Criticism directed at Joel Glazer in particular centres around his seemingly diminishing visibility with United coinciding with a rise in fortunes at the NFL's Tampa Bay Buccaneers, Super Bowl LV champions earlier this year, the family's other sporting venture.
The handsome dividends from United paid into the family's already bulging bank accounts is money made by the club that is consistently taken out, while the controversial nature of the leveraged buyout takeover, which relied largely on loans that were secured using United's own assets as collateral, plunged a club that had been debt free for decades, hundreds of millions into the red. Servicing the interest on that debt still takes money out every year.
Despite continuing to spend big sums in the transfer market, United have begun to rot from the inside out under the Glazer ownership. Infrastructure standards have fallen behind that of rivals, with a badly leaking roof at Old Trafford perhaps most obviously illustrating that.
At the same time just across town, Manchester City have built a stunning hub all around the Etihad Stadium, highlighting the importance of investing in and maintaining general infrastructure.
"If you think about the club they picked up in 2004, it had the best stadium in the country, one of the best in Europe, it had the best training ground in this country, and probably one of the best in Europe," vocal critic Neville said on Sky Sports.
"It had a team that was consistently getting to Champions League quarter-finals, semi-finals and finals regularly and winning the league every season or every other season.
"If you look at the club now, this stadium I know it looks great here but if you go behind the scenes it is rusting and rotten. If you look at the training ground it's probably not even the top five in this country, they haven't got to a Champions League semi-final for 10 years.
"We haven't won a league here at Manchester United for eight years. The land around the ground is undeveloped, dormant and derelict while every other club seems to be developing the facilities and the fan experience."
Gary Neville has become a prominent voice in criticism of how the Glazer family have run Man Utd / Alex Livesey/Getty Images
United fans won't stand for their club, which remains one of the richest in the world in terms of pure revenue, being hamstrung by the very people who are supposed to be running it to its fullest potential, as a sports club and not a cash cow. The Glazers have survived protests before by ignoring them, but the latest wave is the loudest yet and continuing to ignore may not be an option.
---
For more from Jamie Spencer, follow him on Twitter and Facebook!