Bayern Munich
Welcome to World Class: Thomas Muller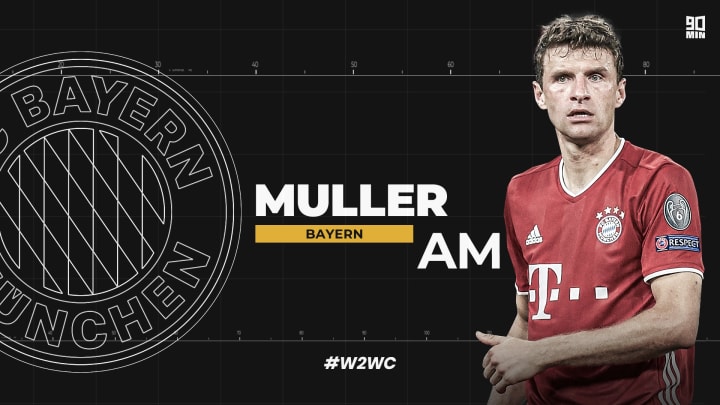 Thomas Muller has had a brilliant year / Matt Burt/90min
We're taught from an early age to never judge a book by its cover. But when it comes to world class footballers, that's easier said than done.
When presented with a police lineup of the sport's elite, you'd pick out the muscular, intimidating physique of Cristiano Ronaldo as a prime body shape. Or perhaps Lionel Messi's diminutive frame gives him an edge.
A fresh-faced Muller back in 2009 / AFP/Getty Images
Much further down the list would be the long, spindly frame of Thomas Muller. Nothing about Muller's physical attributes screams 'world class attacking midfielder,' but all becomes abundantly clear after witnessing him in full flow. Mentally, he is one of the most astute footballers in the world, so much so that even his unorthodox body cannot deny him.
From early doors, Muller demonstrated the hunger and fire needed to go straight to the top. While playing for local side TSV Pähl, he scored 120 of the team's 165 goals over the course of one season, and it was his military nature in front of goal which convinced Bayern to snap him up as a 10-year-old.
Landing a dream move to the most prestigious academy in Germany didn't mean the path to glory was plain sailing for the gangly and unsightly forward, however.
Muller breaking Argentinian hearts / PIERRE-PHILIPPE MARCOU/Getty Images
Ever since bursting onto the scene with Bayern in 2008, Muller has been forced to prove to his critics that it's not all about a rippling physique, pace and power. Football is played in the mind, too. The German travelled to his first World Cup in 2010, and sat alongside Argentina coach and football legend Diego Maradona during a press conference prior to their meeting in the quarter-finals.
Maradona, unaware of who Muller was at the time, took one look at the lanky youngster and shouted, "Get that ballboy out of here!".
He wasn't joking, either, refusing to begin the press conference until the starlet had left the room.
Muller went on to have the last laugh, scoring after only three minutes as Germany battered Maradona's Argentina 4-0, cruising into the semi-finals.
"He doesn't think I'm a ballboy anymore."

- Muller on Maradona - 2010
Statistically, there are few players in the world more efficient than the Bayern star. His consistent progression into a world class attacking midfielder saw him post incredible numbers during the 2019/20 season, helping Bayern recover from a disastrous start to win the Bundesliga title at a canter.
Muller completed 965 of the 1230 passes he attempted in 2019/20, giving him an exceptional pass completion of 78% - even more impressive for an attacking midfielder whose job is to take risks and beat defences with low-percentage balls.
He ended that campaign with eight goals, and a record-breaking 21 assists. Ageing like a fine wine.
His rise to world class is no accident, either.
Very few footballers work as hard or cover more ground per game than Muller, who runs 12km every 90 minutes. This lengthy distance covered does raise a few eyebrows - after all, his job of sliding others into scoring positions or ghosting into unmarked areas requires a clear mind and unshakable focus, something which can become clouded and inconsistent after charging around for seven and a half miles.
But it is this persistent movement which unlocks his secret weapon: space investigating.
Muller is a 'raumdeuter,' which, much like the famous cut-in and curling strike of Arjen Robben, or the long throw of Rory Delap, can be anticipated - but not prevented. And Muller actually has two trademarks. His first signature move is to drift away from his marker and drop into space in front of the centre-backs, luring them out of position to follow his tracks.
That creates a pocket of space for his teammates to run into behind the defence, and when Muller then receives the ball, his instinct is to pop a pass into the crater he just unearthed for a rampaging teammate to gleefully gobble up.
Second is his ability to seamlessly anticipate space forming behind a defence, and arc his run into the inside right channel to break an offside trap. From there, he has the freedom of the penalty area to wait until a colleague - usually Robert Lewandowski - arrives and taps home his squared ball across the six-yard box. Scoring goals never looked so easy.
How did he discover this trademark pattern? Well, he has learned to play to his strengths. Muller is not built for dribbling or beating opponents with speed, so he moves the ball quickly and demands it in his favourite areas of the pitch.
What is most impressive is that he plays on the brink of the defensive line, teasing them to spring an offside trap, yet he seldom moves into an illegal position. In fact, he only gets caught offside once every two games on average. That is next level intelligence.
So, it's no surprise that as he's continued to learn his role inside out, he's got better and better. He's already scored six goals in the 2020/21 campaign, with an expected goals rate of only 4.58. When it comes to assisting his teammates too, he's possibly the most selfless footballer on the planet.
"When you are successful in football at a young age, people forget how old you are. Thomas isn't old, he just started being successful at a very young age."

- Jose Mourinho on Muller
Muller is the Robin to Lewandowski's Batman, allowing the Polish striker to post the ridiculous goalscoring records he does with his altruistic generosity in front of goal.
This season is no exception. He has managed seven assists for Bayern this year, from an expected assist total of 4.45, meaning he can produce opportunities from typically improbable goalscoring situations.
Add to that his impeccable natural fitness and the fact he has hardly missed a game for Bayern over the past decade, and we begin to understand quite clearly what makes him so great.
A love for demolition / CHRISTOPHE SIMON/Getty Images
Given the German's relentless thirst for goals, we shouldn't be too shocked that he has been involved in two of football's most memorable high-profile batterings. Muller opened the scoring in the 2014 World Cup semi-final victory over hosts Brazil, and then assisted the second with a delicate back-heel.
As we all know, Germany went on to beat the favourites 7-1 on the night, and would win the World Cup against Argentina a few days later.
"I'm not made for the Ballon d'Or. That's an individual distinction and I see myself as a team player. If I could choose between the Ballon d'Or and winning the World Cup with my team, I would always choose the World Cup."

- Thomas Muller
More recently of course, he was the protagonist of Bayern's unforgettable 8-2 victory over Barcelona, as Die Roten marched to Champions League glory in 2020. As in the demolition of Brazil, Muller broke the deadlock, but this time he also scored the fourth and assisted Coutinho for the seventh.
His influential antics saw him named as the man of the match, and he epitomised the merciless nature of this world class team. It was after this destruction that he made the infamous Robert Lewan-goalski pun, which fell on deaf ears.
Perhaps it's time he is rewarded with his own moniker to hail his heroic exploits.
"We call him Thom-Assist Muller... get it? Thom... assist?"
I'll see myself out.