Welcome to World Class: The Shortlist - Defensive Midfielders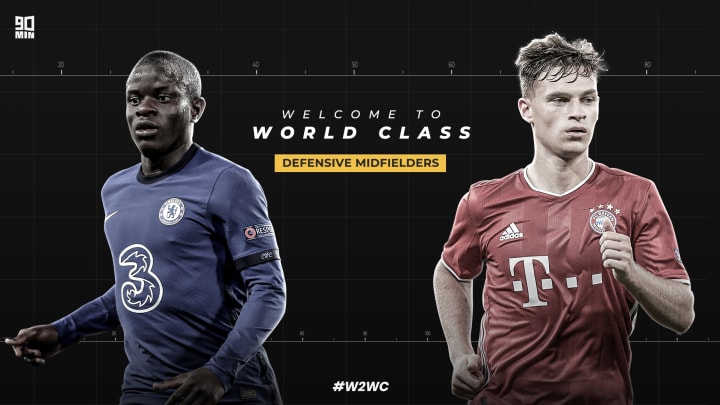 90min reveals the 10 defensive midfielders shortlisted for 2020's edition of Welcome to World Class | #W2WC / Matt Burt/90min
In the modern game, the role of the defensive midfielder is one of the most important and physically demanding.
Not only do players need to be adept at tackling, interceptions and relentlessly pressing, they also need to be comfortable in possession, as well as being capable of picking a pass.
The role's importance is often underappreciated because of the difficulty for players to chalk up popular statistics, such as goals and assists, but every great team often has a deep-lying 'number six' making things tick.
For the remainder of the month,90min is running a series to find the five world class players in every position in the game today - the goalkeepers, centre-backs and right-backs have already been fully revealed, while the shortlist for left-backs has also been announced; all based on a scoring metric which you can read all about by clicking this link.
Here, we reveal the shortlist of 10 defensive midfielders who have entered the running to be told 'Welcome to World Class' in 2020.
---
Rodri
Rodri is calmness personified in midfield / Quality Sport Images/Getty Images
Club: Manchester City
Country: Spain
Since making his £57m move to Manchester City in 2019, Rodri has constantly - and unfairly - been compared to the man he was brought in to replace, Fernandinho.
Although he has not managed to reach the same lofty heights so far, these comparisons have led to an inaccurate picture of the 24-year-old. Make no mistake about it, Rodri is a remarkably talented defensive midfielder - evidenced by the fact that no player registered a higher pass completion rate than the Spaniard in the Premier League during 2019/20.
A big future lays ahead of a player so calm in possession, one that is currently supervised by the irrepressible Pep Guardiola.
---
Casemiro
Casemiro is the glue that holds Real Madrid together / Quality Sport Images/Getty Images
Club: Real Madrid
Country: Brazil
Mark our words, Real Madrid star Casemiro will go on to become a top manager when he retires.
The Brazilian is a football obsessive, admitting that he spends his free time on Wyscout going over every detail of his game - and occasionally watching a random match from the Chinese Super League.
Although he's often portrayed as a unsophisticated, tough tackling hardman, it is this side of Casemiro's game - his passion for perfection - that makes him a world class performer at Real Madrid. That, and an extensive trophy cabinet that shows just how valuable he's been in the Spanish capital.
---
Marquinhos
Marquinhos' versatility has been invaluable / Jean Catuffe/Getty Images
Club: Paris Saint-Germain
Country: Brazil
One thing that stands out about Paris Saint-Germain's Marquinhos is his versatility. Originally a leading centre-back, he was quickly called upon to plug a gap at the base of midfield thanks to some haphazard recruitment by the Ligue 1 heavyweights and a few injury woes.
Though the switch was initially a short-term gig, the Brazilian was so impressive that he now divides his time between playing in the heart of defence and just in front.
Technically brilliant and aware of everything going on around him, Marquinhos seamlessly flips between the two, and is the model of consistency for a side now looking to conquer the continent after dominating French football for the best part of a decade.
---
N'Golo Kante
Kante was named PFA Player of the Year in 2017 / Alex Pantling/Getty Images
Club: Chelsea
Country: France
Two years ago, had you asked anybody in the world of football who the best defensive midfielder in the world was, they'd have told you N'Golo Kante.
But one man who didn't seem to get the memo was Maurizio Sarri, who inexplicably looked to evolve and develop him as a marauding number eight when he took the reins at Chelsea.
That experiment seemed to rock Kante's world, and for a while he was off the pace and even linked with a Stamford Bridge exit. However, with club legend Frank Lampard installed at the helm, Kante was restored to his rightful position, and is once again harassing and harrying everybody in sight, showing all the qualities that make him one of the very best in the world.
---
Marcelo Brozovic
Brozovic is one of the brightest stars of Croatia's golden generation / Lars Baron/Getty Images
Club: Inter
Country: Croatia
After initially struggling for consistently when he joined Inter back in 2015, Marcelo Brozovic has blossomed into an integral part of I Nerazzurri's side.
Under the watchful and extremely tactics heavy eye of Antonio Conte, he's been transformed from an occasionally brilliant box-to-box shuttler into a reliable defensive midfielder - not that it's affected his creative output too much.
The Croatian continues to pulls the strings from deep for Inter, and his direct influence on goal output - he chalked up eight assists during 2019/20 - show that forward thinking remains his bread and butter, even if he now helps to break up play.
---
Allan
Allan has settled in well to life in the Premier League / Robbie Jay Barratt - AMA/Getty Images
Club: Everton
Country: Brazil
Allan's 2020 summer arrival at Everton from Napoli may not have generated the headlines that James Rodriguez's signing from Real Madrid did, but he's arguably the player they needed most.
The Brazilian is a truly terrifying ball winner - probably the best on this shortlist - and has an insatiable appetite for running. No player registered more tackles or a greater number of successful pressures than Allan during the 2017/2018 and 2018/2019 Serie A seasons and he's continued to bite at the heels of the opposition in Merseyside.
On his day, he's one of the best around and is one of those players that opposition players hate to come up against.
---
Joshua Kimmich
Kimmich really can do it all / Alexander Hassenstein/Getty Images
Club: Bayern Munich
Country: Germany
If you held a competition where every football skill was tested, there's a 99% chance that Bayern Munich utility star Joshua Kimmich would win it.
The German is the most well rounded player on the planet; the perfect amalgamation of mental, technical and physical attributes. Bayern Munich would be nowhere near as fearsome without the tenacious Kimmich holding things together, and his game has evolved ten-fold since he was switched from full-back into a defensive midfield role.
Likened to Philipp Lahm, Kimmich is not only as good as the legendary German; he's probably better.
---
Fabinho
Fabinho took a while to bed in at Liverpool / Robbie Jay Barratt - AMA/Getty Images
Club: Liverpool
Country: Brazil
Life on Merseyside got off to a very slow start for Fabinho, as he struggled to acclimatise and settle in at Liverpool after switching from Ligue 1 heavyweights Monaco.
But after a brief stint at right-back, the 27-year-old soon became the final - and most important piece - of Liverpool's midfield puzzle, putting in show-stopping performance after show-stopping performance.
Now, he's a Premier League, Champions League and Club World Cup winner, and is arguably the one player who Liverpool rely on to set the tone each and every time they take to the field.
---
Fernandinho
Fernandinho was pivotal in Pep Guardiola's two Premier League title wins / Quality Sport Images/Getty Images
Club: Manchester City
Country: Brazil
Fernandinho may now be in the twilight of his career, but there's no arguing that the Brazilian is still up there with the very best in the business.
Over the course of the 2017/18 and 2018/19 campaigns, Manchester City notched up 198 points; a truly astonishing number that would never have been possible had Fernandinho not been the ultimate protector and midfield general turning play over.
Yes, City have had - and continue to have - some of the finest attacking talents in the world at their disposal, but what use are they if they don't have a defensive midfielder who keeps everything ticking over by regaining and retaining possession, time and time again. That's what Fernandinho does and that's why he's won so much at the club during the past decade.
---
Axel Witsel
The tough tackling Witsel is finally getting his chance at a top European club / Lars Baron/Getty Images
Club: Borussia Dortmund
Country: Belgium
Axel Witsel has not had the most conventional of club careers, that much is true.
Spending four years of your peak at Zenit St Petersburg and one in China does not scream your typical 'world class' player, but then again, the Belgian is not your typical footballer.
These days though, he is thriving at European giants Borussia Dortmund, playing in a team who possess some of the finest young talents in the game today. Be it turning over play, instigating quick counter-attacks, or spraying raking passes across the field, Witsel can do it all - and is never afraid to put his foot in where it hurts.
---