Welcome to World Class: The Shortlist - Left-Backs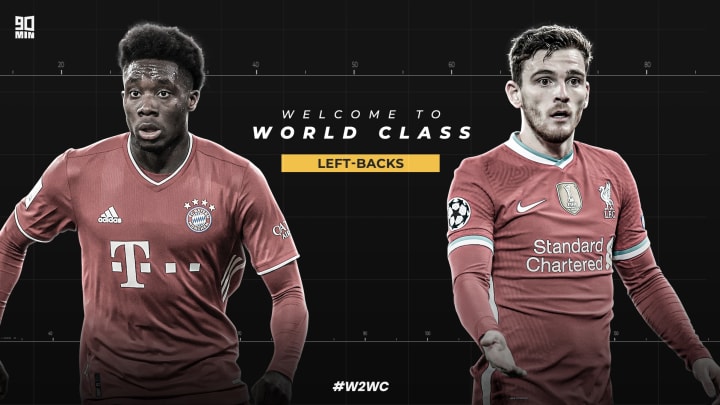 The left-back is one of the most specialist yet under-appreciated positions in football.
From Paolo Maldini to Roberto Carlos, the position has been home to some of the most dynamic and technically gifted players the sport has ever seen, and that's a trend that has continued to this day.
The roll of the full-back is evolving into something more and more important, so having that left-sided dynamo, capable of exploding forward from deep or picking out the striker with a menacing early cross, can be the difference at the highest level.
As part of our Welcome to World Class series (everything you need to know about the series is here), 90min will soon be taking a deep dive into some of the best around in modern football. And here are a few of the contenders.
---
Lucas Digne
One of Digne's many crosses against Manchester United / Clive Brunskill/Getty Images
Lucas Digne's career was bordering on the nomadic by the time he arrived at Everton in 2018. He had dotted around, earning himself a couple of big moves, but had featured for four senior clubs since emerging on the scene at Lille, and was struggling to find a home.
The £18m paid to Barcelona for his services seemed a little steep at the time but that illusion was quickly put to bed. He's been a regular source of creativity at Goodison Park, assisting goals from all angles with his set-pieces in particular catching the eye.
His fitness record has been called into question, yet he has missed just seven league matches since his arrival - signifying his importance to the side.
---
Ben Chilwell
When a left-back is scoring on their debut, you know you've got a good one. It's rare nowadays for a player to make exactly the right move at exactly the right time, but if the early stages of Ben Chilwell's Chelsea career are anything to go by, that's exactly what's happened here.
It would be unfair to say his Leicester career was stagnating before the Blues swooped but it was getting there. He seemed to hit his ceiling in 2018/19, and a number of injuries prevented him from hitting the heights the following campaign.
Leicester's finest export since Emile Heskey, now he is already a regular under Frank Lampard, and at just 23, there doesn't appear to be a limit to his potential.
---
Raphael Guerreiro
Guerreiro has put his issues behind him / DeFodi Images/Getty Images
It's been a long time coming but it finally seems as if Raphael Guerreiro has put his injury problems behind him. He started 26 out of 34 Bundesliga games last season, a miracle by his standards, and has followed that up with a showstopping start to 2020/21.
He's fast becoming Borussia Dortmund's creative director with assist doubles against Schalke and Bayern this term, and he has scored or assisted a mightily impressive 18 goals since the beginning of 2019/20.
If that's not world class, then I'm not sure what is.
---
Robin Gosens
Gosens hit the net against Liverpool / Pool/Getty Images
Atalanta's development from Serie A relegation strugglers into genuine Champions League contenders has been one of the great fairytales of modern football, and their German wing back has been at the heart of it all.
Gosens was signed for just €900,000 in 2017 and for that money has become one of the best value signings Italian football has seen. His engine rivals anything in the sport and he chips in at the sharp end too - he's scored or assisted 31 goals since his debut in 2017.
---
Theo Hernandez
Hernandez has become one of Serie A's leading lights / DeFodi Images/Getty Images
The road to the top is rarely straightforward and no player is a better testament to that than Theo Hernandez. He took a leap of faith in swapping one side of Madrid for the other, but it didn't quite play out as planned, and within two years he was forced to take a perceived step back.
If AC Milan is your step back, however, you're doing ok. Since landing in Italy, he has hit the ground running, becoming a virtual ever-present at San Siro and catching the eye with his explosive attacking performances.
He was one of Serie A's top scoring defenders with six last season and he is finally coming good on his meteoric potential.
---
Alphonso Davies
Davies' story is one of those that renews your faith in football in an instant. Born in a Ghanaian refugee camp to Liberian parents, his family fled to Canada during the Second Liberian Civil War, and it was at high school in Edmonton that his passion for soccer slowly grew.
In 2016, aged just 16, he was picked up by Vancouver Whitecaps. Now, he's at Bayern Munich, and is one of the most entertaining footballers on the planet.
A converted winger, he's already been nicknamed 'roadrunner' by Thomas Muller, for obvious reasons. He's one of the best in the planet in his new position and he doesn't turn 21 for another year.
---
Sergio Reguilon
Some players make an impression right off the bat, while others gradually learn their trade and take their time to garner recognition. Sergio Reguilon falls firmly into the latter category.
The Real Madrid youth academy graduate waited patiently at the Bernabeu for a chance that didn't really come along until Sevilla took him on loan. There, he wasted no time in showing why he was one of Spanish football's best left-backs, eventually earning him a move to Tottenham.
He is already a favourite of Jose Mourinho's in England, and you can't help but feel for Ben Davies being stuck behind him in the pecking order.
---
Jordi Alba
Nou Camp friends / Valerio Pennicino/Getty Images
Liverpool get much of the credit for their role in revolutionising the full-back position but Jordi Alba was a playmaking left-back before it was cool.
His partnership and understanding with Lionel Messi has been central to so much of Barcelona's recent success - the two have combined for more than 20 goals since the beginning of the 2018/19 season.
Alba's influence has carried even into this tumultuous period for Barcelona and while he will never get the acclaim of the sexier players ahead of him, 'legendary' doesn't quite do it justice.
---
Ferland Mendy
Mendy has become a key figure for Real / DeFodi Images/Getty Images
It was once speculated whether anyone would displace Marcelo, yet here he is.
Since the beginning of last season, Real Madrid have lost just one of the 31 La Liga games in which Ferland Mendy has featured. They've lost four of the 16 in which he hasn't.
His performances rarely grab the headlines as he is a far less potent attacking option than some of his positional contemporaries, yet the Frenchman has persevered to become an understated key figure at the Bernabeu.
---
Andy Robertson
Where else to finish but with the Scotland captain and the pepper to Trent Alexander-Arnold's salt?
If the classy right back brings the style to Liverpool's attacking play then Robertson brings the bite. He has only been at Anfield for three and a half years, amazingly, yet in that time has progressed from distant back-up to the first name on the team-sheet.
And that's in the very literal sense. No player has racked up more minutes for the club since the beginning of the 2018/19 season and it doesn't seem as if anyone is going to take that mantle this season, next season, or until the end of time.
---