Welcome to World Class: Kyle Walker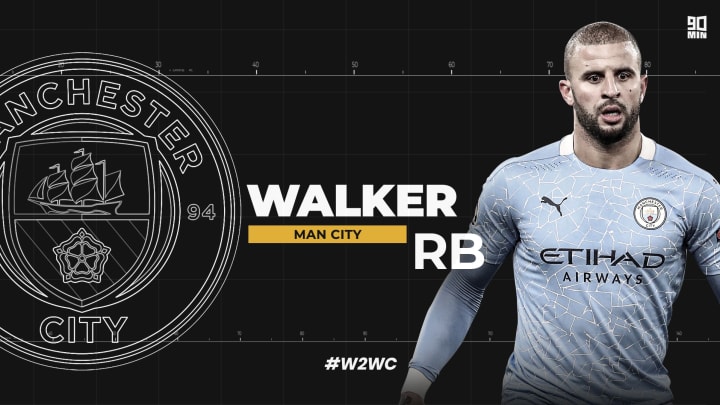 Kyle Walker has shown he can be a world class performer in more than one position | #W2WC / Matt Burt/90min
By this point in 90min's Welcome to World Class series, you should have a good idea what makes a right-back worthy of being in the conversation.
A modern day right-back needs to bring their A-game against top opponents on a consistent basis, impressing at both ends of the field en route to competing for multiple trophies. They must defend at a high level but still offer enough in the attacking third. It's one of the toughest jobs on the field.
There are a few players who can meet that criteria, but how many are there who can also be considered as 'world class' in another position?
Kyle Walker has excelled in several positions / James Williamson - AMA/Getty Images
That's an elite group saved for a select few players, of which Manchester City's Kyle Walker is certainly one.
Walker has made a career out of defying expectations and elevating his game, and his progression can be traced back to his move to Tottenham Hotspur in 2009, when he was a young player looking for a place in the top flight.
The Englishman had to prove himself out on three separate loans, and he rose to the challenge. By the time 2011 arrived, then-Spurs boss Harry Redknapp had already been convinced that Walker could become something special.
"Kyle will be back here for sure, he's still learning and got miles to learn, but he is a talent, a real prospect," Redknapp said (via Goal). "He has got got all the attributes to be an England right-back of the future. He'll come back here and push for a place."
Redknapp knew Walker had the potential / Michael Regan/Getty Images
"Today top players are the ones who can play every three days. Before you sign a player, you have to look at his ability to play and play and play - the regeneration capability. Kyle is an example of that."

- Pep Guardiola, Manchester City manager
It proved to be another masterful prediction from Redknapp, who will have watched on with pride as Walker made his England debut in November 2011.
Walker spent the next six years proving that he was a genuine star in the Premier League, but even his biggest fan will admit to being surprised when Pep Guardiola opted to make him the world's most expensive defender at the time when he brought Walker to Manchester for close to £50m in 2017.
It was almost comical at times, and Guardiola's decision to limit Walker's offensive input and turn him into a out-and-out defender only raised more eyebrows. This was one of the Premier League's most creative defenders in 2016/17, and one who wasn't really known for his defending.
What would follow would be the biggest adaptation in Walker's career, and one which helped him reach the next level.
Guardiola has reinvented Walker / OLI SCARFF/Getty Images
Guardiola's system often sees Walker shift into more of a centre-back role, where he gets the chance to use his physicality and above-average size to bully strikers. He's blessed with the physical characteristics needed to excel in a central role, but has demonstrated the tactical know-how needed to perform in the role on the biggest stage.
Walker got so good at the role that he is now a genuine centre-back option. He's played there for City and has regularly been used there for Gareth Southgate's England, including in the Three Lions' memorable run to the 2018 World Cup semi-final.
That versatility has even seen him deployed as an emergency goalkeeper, and while he might not be deserving a spot in the world-class bracket in that position, there's no questioning his credentials both centrally and out on the right.
The improvement shown has turned Walker into one of the most dependable, versatile defenders around, and he's now an integral part of one of the world's top clubs under one of the game's finest managers.
Guardiola's system does not work without Walker, whose superhuman abilities allow him to operate as both a right-back and a centre-back at the same time, without slacking in either area. He's two fantastic players thrust into one.
The Spaniard's system is so top-heavy that it needs players like Walker to do almost all the defending, but because the England international is so good at what he does, Guardiola is not scared to take risks. He can rely on Walker to come up trumps when his side need him most.
"It was an incredible signing for Man City," Guardiola said of Walker (via the club's official website). "I want to thank the club for bringing him here. Today top players are the ones who can play every three days. Before you sign a player, you have to look at his ability to play and play and play - the regeneration capability.
"Kyle is an example of that. I have a feeling this is the Kyle we have seen. He is one of our captains. He is so important in the locker room."
It's been a mutually beneficial relationship which has helped both Guardiola and Walker improve, and if you can't see the results on the pitch, you only need to look at Walker's trophy cabinet for all the evidence.
Two Premier League titles, one FA Cup and three League Cups are a deserved reward for Walker's rise to the top, while nomination for FIFPro's World XI prove that Walker's greatness has been recognised by his fellow peers.
Walker has built up an enviable CV / Michael Regan/Getty Images
"I think Kyle is one of those players who we're not going to appreciate until he stops playing," Watford's Troy Deeney told talkSPORT. "It's forgotten how good he's been for how long and how consistent he's been as well. He's still one of the best, if not the best, right-back in the country and certainly world football."
Walker has been shining at the top of the football mountain for a good few years now, and he's still not done improving. His importance to City is growing with each passing game and he deserves to be held alongside the likes of Kevin De Bruyne, Sergio Aguero and the rest of the stars who steal the headlines.
---