Welcome to World Class: Benjamin Pavard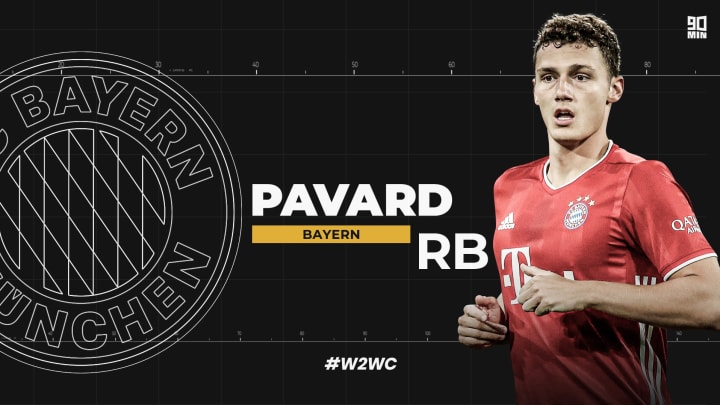 Benjamin Pavard has shown tremendous versatility to evolve into one of the world's best right-backs | #W2WC / Matt Burt/90min
It's not only players who can be described as 'world class'.
Sometimes, individual moments of brilliance command that description. That can be a goalkeeper pulling off a ridiculous save, a winger embarking on a physics-defying run or a striker scoring a goal you wouldn't even expect to see in a video game.
It can also be used to describe an up-and-coming French right-back firing home an absolute worldie in the 2018 World Cup round of 16 against Argentina.
Benjamin Pavard's career took off in 2018 / Catherine Ivill/Getty Images
That particular summer was a memorable one for Benjamin Pavard, who made the step from promising young player to genuine star under France manager Didier Deschamps.
In the season before the tournament, Pavard was playing for Bundesliga strugglers Stuttgart. He spent the first half of the campaign playing in every position on the pitch, but it was his transition to centre-back under manager Tayfun Korkut that saw him catch the eye.
Stuttgart conceded just ten goals in their last 14 games, with Pavard at the heart of the most-improved defence in the Bundesliga, and they nearly snuck into the Europa League as a result.
Pavard had impressed everybody, including Deschamps.
Deschamps knew Pavard was good enough to play for his senior French side, but couldn't find a place for him at centre-back; Raphael Varane and Samuel Umtiti were performing exceptionally well as a pairing at the time.
But Pavard needed to play, and the decision was made to shift him out to right-back - a decision that has never been looked back on since.
Pavard's first competitive game for France was Les Bleus' first in the World Cup group stage - a 2-1 win over Australia in which the young defender impressed considerably, albeit against limited opposition.
Another solid performance against Peru followed, and after being rested for the final group game against Denmark, Pavard was back in the lineup for his first real test - Argentina.
It was the best game of the tournament and one of 2018's top matches, and Pavard played a huge part in that. He was busy in defence, but his main impact came in attack - and what an impact it was.
Argentina were leading 2-1 by the 57th minute, and Jorge Sampaoli's side were defending well. It was going to take something special to get France back into it, and fortunately for Les Bleus, that's just what they were about to get from Pavard.
A deep cross from Lucas Hernandez looked to be a waste as it flew over the penalty area and bounced out the other side of the pitch, but Pavard saved the day by bursting forward and unleashing the most picturesque half-volley which arrowed into the top corner.
That goal did three things:

1. Gave France the momentum they needed to go on and win the game (and ultimately the competition).

2. Won the Goal of the Tournament.

3. Brought Pavard into the wider public eye.
Despite a myriad of offers later that summer, Pavard opted to stay with Stuttgart for one more season, although his top performances meant suitors continued to sniff around him, and he ultimately penned a deal with Bayern Munich in January 2019 which would see him join the German giants in the upcoming summer,
There were initially concerns about a potential lack of minutes for Pavard. Joshua Kimmich was widely seen as one of the best right-backs around at the time, so Bayern's decision to sign Pavard seemed like another one of those transfers which was made purely to stop the rest of the Bundesliga from having any good players.
However, it would turn out to be a masterstroke as it allowed Kimmich to move into midfield - a move which ultimately saw Bayern reach the next level.
Pavard won the treble in his debut season / MIGUEL A. LOPES/Getty Images
Pavard immediately became a starter at the Allianz Arena, and he now had the platform to prove that he was an elite defender, not just some up-and-coming youngster.
The Frenchman started 31 Bundesliga games that season and deservedly ended the season with a Bundesliga winner's medal. His eye for a goal saw him net four and assist a further seven, but his training as a centre-back ensured he did not forget about his defensive duties either.
He's comfortable in the tackle and boasts the strength to outmuscle most attackers, and when he recovers the ball, Pavard has the eye for a pass which every modern defender needs if they want to be successful. He's as close to the full package as you're likely to find.
His debut season ended with glory in the Bundesliga, Champions League and DfB Pokal, and Pavard played a huge role in all of those successes.
"Benjamin has become a star and he deserves it," Deschamps told kicker (via Goal). "He's not so media-focused. He's very friendly, appreciated by his team-mates, and has an incredible amount of self-confidence.
"He once said to me: 'I'm not afraid of anyone!' So I told him: 'You can think that, but never say it to the media.'"
At 24 years old, the fearless Pavard is theoretically only just entering his prime, and he looks capable of leading Bayern's defence for years to come.
If his trajectory continues, Pavard will likely end his career with countless more trophies in his enviable cabinet, and there's a possibility he'll leave the 'world class' discussion and enter the 'greatest of all time' debate instead.
---