Welcome to World Class 2021 - the top 50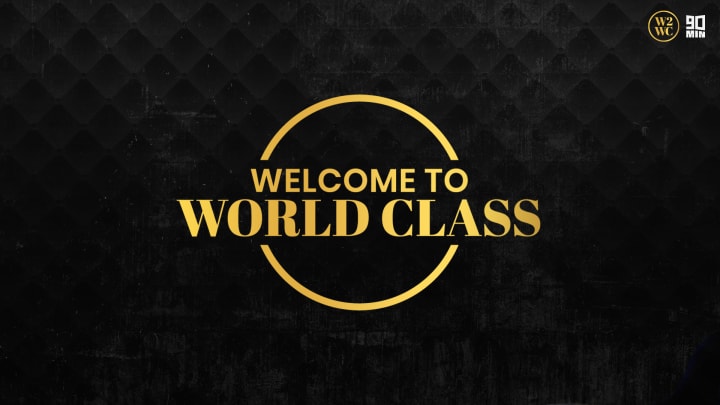 Welcome to World Class' top 50 is in / 90min
If you've been keeping up to date on 90min's Welcome to World Class, you'll know we've been going over what defines a 'world class' footballer in this day and age.
Using our unique metric - you can find an explainer on that here - we picked out five players per position who make up the best the planet can offer in those specific spots.
We've detailed our thinking behind each score in the lists, and it's provoked some great debate on social media. What better way to round things off than a big list of footballers ranked by how each scored on our metric?
Deep breathes, here we go...
---
50.

Reece James
James is dangerous from right back /
Metric Score: 402

James is part of England's rich group of right backs and is edging his way to the front of the queue.

While Trent Alexander-Arnold and Kieran Trippier remain fierce competitors for a national team spot, James' powerful defensive skills and excellent delivery in the final third make him a high quality defender with even higher potential.
49.

Luke Shaw
Luke Shaw had a stunning 2020/21 campaign for club and country / 90min
Metric Score: 408

Shaw has managed to turn his career around over the past year, becoming first choice for both Manchester United and England while delivering some of his most consistent performances to date.

He's found the latter part of 2021 tough, but there's no doubting he's been one of the best left backs around in recent times.
48.

Vinicius Jr
Vinicius Jr was the runner-up in our left forwards poll / 90min
Metric Score: 412

Vinicius squeezed into the rankings for the top five left forwards in the world, with his hot start to the 2021/22 season the reason for his ascension.

The Brazilian has struck up a terrific partnership with Karim Benzema as Real Madrid look to win back the La Liga title.
47.

Ilkay Gundogan
Gundogan's had a stellar 2021 / 90min
Metric Score: 413

One of the big reasons for Manchester City's 2020/21 Premier League title win was Gundogan's goalscoring form.

The Germany international enjoyed some deadly months in front of goal and was voted into the central midfield rankings by 90min followers.
46.

Leroy Sane
Sané was voted in by 90min followers / 90min
Metric Score: 415

Another to be voted in by fans, Sane is now delivering the goods for Bayern Munich.

He claimed the third league title of his career last season and has made a hot start to the current campaign. He's starting to fulfil his potential and the only way is up.
45.

Rodri
Rodri made the cut in our YouTube video / 90min
Metric Score: 418

The holding midfielder baton at Manchester City has finally been passed from Fernandinho to Rodri, and the Spaniard has made that transition look seamless.

He's a consistent presence in Pep Guardiola's starting XI and is good for a banger from distance every now and then too.
44.

Bernardo Silva
Bernardo Silva has had a great season so far / 90min
Metric Score: 422

Silva has been reborn since the start of the 2021/22 season and was voted into the attacking midfield rankings by 90min followers.

The Portugal international has been afforded greater license to get forward and his goal stats show how good a decision that has been.
43.

Serge Gnabry
Gnabry's been stirring the pot all year / 90min
Metric Score: 423

Handpicked by 90min's YouTube gang for the final right forwards spot, Gnabry is now one of the most clinical and ruthless players around.

That didn't seem to be on the cards after that woeful spell at West Brom, showing you should never write someone off just because they couldn't cut it under Tony Pulis.
42.

Theo Hernandez
Hernandez is a threat on the flank / 90min
Metric Score: 423

Hernandez is one of the most dangerous defenders around. He's got a great goal record from the back and doesn't neglect his defensive duties.

His first international cap came in 2021 and he'll add a load more to the four he's accumulated so far by the time his career's done and dusted.
41.

Antonio Rudiger
Rudiger has been brilliant this year / 90min
Metric Score: 426

Voted in via the fan poll, Rudiger has turned his Chelsea career around and is one of Thomas Tuchel's most important players.

Comfortable bringing the ball out from the back and rarely beaten for pace or strength, the centre back is one of the most sought after defenders around.
40.

Fabinho
Fabinho was the surprise winner in our defensive midfielders poll / 90min
Metric Score: 430

You only need watch Liverpool when they don't have Fabinho in their starting lineup to understand just how important he is to Jurgen Klopp.

He wins the ball back quickly and provides excellent cover for his flying full backs at club level. He was voted in by a fan poll too.
39.

Joao Cancelo
Cancelo has become undroppable at City / 90min
Metric Score: 431

It took a while for Cancelo to establish himself at City, but after his performances over the past year or so, it's clear to see just how important he is to the club now.

The Portugal international has a wand of a right foot and has racked up magnificent assist numbers.

You can read more about the stats that prove Cancelo is world class here.
38.

Kyle Walker
Walker's versatility makes him a standout defender / 90min
Metric Score: 431

To reduce Walker to just a speed merchant does a disservice to just how much he has improved since switching Tottenham for Man City.

Walker rarely lets his side down and if you're rated so highly by Pep Guardiola, you're probably doing something right.

You can read more about the stats that prove Walker is world class here.
37.

Federico Chiesa
Chiesa had a breakout year / 90min
Metric Score: 432

Gianluigi Donnarumma and Jorginho aside, Chiesa was the real ace in the pack for Italy at Euro 2020.

An electric presence with the ball at his feet, the winger has turned from promising prodigy to world class performer, as his performances over the summer show.

You can read about how Chiesa became one of world football's most feared wingers here.
36.

Leon Goretzka
Goretzka is a major player at Bayern / 90min
Metric Score: 436

It can be hard to stand out at a club with a squad as richly filled as Bayern Munich's, but that's exactly what Goretzka has done.

An immense goal threat from central midfield, the German pops up with crucial strikes and has helped Bayern in their continued domestic dominance.
35.

Toni Kroos
Kroos continues to boss Real Madrid's midfield / 90min
Metric Score: 437

He might be long in the tooth now, but Kroos continues to have a massive influence on Real Madrid's midfield.

Kroos joins the dots for Los Blancos' attacks and is an underrated defensive presence. He's been world class for years and there's no change this time around.

You can read more about the stats that prove Kroos is world class here.
34.

Riyad Mahrez
Mahrez is a regular contributor at City / 90min
Metric Score: 437

Man City have such an embarrassment of riches in attack that it's easy to underestimate just how excellent Mahrez has been in recent times.

The Algerian has grown in stature at the Etihad Stadium and is one of their go-to guys whenever a goal is needed.
33.

Cesar Azpilicueta
Azpilicueta has been reliable for years at Chelsea /
Metric Score: 441

Azpilicueta has been Mr Dependable for years at Chelsea - whether that be on the side of a back three or as a trademark right back.

Whatever the situation, the Spaniard always drops a consistent 7/10.
32.

Raphael Varane
Varane moved to Man Utd in 2021 / 90min
Metric Score: 443

Varane's trophy cabinet is famously full and he swapped the Bernabeu for Old Trafford in the summer in search of a fresh challenge.

He's a world class operator and it's only a matter of time before he makes Man Utd's defence watertight.
31.

Son Heung-min
Son is now certified as world class / 90min
Metric Score: 444

Now Tottenham's leading light in attack, Son is lethal with either foot and has scored some crucial goals for the club.

His partnership with Harry Kane has taken him up a level, though he now looks happy taking the goalscoring burden solely on his shoulders.
30.

Alphonso Davies
Davies is electric on Bayern's left / 90min
Metric Score: 445

An excellent dribbler with electric pace, Davies has made Bayern's left back spot his own.

He's put a number of European giants to the sword in the past few years, though his amazing recovery speed means he's never in trouble of the defensive side.
29.

Achraf Hakimi
Hakimi impressed at Inter before moving to PSG / 90min
Metric Score: 446

Hakimi's stock has risen exponentially after some excellent spells with Borussia Dortmund and Inter, earning a big move to Paris Saint-Germain.

A major attacking threat with a physical presence, we're yet to see the best of Hakimi in France, but given his world class status, it won't be too long before he's strutting his stuff.
28.

Ederson
Ederson stars between the sticks for City / 90min
Metric Score: 448

There aren't many goalkeepers who match Ederson's distribution.

The Brazilian starts attacks from the back with precision and possesses a commanding presence in his box. We're yet to see him get on penalties, but hopefully that'll change...
27.

Neymar
Neymar remains a threat for PSG / 90min
Metric Score: 448

Neymar hasn't had an incredible year, but he still remains an incredible talent.

Trophies didn't come his way in 2021, but whenever he's on the pitch PSG always have a chance for glory.
26.

Harry Kane
Kane led England to the Euro 2020 final / 90min
Metric Score: 449

Football moves quickly and it's easy to forget Kane ended the 2020/21 season as the top goalscorer and assister in the Premier League, while he also led England to the Euro 2020 final.

Goals have been hard to come by so far this campaign, but Kane is never far away from the back of the net.
25.

Luka Modric
Modric is still pulling strings at Real Madrid / 90min
Metric Score: 453

He's getting on a bit now, but Modric still moves through midfield with all the elegance of a wily cat.

The Croatian enjoyed a decent Euro 2020 and has helped Real charge up to the top of La Liga.
24.

Marco Verratti
Verratti is one of the finest midfielders around / 90min
Metric Score: 453

Verratti would sit a little higher in this list if he played in one of Europe's more prestigious leagues, but he's still an absolutely outrageous footballer.

If you had half an eye on Euro 2020, you'll have seen his incredible ball retention and defensive skills. He's in a league of his own among central midfielders.
23.

Edouard Mendy
Not much gets past Mendy / 90min
Metric Score: 453

A little known goalkeeper just over a year ago, Mendy's ascension to the top of the game has been truly staggering.

He's solved the goalkeeper problem at Chelsea and helped them triumph in the 2021 Champions League final.

You can read more about the stats that prove Mendy is world class here.
22.

Ruben Dias
Dias has made a massive impact at Man City / 90min
Metric Score: 455

With City looking to reclaim their Premier league title last year, Ruben Dias was brought in and immediately revitalised their defence.

He's now a crucial member of Pep Guardiola's backline and won a number of individual accolades for his performances at the Etihad Stadium.

You can read more about the stats that prove Dias is world class here.
21.

Giorgio Chiellini
Chiellini won Euro 2020 with Italy / 90min
Metric Score: 456

One of history's gnarliest defenders ever, Chiellini has that fear factor every centre back in the world wishes they had.

He played a major role in Italy's Euro 2020 win and remains as important as ever for Juventus, even if he is getting on a bit.

You can read more about Chiellini still being a world beater here.
20.

Andy Robertson
Robertson bombs up and down the left for Liverpool / 90min
Metric Score: 457

Liverpool's flying Scotsman down the left flank, Robertson has been the best left back in the world for a few years now.

With excellent attacking quality to go alongside his hard as nails defensive approach, Robertson is well worth his world class tag.
19.

Bruno Fernandes
Fernandes is one of Man Utd's biggest goal threats / 90min
Metric Score: 458

He's barely been at Manchester United two years but the impact Fernandes has had at Old Trafford is massive.

The Portugal international's goal return is spectacular and he's been at the heart of some excellent Red Devils performances in recent times.

You can read about how Fernandes became a leader for United here.
18.

Joshua Kimmich
Kimmich is pivotal at Bayern Munich /
Metric Score: 459

If you're looking for pure footballing IQ, look no further than Bayern's Joshua Kimmich.

The midfielder sprays passes around for fun and has the final product to set up the likes of Thomas Muller, Serge Gnabry and Robert Lewandowski.

You can read more about the stats that prove Kimmich is world class here.
17.

Erling Haaland
Haaland's goal stats are incredible / 90min
Metric Score: 459

Is Haaland human, or is he some sort of cyborg? We're still not sure, but his laser-like precision in front of goal shows some questions need to be asked.

The Dortmund striker is a star in the Bundesliga and Champions League and will be appearing in these W2WC lists for many years to come.
16.

Trent Alexander-Arnold
Alexander-Arnold is a creative wizard at right back / 90min
Metric Score: 460

TAA has reinvented what it means to be a right back. Liverpool's attacks flow through the Englishman and he consistently brings in excellent assist numbers.

He's a true revolutionary and our top right back in the world.
15.

Virgil van Dijk
Van Dijk is the best centre back in the world / 90min
Metric Score: 461

Injuries meant we didn't see as much of Virgil van Dijk in 2021 as we'd like, but he's still the best centre back in the world.

Liverpool and the Netherlands both suffered in his absence, proving how much influence he has at both club and international level.
14.

Thomas Muller
Muller has been brilliant for years / 90min
Metric Score: 461

Muller only seems to be getting better as time progresses. His partnership with Robert Lewandowski is as dangerous as ever and he's now a ten-time champion of Germany.

The German consistently finds ways to reinvent himself and Bayern are all the better for it.

You can read more about the stats that prove Muller is world class here.
13.

Jorginho
Jorginho had an incredible 2021 / 90min
Metric Score: 464

What a year Jorginho has had. He may not have won the Ballon d'Or, but with the Champions League and Euro 2020 trophies in his cabinet, there's no doubting the Italian's class.

His world on and off the ball is pretty subtle but once you see the effect it has on Chelsea, you understand just how good he is.
12.

Alisson Becker
Alisson is the Premier League's top goalie / 90min
Metric Score: 467

He's the only goalkeeper on this list who scored a goal, and what a goal it was.

But aside from his amazing heading skills, Alisson is a remarkable shot-stopper and has won Liverpool points on his own when at his best.
11.

N'Golo Kante
Kante is a rock in Chelsea's midfield /
Metric Score: 467

A few silly onlookers thought N'Golo Kante's powers were waning a few years ago. How foolish must they feel now?

The Chelsea star covers every blade of grass and is an underrated playmaking presence in midfield. He's simply a ridiculous player, and a world class one at that.
10.

Sadio Mane
Mane is one of the world's top left forwards / 90min
Metric Score: 468

Kicking off the top ten scores wise, Mane remains a huge threat for Liverpool and averages a goal every 188 minutes.

He did get knocked off top spot for left forwards by a certain Frenchman, but there's no doubting his class and importance for the Reds.
9.

Jan Oblak
Oblak is a force at Atletico Madrid / 90min
Metric Score: 469

Oblak's huge presence at the back helped Atletico Madrid win another La Liga title.

He was narrowly beaten in our goalkeeper list, but there's no doubting the Slovenian's world class status.
8.

Manuel Neuer
Neuer is #W2WC's top goalkeeper / 90min
Metric Score: 479

#W2WC's top scoring goalkeeper, Neuer is back on top in the goalkeeping world.

He's won it all for Bayern Munich, makes stunning stops when his side need him, and has been in strong form all year.
7.

Kevin De Bruyne
De Bruyne is a star at Man City / 90min
Metric Score: 479

No other attacking midfielder does their job as well as Kevin De Bruyne.

A wicked passer with a rocket of a shot from distance, the Belgian scooped another Premier League title with Manchester City and claimed the PFA Player of the Year award for a second successive season.

Injuries have been annoying, but they don't take away from what has been another stellar year from the midfield maestro.
6.

Kylian Mbappe
Mbappe has grown immensely at PSG / 90min
Metric Score: 484

Mbappe continues to grow at Paris Saint-Germain, so much so that he might have outgrown the French giants in a year or so.

Chat over a move to Real Madrid continues to circulate, but for now Mbappe is totting up insane goal numbers in the French capital.

You can read more about Mbappe's journey to superstardom here.
5.

Karim Benzema
Benzema is Real Madrid's leading attacker / 90min
Metric Score: 491

All it took for Benzema to shine even more brightly for Real Madrid was Cristiano Ronaldo leaving.

Since then, the Frenchman has established himself as the Blancos' main goal threat, while his build-up play remains second to none.

You can read why 2021 was Benzema's best career year here.
4.

Lionel Messi
Messi makes the top four / 90min
Metric Score: 492

He might have secured another Ballon d'Or for 2021, but Messi only comes out at fourth in #W2WC's scoring metric.

The Argentine hasn't set the world alight with Paris Saint-Germain just yet, nor could he influence much good at Barcelona in the months before his shock departure.

Mind you, you'd be a fool to bet against him turning it around and becoming the best again...
3.

Cristiano Ronaldo
Ronaldo is third / 90min
Metric Score: 499

Ronaldo these days is all about goals. You might think he can't press or that Man Utd would somehow be better off without him, but the numbers the Portugal international racks up are still astonishing.

Trophies haven't been bagged recently, but Ronaldo's output is still too exceptional to ignore.

You can read more about Ronaldo remaining world class here.
2.

Mohamed Salah
Salah comes in at number two / 90min
Metric Score: 502

Salah has started the 2021/22 season like a man on fire. Few defences have been able to cope with the Egyptian, who topped our right forwards rankings.

You've got to be pretty special to finish ahead of Lionel Messi in any football related ranking, and that's exactly what Salah is.

You can read more about the brilliance of Salah here.
1.

Robert Lewandowski
Lewandowski is our number one - again / 90min
Metric Score: 508

Lewandowski is reaching that Messi-Ronaldo level where we don't know how else to describe him.

The Pole is a ruthless goalscorer, displays exceptional build-up play and, right now, the ultimate description of the moniker 'world class'.

He's simply the best in the world, just like he was in our inaugural edition of #W2WC.