Champions League
Things we learned from the first legs of the Champions League quarter finals
Apr 8, 2021, 3:15 PM GMT+1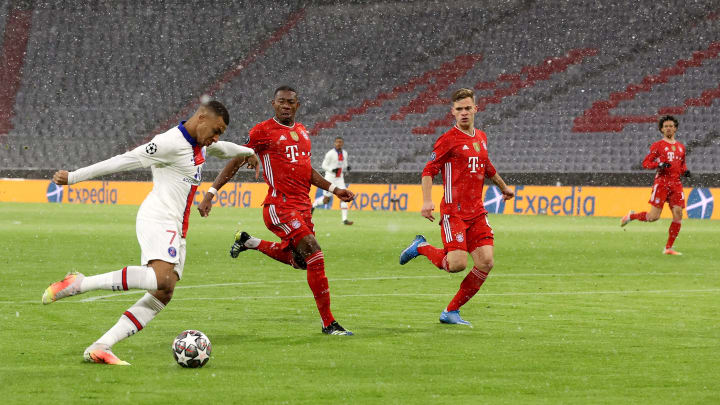 With the first half of the Champions League quarter finals out of the way, now is the time for some reflection before the madness resumes next week.
After an international break, some high octane midweek Gazprom football takes it right out of you, especially with a number of barnburners actually delivering on the hype (for a change).
Nothing is over until the fat lady sings and the first legs so far have set up some seriously tasty second legs to look forward to between Europe's heavyweights. We've definitely learnt a few things already, though, so it's time to debrief.
Here are the key takeaways from the first legs of the Champions League quarter final.
1.

Kylian Mbappe isn't bad at football
Let's have it right: he's alright that Kylian fella, ain't he?

Another two goals for the Frenchman saw his side edge past Bayern Munich in their away leg, and takes him to eight goals from eight games thus far in the Champions League.

Different gravy.
2.

Real Madrid - overlooked and underestimated
With everyone slagging off La Liga sides this season - and perhaps rightly so - for their underperformance on the big stage, Real Madrid put in a blinder against Liverpool to silence the doubters.

Los Blancos have been under fire all season, but completely ripped Liverpool apart at the Estadio Alfredo Di Stefano. They did it without key players like Sergio Ramos too.

Jurgen Klopp might think using the 6,000-seater venue was cheating, but the only cheat code on the night was Toni Kroos slicing the Reds open with a passing clinic.

Football heritage.
3.

Keylor Navas deserves some respect
Keylor Navas loves the Champions League.

The Costa Rican won it three times at Real Madrid and was key in PSG making the final last season, and he looks set for another fine campaign this year too.

He made nine saves and saved a Lionel Messi penalty against Barcelona in the last 16, and made ten saves against Bayern in the first leg of the last eight. Severely underrated, but always the goalkeeper for the big occasion.
4.

Birmingham were right to retire Jude Bellingham's shirt
Okay, maybe that is a slight exaggeration, but they definitely appreciated what they had in Jude Bellingham.

The 17-year-old is absolutely immense. Questionable officiating saw him robbed of a deserved Champions League quarter final goal against Manchester City that could still prove crucial to who advances, but don't let that take away from just how comfortable he already looks at the top level. He bossed it at the Etihad.

Mr. Southgate, get him on the plane/coach and into the England XI.
5.

Thomas Tuchel's Chelsea should be taken more seriously
So far, Chelsea have conceded just two goals in the Champions League this season. Two.

Ridicule them all you want for conceding five against West Brom, but they're dominating proceedings in Europe. Edouard Mendy is yet to concede a goal from open play in the competition; with defensive records like that, you can go a long way in a knockout tournament.

The Blues are not to be underestimated.
6.

Agent Erling Haaland
Great bit of graft from Erling Haaland on his visit to Manchester.

The forward evaded scoring in order to knock down his price tag ahead of a move to Manchester City in the summer, as well as drumming up speculation with a number of compliments about the ground and being caught in conversation with Phil Foden after the full-time whistle.

He's seen the big ASDA outside the stadium and been convinced on the spot, and for that, you can't blame him.