The First 10 Things You Need to Do in a Real Madrid Football Manager 2021 Save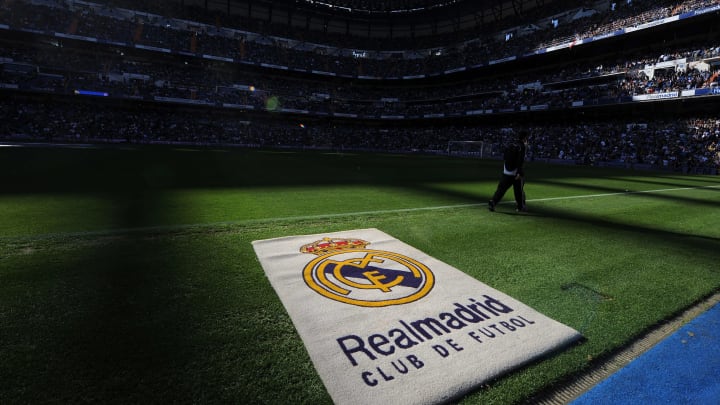 Players will be trying to get Madrid challenging in the Champions League again after back-to-back early eliminations / Denis Doyle/Getty Images
With Football Manager 2021 arriving in time to cure those lockdown blues, many football fanatics will be taking on the challenge of the Real Madrid hot seat this year.
The club has won a staggering 13 Champions League titles and the Spanish top flight 34 times, but it hasn't been all joy in Madrid for the past two seasons now. Despite picking up the La Liga title during the last campaign, Madrid have fallen to defeats in the Champions League last 16 in the past two seasons.
With tensions rising off the pitch between manager Zinedine Zidane and loanee Gareth Bale, can you bring harmony back to the squad and get them challenging among Europe's elite once again?
Here's 10 things you'll need to do in FM21.
---
1.

Get Bale Off the Books
Gareth Bale moved to Tottenham on loan this summer / Francois Nel/Getty Images
With the 31-year-old securing a loan move back to Tottenham this summer, it'll be your mission to make that a permanent deal.

Gareth Bale isn't exactly a popular figure in Madrid. He has come under scrutiny from the press and fans during the last few seasons, and questions will be asked if you opt to bring the Welshman back to the Spanish capital.

The best thing for all parties is to get his hefty wages off your books as soon as possible.
---
2.

Buy Back Reguilon
Reguilon is Spain's starting left-back / DeFodi Images/Getty Images
After every game Sergio Reguilon plays for Spain and Tottenham, the decision to allow him to depart Madrid in the summer just looks even more questionable.

As manager of Real Madrid, you will have the option to buy Reguilon back from Spurs during the next two summers for around €50m, and it's something that has to be done.

His energy, crossing ability and potential could see him become one of the world's best left-backs - a player you'd definitely want to replace the ageing Marcelo.
---
3.

Replace Benzema
With Benzema aged 32, Madrid need to be on the hunt for a replacement / Angel Martinez/Getty Images
The French striker has been on Real Madrid's books for 11 seasons now, and it's time you stamp your authority on Los Blancos with a new talisman.

With Mariano Diaz and Luka Jovic as the other two strikers in the squad, you'll likely have to dip into the transfer market in order to replace the goals Karim Benzema has netted for Madrid over the years.

Break the bank for Kylian Mbappe and play him down the middle? Snap up Erling Haaland? You've got plenty of options.
---
4.

Find Ramos' Understudy
Ramos has scored a remarkable 100 goals for Madrid / DeFodi Images/Getty Images
Captain, defender, goalscorer. Sergio Ramos is pretty special and will undoubtedly go down as a Real Madrid legend.

However, all good things must come to an end and with the Spaniard at the age of 34, he will likely hang up his boots if you keep your job for long enough.

You must set out to find Ramos' understudy, someone who can gain some vital mentoring from the legendary captain while he's still at the club.
---
5.

Unleash Hazard's Full Potential
Hazard's first year in Madrid was hampered by injury / David Ramos/Getty Images
Despite a difficult first season at Real Madrid, Eden Hazard is still one of the best players in FM21.

Regardless of the Belgian's injury record and whoever you choose to bring into the club, Hazard should still be one of the first names on the teamsheet when he's fit.

Madrid's number seven should be closely monitored in training exercises in order to ensure he stays fit so you can get the best out of him.
---
6.

Secure Loan Moves For the Youngsters
Vinicius Jr is one of Madrid's brightest prospects / Quality Sport Images/Getty Images
Let's face it. You're at a giant of a club, the demands are high, you'll be wanting to splash the cash.

While this is perfectly normal for any Madrid boss to do, it does mean the promising youngsters will likely fall out of favour in your plans as manager.

Vinicius Jr, Brahim Diaz, Martin Odegaard - keep these talents on your books at all costs. If they won't get game time during the season, then make it a priority to secure good loan moves.
---
7.

Find Your Next Ronaldo
Ronaldo was the star at Los Blancos for almost a decade / Carlos Rodrigues/Getty Images
Ever since Cristiano Ronaldo left for Juventus in 2018, Madrid has missed him.

A leader in attack that was capable of hauling Los Blancos out of any sticky situation, and it'll be your job to find his replacement.

Your squad will need a star to compete with Lionel Messi's FC Barcelona, and you will have to decide exactly who that'll be. Will you build your side around Hazard? Or should you break the bank to bring in another superstar?
---
8.

Buy for Now, Not the Future
Sadio Mane should be on your shortlist / Visionhaus/Getty Images
The board at Real Madrid are pretty ruthless. Silverware isn't an option, it's a necessity.

With that in mind, young gems should not be your priority in your first window. Instead, you'll need to solve problems with players that are currently up there with the best in the world.

Sadio Mane could be the perfect replacement for Bale on the wing.
---
9.

Sell the Fringe Players
Lucas Vasquez is one of a few players you could sell in your first window / Quality Sport Images/Getty Images
We all get to that stage playing Football Manager when you simply run out of funds...oops!

Fear not, the Real Madrid squad has a few fringe players you could look to sell if you are in need of raising extra cash to spend on your transfer targets.

Lucas Vazquez, Mariano Diaz and Nacho could all be offered to clubs, and you may even raise as much as £50m from doing so...depending on your negotiation skills!
---
10.

Goalkeeper Depth
Courtois and Lunin are the only two first-tam 'keepers at the club / Soccrates Images/Getty Images
After your predecessor Zidane let Alphonse Areola's loan expire without signing a replacement, the goalkeeping department is pretty bare...cheers Zinedine.

Thibaut Courtois and 21-year-old Andriy Lunin are what you're left with, so bringing in a third goalkeeper should be a necessary task in your first summer.

An experienced second-choice shot-stopper would do the job, and shouldn't cost too much either.
---