World News
Meet Sol Solomon: The 2021/22 FA Cup's leading scorer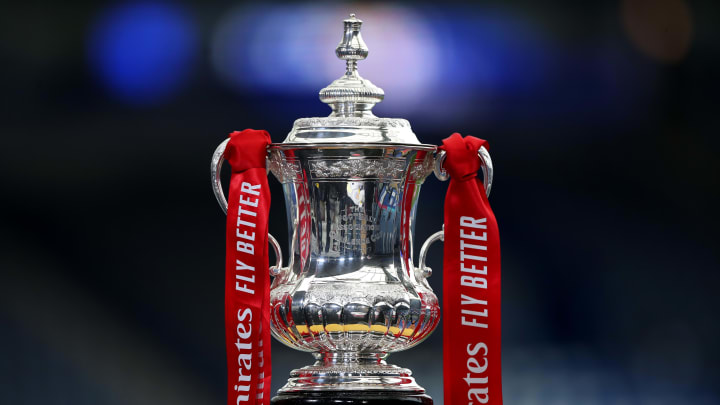 The trophy at the end of the rainbow / Alex Pantling/Getty Images
The Emirates FA Cup qualifying rounds are jam-packed with quirks and fascinating sub-plots, and this year is absolutely no exception.
When the third qualifying round kicks off this weekend, for example, the leading scorer will be turning out for a team who had never played in the competition until this August.
Jersey Bulls FC are – and yes, the name's a bit of a giveaway – a team based on the island of Jersey. Formed in 2019, they have an enviable record from their two active years. Promoted this summer to the Combined Counties League Premier Division South, their defeat in their opening game was the first they'd suffered in a competitive game...ever. They hated that, so they've kick-started another unbeaten run of more than two months.
Key to that run, which started with a 10-1 win over Horsham Y.M.C.A. in the FA Cup Extra Preliminary Round the following week, has been 20-year-old sensation Sol Solomon.
The young Liverpool and Rangers fan – both through family connections, he's not just a massive Steven Gerrard ultra – leads this season's goalscoring charts with nine strikes through the end of the second qualifying round. He's timed it well too, with the 150th anniversary of the Emirates FA Cup providing a chance to reward the competition's highest scorer for the first time, with the Golden Ball award in partnership with Mitre.
Solomon kicked off his scoring run with three goals in the last 15 minutes of that drubbing of Horsham, earning the local paper's man of the match award, before taking his tally to five in the next round against Newhaven.
Two more in a thrashing of VCD Athletic in the first qualifying round proper took him level with former National League journeyman Adam Boyes, but it was against Sutton Common Rovers that Solomon pulled clear, scoring in a 2-2 draw on the BBC before bagging an outrageous back-heel winner in a 3-2 replay win at Gander Green Lane.
A couple of trials with clubs on the mainland, including Millwall and most recently Dover Athletic, have come to nothing – apparently he's 'not physical enough' for the rough and tumble of the National League yet – but the Bulls' formation in 2019 has given him a platform to play in England... even if it means more travel than any 'local' side would expect.
"It does get quite hard," Solomon told 90min this week, "especially in the winter months. Waking up and it's still cold, pitch black, it's a bit grim – but it's worth it when you win. We've not lost yet in an early December morning, I might have a different answer if that happens."
The Bulls were formed when he was 18, and Solomon admits that the opportunity to cross over to the mainland every other week to face new opponents was a big part of the club's appear. "Every time you play for the Bulls," he adds, "you aren't just representing a small group of people, you're representing the whole island – that's something I love doing."
He has also expressed an interest in showing out for the Parishes of Jersey FC side who represent the island in non-FIFA 'national' competitions, first under CONIFA's auspices and now with the World Unity Football Alliance. Sign him up lads, before Scotland realise his mum's from Glasgow and come sniffing around for a goalscorer.
Solomon and the Bulls face a formidable opponent on Saturday as they try to keep their respective runs going, 2018/19 FA Vase winners Chertsey Town. They are a step above the islanders on the pyramid in the Isthmian League South Central Division and both teams are looking to reach the fourth qualifying round for the first time in their respective histories, with the Jersey side expecting a sell-out crowd at the Springfield Stadium.
---