FC Barcelona
Anatomy of a goal: Ronaldo's unbelievable solo effort against Compostela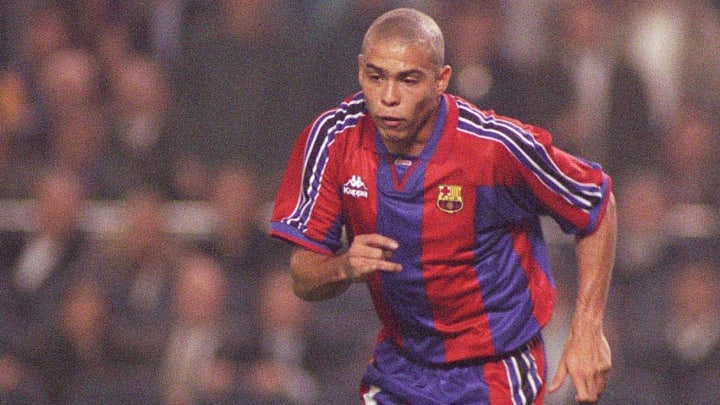 Ronaldo scored arguably the best goal of his career against Compostela / Claudio Villa/Getty Images
For anyone who didn't witness first hand the phenomenon that was Ronaldo, it's difficult to comprehend just how good he actually was.
By the age of 20 he'd already broken the world transfer record twice - a feat only matched by fellow South American superstar Diego Maradona - with the first of said records seeing him seal a move to Spanish behemoths Barcelona.
Needless to say Ronaldo - O Fenomeno, and the subject of DAZN's documentary 'Ronaldo: El Presidente' - absolutely tore La Liga apart, with his stunning haul of 47 goals in 49 games seeing him win the 1997 Ballon d'Or by a landslide.
His move to Barça ultimately turned sour as he left the club after just a year following a contract dispute, yet despite the fact he'd then go on to represent fierce rivals Real Madrid later in his career, he's still held in high regard by the majority of Barcelona's fanbase - which is possibly even more ridiculous than being crowned the best player in the world at 21.
You may wonder why the Brazilian hitman isn't public enemy number one in Barcelona and you'd be right to do so.
Ronaldo was superb at Barcelona / Alessandro Sabattini/Getty Images
Top players come and go at big clubs all the time, but as soon as they join a rival they're usually forgotten in an instant by the fans who used to sing their name - so what makes Ronaldo so different?
The simple fact of the matter is almost everyone loves Ronaldo.
He falls into that rare bracket of players who are universally adored due to the passion he had for the game and the almost incomprehensible talent in his boots.
Were it not for injuries he would be revered even more than he already is, and even now you'd be watching highlight reels for days if you typed 'Ronaldo Nazario best bits' into YouTube - though his brief stay in Barcelona would still provide arguably the best of the lot.
The former PSV Eindhoven man didn't take long to start paying back his whopping £13.2m transfer fee, notching five goals and two assists in his opening six La Liga outings.
Bobby Robson's side sat second in La Liga as they travelled to minnows Compostela and La Blaugrana soon asserted their dominance on the game as they raced into a 2-0 lead.
With little over half a hour on the clock, Ronaldo found himself engaged in a tussle in midfield which he looked to have escaped from before being, shall we say, curtailed by Compostela midfielder Said Chiba - or so it looked.
The Moroccan hacked away at Ronaldo as though he were trying to kick a tree stump out the ground, but the Brazilian somehow managed to keep his balance before Chiba admitted defeat and nearly ripped the shirt off his back. Yet somehow Ronaldo almost used this to his advantage as he fell back and used his momentum to drag the ball away from the next emerging defender before accelerating away from them both.
Ronaldo Nazario spent one year at Camp Nou / Claudio Villa/Getty Images
It was like something out of Tom and Jerry, as Compostela's players might as well have been hitting him over the head with brooms or laying mousetraps on the floor. Nothing they tried worked.
Ronaldo continued to sprint forward with the ball at his feet, leaving the opposition in a cloud of dust as he neared the edge of the area. Across came uncompromising Brazilian defender William, and by this point Ronaldo had already caused great embarrassment to his teammates. It was a simply a case of chop him down and ensure this moment of magic doesn't end up being one of the greatest goals ever scored
But Ronaldo skipped inside, using both feet to weave his way in between William and his teammate Jose Ramon, looking like the ball was attached to his boot with a piece of string. The two Compostela defenders attempted to sandwich him yet ended up charging into each other as Ronaldo slipped away from them both.
With a trail of destruction in his wake, he just had goalkeeper Fernando Peralta to beat - but to him this was the easy part. Ronaldo had already built a reputation as one of the deadliest finishers in world football, so nobody was surprised to see him slot the ball home with ruthless efficiency.
Turns out there was a way to stop Ronaldo / Claudio Villa/Getty Images
A young assistant coach by the name Jose Mourinho jumped off Barcelona's bench, with Robson left with his hands on his head having witnessed a goal even he couldn't comprehend despite his many, many years in the game.
They both knew they'd witnessed a moment of sheer brilliance, but to Ronaldo it was the easiest thing in the world. He was, after all, an absolute genius.
---
Ronaldo was the focus of a documentary series, 'Ronaldo- El Presidente'. Having taken his talents from the pitch to the boardroom, the show follows his life as owner and president of Real Valladolid. You can watch the six-part series exclusively on DAZN now.
---