World News
Queensboro FC to construct first purpose-built soccer stadium in New York City
Apr 27, 2021, 4:50 PM GMT+1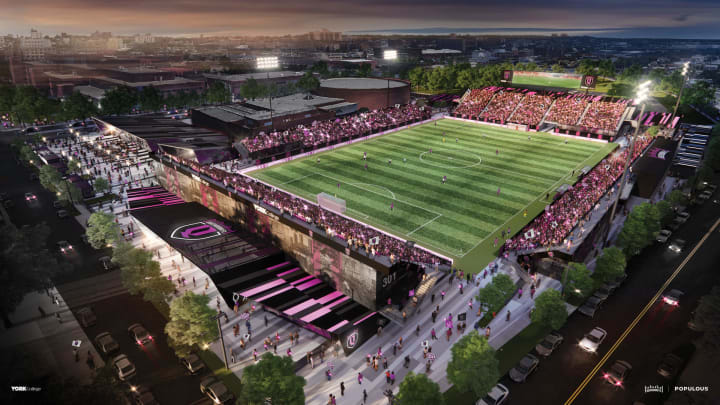 Queensboro FC has announced that it will play its home games at a new stadium at York College of The City University of New York in their inaugural United Soccer League season in 2022.
It will be the first ever purpose-built soccer stadium constructed by any professional sports team in New York City.
The 7,500-seat arena will be designed in partnership with Populous, who helped design world-class soccer venues such as the Tottenham Hotspur Stadium and the Emirates Stadium.
"Today is an exciting day for Queensboro FC. The announcement of our home stadium site at
York College represents a bold new chapter for professional sports in New York City," club owner Jonathan Krane said.
"More importantly, we are proud to deliver our QBFC fans a dedicated soccer specific venue, built by and for the Queens community, bringing us all together to celebrate the beautiful game."
Queens prides itself on its diversity, and is home to more than two million residents from 150 nationalities. Former USWNT star and part owner of QBFC Aly Wagner discussed the importance of bringing a soccer club and stadium to the community.
"The soccer community in Queens is finally getting what they've always wanted - their own team
and their own stadium," she said.
"We have worked really hard over the past two years to bring QBFC to life, and this stadium represents a huge step forward. It will serve as a physical manifestation, and a leading example, of how to build a modern-day soccer team in an ever-changing world of sports and entertainment."
To celebrate the announcement, QBFC has launched the 1909 Club for its fans, named in
honor of the Queensborough Bridge, which opened in 1909 and is an integral part of QBFC's
crest design.
To officially kick off ticket sales for the 2022 inaugural season, QBFC is offering a
limited-time promotion for the first 1,909 people to place a deposit, which grants lifelong
membership to the 1909 Club.
For more information, visit QBFC's official website.