Nike drop Kylian Mbappe x LeBron James 'Chosen 2' collab pack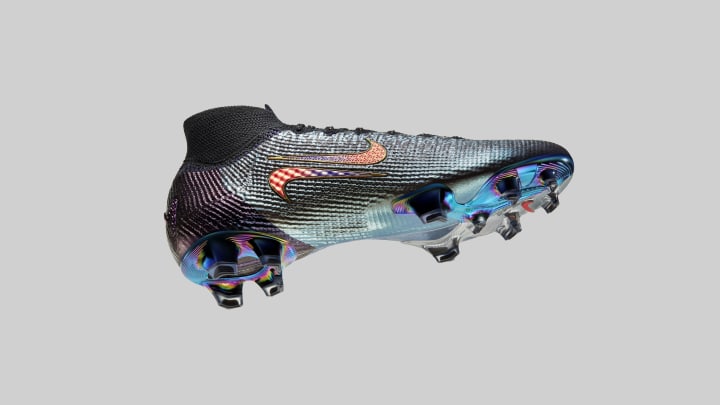 The new Nike Mercurial Mbappé Chosen 2
After a lot of hype, two of the biggest names in football and basketball have combined for a unique football boot and basketball shoe drop from sportswear giant Nike.
The 'Chosen 2' pack sees Paris Saint-Germain superstar Kylian Mbappé collaborate with LA Lakers icon LeBron James with two designs inspired by 'duality', and the athletes' shared path to becoming champions at the very top of their respective games in the face of adversity.
Both men endured tough upbringings, with Mbappé hailing from the troubled Bondy suburb of Paris, while James grew up in the tough neighbourhoods of Akron, Ohio.
The Chosen 2 pack celebrates the pair, recognising their relationship and the impact they are making on the future generation. Both men have set up charitable foundations to help those less fortunate than themselves in their hometowns, with James opening a school and planning to build a community hub, while Mbappé's ties with Nike have seen a fresh sports court laid in Bondy.
The drop includes the Nike Mercurial Mbappé Chosen 2 - the 22-year-old Frenchman's latest signature Nike Mercurial boot - with the silhouette arriving in an iridescent black and silver with the 'KM X LBJ' pattern.
Kylian Mbappé's latest signature boot
A 'Chosen One' ambigram logo is found on the boot's toe, and a 3D 'KM' logo and 'LBJ' is imprinted on the heel tabs of the shoes.
If basketball is more your bag, you can also get your hands on the Nike LeBron 18 Chosen 2 basketball shoe. The design comes with a black 'Knitposite 2.0' upper on a translucent sole, again featuring the collaborative logo extensively, while the double swoosh sits on the forefoot here too.
In the buildup to the release, the two superstars had swapped Instagram profile photos to drum up plenty of hype and anticipation for a collaboration.
Speaking about the release, PSG star Mbappé said: "LeBron is a unique champion and I have the deepest respect for him on, but also off the court. He is an inspiration to me. From Akron to Paris, we are both taking action to move the lines in our society and offer a better world to the younger generation. 
"I truly hope our common message will have a strong social impact and this is just the beginning of our stories. I want to inspire and carry this young generation, to show them everything is possible."
The LeBron 18 Chosen 2
NBA legend James echoed that sentiment, saying: "No matter where I go in the world, I will always be just a kid from Akron. And I will always use my platform and do everything I can to uplift and empower the kids coming up after me. It's about creating real, tangible change, and always leaving a place better than you found it."
---