Major League Soccer
MLS Cup Playoffs preview: Orlando City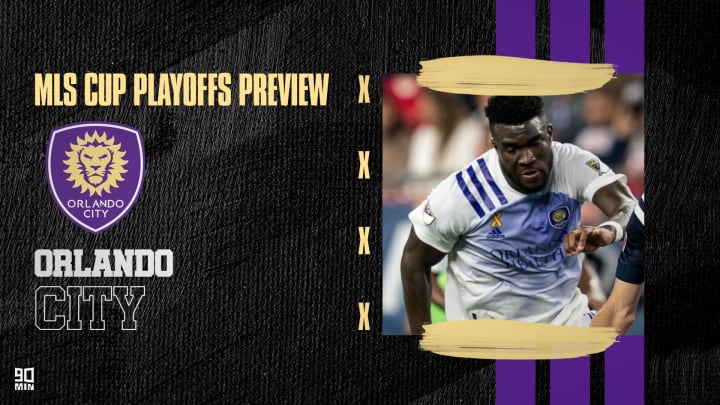 Orlando City have made the Playoffs for the second season running after making their post-season debut in 2020. /
For the second year in a row, Orlando City have made it to the MLS Cup Playoffs.
Having missed out on the post season and languished near the bottom of the East over their first five years in Major League Soccer, the Lions have become quite the force under Oscar Pareja.
Here's everything you need to know about Orlando City ahead of the post season - from tactics to key players, and their chances of winning the big prize.
---
How did Orlando City make it to the MLS Cup Playoffs?
Orlando took the East by storm in the early stages of the season, losing just one of their opening 10 games. But from that point on, it was utter inconsistency, and a four-game losing streak in September left them in real danger of missing out on the Playoffs altogether.
Ultimately, they restabilized and a hard-fought 2-0 Decision Day win at CF Montreal punched their ticket. But Orlando have looked far from convincing recently - can they get it together in the Playoffs?
---
Oscar Pareja: Tactics and style of play
Pareja has turned Orlando's fortunes around. / Dale Zanine-USA TODAY Sports
In his 4-4-2 and 4-2-3-1 hybrids, Oscar Pareja very much sets Orlando up to be tough to break down. Don't be fooled by their 48 goals conceded during the regular season - that stat is a little skewed by allowing five against NYCFC and four against Montreal, and their xA is actually a healthy 42.1, the fifth-best in the East. They rank okay on clean sheets, too, with nine.
That's how they'll approach things in the Playoffs, too, with a double-pivot of Junior Urso and Jhegson Mendez protecting the center-backs and allowing Ruan and Emmanuel Mas the freedom to provide width in the attack. The likes of Chris Mueller, Nani, and Benji Michel all like to tuck inside and operate centrally, where they'll create space for Mauricio Pereyra and combine with Daryl Dike.
Can the supporting cast both provide enough service to help Dike, and supplement his goal tally themselves? And will Nani wake up just in time for the Playoffs? The ethos at Orlando is good, but there are question marks.
---
Who are Orlando City's key players?
Nani: As he often does, Nani started the season at an MVP level, with nine goals and six assists in his opening 15 appearances. Then, characteristically, he fell off a cliff, with just one goal and one assist in his 13 outings since. Even at 34, Nani still has magic in his boots, and he clearly cares deeply for the Orlando cause. But he has to either start maintaining his form across a full season, or saving himself for the final sprint. Or maybe that's what this fallow spell has been? The answer to that question is critical to the Lions' Playoff cause.
Daryl Dike: His loan to Barnsley and some pesky injuries meant Daryl Dike didn't get close in the MLS Golden Boot race. But he's been one of the most lethal strikers in the league with the time he's been given, scoring at a rate of 0.7 goals per 90 minutes - only four players in MLS boast a better rate. In just 1,325 minutes, Dike hit 10 goals to end the regular season as Orlando's top scorer alongside Nani. And goals aside, his hold-up play and ability to run down a backline with the ball at his feet are vital weapons for an Orlando side that can sometimes appear short on ideas.
Pedro Gallese: Pedro Gallese has overperformed his xA by 1.43 this season, which basically means he's prevented just under one-and-a-half goals that he would reasonably be expected to concede. By his own lofty standards, that represents quite a poor season - for context, Andre Blake and Matt Turner are the league's frontrunners in this metric with 7.71 and 7.30, respectively. Even so, Gallese can still be counted among the best goalkeepers in MLS thanks to his cat-like reflexes and shot-stopping. He'll need to stand tall when called upon in the post-season.
---
How far can Orlando City go in the MLS Cup Playoffs?
Can Orlando City go all the way? Matthew Burt /
It would have been a shock had Orlando not made the Playoffs given their talent and early-season form. But now that they're here, it's hard to see them advancing.
Their Round One opponents, Nashville, are unbeaten on home soil and are ruthless at both ends of the pitch. Orlando cannot claim that defensively or offensively.
As mentioned, it all comes down to the ability of Nani, Mueller, Michel and co to provide support for Dike.
Prediction: Round One