MLS Cup Playoffs preview: Minnesota United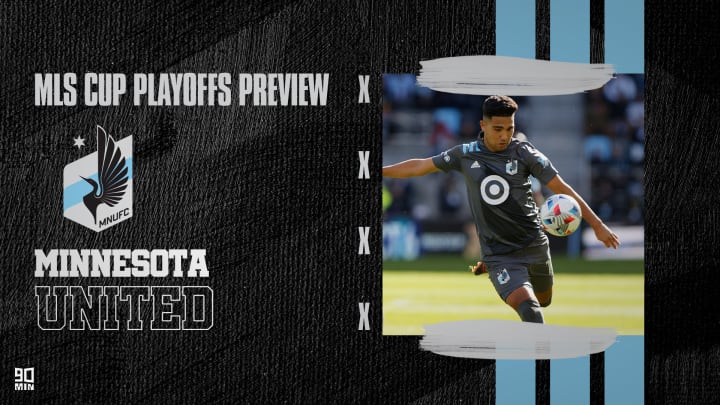 The Loons secured their Playoff spot on the final day against the LA Galaxy. /
For the third year in a row, Minnesota United have made it to the MLS Cup Playoffs.
It took a Decision Day draw away at the LA Galaxy to seal their fate, but now that they're here, the Loons will fancy their chances after reaching last season's Western Conference final.
Here's everything you need to know about Minnesota United ahead of the post season - from tactics to key players, and their chances of winning the big prize.
---
How did Minnesota United make it to the MLS Cup Playoffs?
After losing each of their opening four games by a 10-3 aggregate scoreline, there were genuine fears Minnesota would not only miss out on the Playoffs, but finish bottom of the West altogether.
Those fears turned out to be unfounded. The Loons then went on to lose just two of their next 17 matches. Adrian Heath tightened up the backline, and the likes of Emanuel Reynoso and Franco Fragapane started gelling in the final third - the latter arriving in May.
Inconsistency meant Minnesota could only manage a fifth-place finish in the West, so they won't host either of their first two Playoff games at the very least. But four points against Sporting Kansas City and the Galaxy in the final two regular season matches showed exactly what this team is capable of at its best.
---
Adrian Heath: Tactics and style of play
Heath is fiercely defensive of his players. / Jay Biggerstaff-USA TODAY Sports
Minnesota are at their best in the final third where their creative pieces can get to work. To get the most out of these players, Adrian Heath sets up in a 4-2-3-1 system.
Romain Metanire provides attacking thrust from right-back, and is given more freedom by Chase Gasper being more defensive-minded on the other side. He will often tuck in to help form a back three with Michael Boxall and Bakaye Dibassy when the Loons go forward.
Wil Trapp and Ozzy Alonso are the most common pairing at the double-pivot. There are mobility issues with both, but plenty of ball security, experience, and positional know-how. A fully fit Hassani Dotson also does a lot to combat the slow legs in this area.
This entire set-up is there to get the very best out of Emanuel Reynoso - who is often touted as the best player in MLS by Heath - Franco Fragapane, Robin Lod, and Adrien Hunou.
When in full flow, this front four is among the most dangerous in the league, with pace, creativity, and dazzling movement. And should Heath wish to lock the game up, Ethan Finlay is a more industrious option to lock down wide areas.
---
Who are Minnesota United's key players?
Emanuel Reynoso
As mentioned, Heath believes Reynoso is the best player in MLS. Even if that's not quite true, he's right up there.
The Argentine is a wizard with the ball at his feet, able to split defenses with laser-precise passing both on the ground or over the top, while he's almost impossible to dispossess when he gets on the dribble.
The only criticism of Reynoso is that he doesn't quite score enough goals, but when he does, they're usually appointment viewing. 'Bebelo' is undoubtedly the key to Minnesota's success or failure this off-season.
Franco Fragapane
Some players take a little time to adjust to MLS. Not Franco Fragapane. The Argentine winger arrived in May and hit the ground running immediately, bagging five goals and nine assists in 19 appearances.
Fragapane is fast and direct, but also has great passing ability in his locker, and can add variation on set-piece deliveries if Heath fancies a change from Reynoso. Nobody is going to relish defending against Fragapane.
Robin Lod
There are those who believe Lod is the least talented among Minnesota United's forwards. That may be true at a technical level, but the Finland international's soccer IQ is through the roof, and his versatility alone makes him a vital piece.
Lod's movement is among the best in MLS, always finding the right pockets of space or drawing defenders out to free up Reynoso and Co. He's also a plug-and-play option right across the forward line for Heath, able to change the game from all angles. Don't sleep on Lod being Minnesota's real hero in the post season.
---
How far can Minnesota United go in the MLS Cup Playoffs?
Can Minnesota United go all the way? | Matthew Burt /
If that forward line purrs, Minnesota are capable of battling all the way to MLS Cup. However, they face a real test away at the Portland Timbers in Round One.
If there's a weakness in this Minnesota team, it's their pressing efficiency - the ability to turn pressure into turnovers in dangerous areas. The Timbers are so direct and quick bypassing pressure, the Loons could be on the back foot and shorthanded in just a couple of passes.
They've already beaten Portland twice this season, but the Timbers are experts in knockout competition and could prove their match here,
Prediction: Round One