Major League Soccer
Major League Soccer commemorates Pride month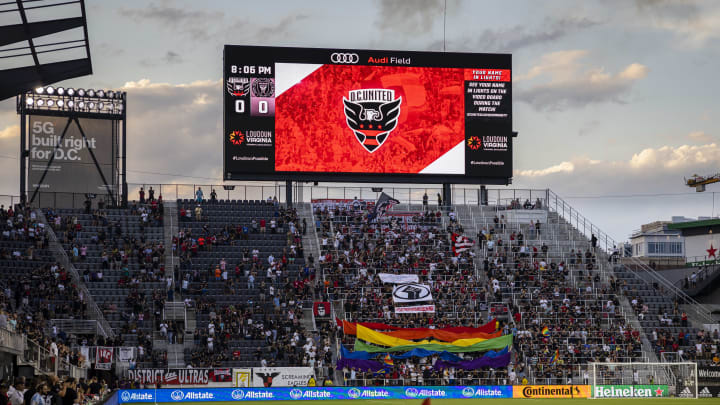 Inter Miami CF vs DC United during Pride night / Scott Taetsch/Getty Images
Major League Soccer teams and players have come together to celebrate and commemorate Pride month in June through donations, fundraisers and stadium Pride nights. Every MLS side doted a rainbow-colored jersey during one home match to show their support to the LGBTQ+ community, available for purchase with donations at every stadium store. 
Most recently, MLS announced a partnership with Athlete Ally, a nonprofit LGBTQ+ athletic advocacy group. Individual players have taken to their social media accounts to promote the organization and its tremendous work in hopes to raise awareness and start important conversations. 
"As part of Major League Soccer's long-standing support of the LGBTQ+ community, and in celebration of Pride month in June, the league will make a contribution to Athlete Ally, an organization supporting equal access, opportunity, and experience in sports — regardless of sexual orientation, gender identity or gender expression," Major League Soccer said in a statement.
On a club level, each MLS side partnered with different local LGBTQ+ focused foundations and organizations through auctions, giveaways and activities.
The New England Revolution, for example, will donuts a portion of all proceeds from sales of Pride merchandise at the Stadium shop to the Boston Alliance of Gay, Lesbian, Bisexual and Transgender Youth. The Portland Timbers and Portland Thorns provided a football-based initiative for their players, promising to make a $100 donation to the Q Center for every goal scored in the month of June. 
Several players also expressed their support for Playing for Pride through social media, a movement started by former MLS player Austin da Luz in response to the growing perception of the LGBTQ+ community in North Carolina. 
Collectively, all 27 Major League Soccer teams will be highlighting several stories from the LGBTQ+ community and the Playing for Pride campaign to continue raising awareness and breaking the stigma. The organization also works to bring together athletes, players and different leagues to support the idea of making sports inclusive for every community. To echo that same message, all around stadiums the words 'soccer for all' will be displayed. 
---