Arsenal
How Arsenal can get the best out of Martin Odegaard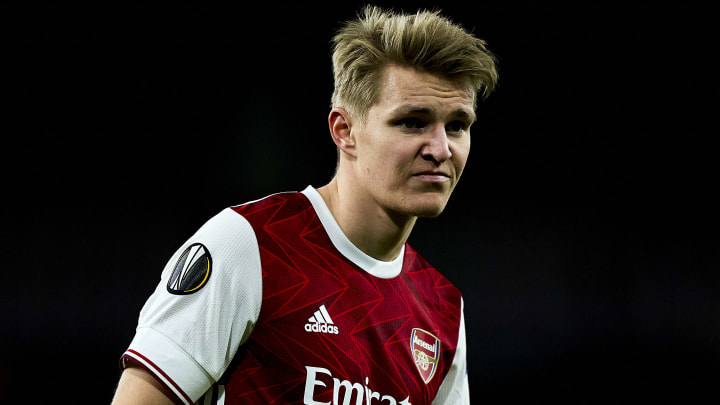 Martin Odegaard is back at Arsenal on a permanent basis / Quality Sport Images/Getty Images
After begging for an injection of creativity all summer, Mikel Arteta finally had his prayers answered as Arsenal struck a deal to bring Norway midfielder Martin Odegaard back to the club on a permanent basis.
The 22-year-old, who joins for a little over £30m, enjoyed a successful six-month spell at the Emirates last season, playing a subtle role in the Gunners' significant upturn in form as the season came to a close.
Arsenal desperately wanted him back, and Real Madrid eventually accepted defeat and let him go - so it's now it's up to Arteta to find a way to get the most out of Odegaard on a long-term basis.
On paper, it's actually a bit of a tricky conundrum for the Spaniard. After all, Odegaard does his best work as a 10 behind the striker, which just so happens to be the preferred position of one of the club's best homegrown youngsters, Emile Smith Rowe. Finding a way to make the pair work together is key.
We saw Odegaard and Smith Rowe work in perfect tandem on occasion last year, when Arteta opted for a 3-4-2-1 formation and gave the two youngsters complete creative freedom in those two attacking midfield roles.
It worked perfectly, with Arsenal running out 1-0 winners over Thomas Tuchel's future European champions using that setup, and that's the exact level the Gunners will expect to be playing at now they have their top target.
However, Arteta's preference is to keep four men in defence and deploy a 4-2-3-1, which obviously only comes with one central attacking midfield spot.
Smith Rowe must find a way to work with Odegaard / Shaun Botterill/Getty Images
Fortunately for the boss, the versatility of both Smith Rowe and Odegaard should allow them to fit into that system. Odegaard has played on the right for Norway, whereas Smith Rowe has spent time on the left.
Expect to see both deployed in the same team and effectively in the same positions. The roles they take up on paper will be just that, on paper, as Smith Rowe and Odegaard will be given all the freedom in the world to rotate, drop deep and find pockets of space in order to evade opposition defences.
That's what makes this signing so intriguing. Odegaard's arrival could give Arsenal a new identity and steer them away from the crosses and vibes system that hasn't really worked for a while now.
Instead of lumping balls into Alexandre Lacazette or relying on Smith Rowe and left-back Kieran Tierney to create literally everything, Arsenal will now have a new creative maestro capable of putting all the pieces together.
Expect Odegaard to be given a free role / Mike Hewitt/Getty Images
Arteta eluded to that following Odegaard's return to the club, insisting the 22-year-old's partnership with Smith Rowe brings a whole new dynamic to the team.
"He made us better, we needed more options, alternatives, creativity and players that can be morals for this football club," Arteta told the club's official website. "He is still a really young man but he has huge experience in different clubs already.
"He has a unique talent based on the way we want to play so I'm delighted that the club has made an effort and we have Martin on a permanent deal here.
"You've seen the numbers and what we did after Christmas when Martin was in the team and we had people like Emile, the team performed at a completely different level. He's someone that we admire and he's still at the age in his career when the potential he has is still immense."
Arteta knows Odegaard can improve the team / SHAUN BOTTERILL/Getty Images
There will be times in which Odegaard and Smith Rowe work separately - there will be room for just one of them if Arteta wants a second striker or two natural wingers - but their partnership needs to be the new identity of Arsenal.
Since Arteta joined the club, he has tried to instil a fast, free-flowing style of play, and now he finally has the pieces needed to do that.