Euro 2020
Bilbao dropped by UEFA as Euro 2020 host city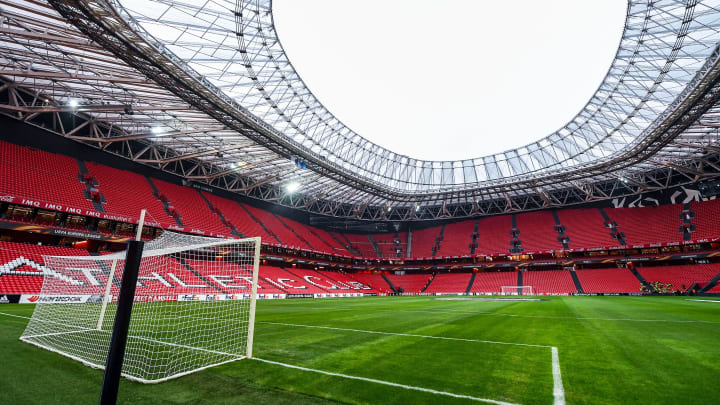 Athletic Bilbao's San Mames was due to host three matches during this summer's European Championships / David Ramos/Getty Images
The Spanish city of Bilbao will no longer play host to matches at this summer's European Championship having been dropped by UEFA.
Located in the north of Spain, Bilbao is the largest city in the Basque region and the stunning San Mames stadium seats in excess of 53,000 spectators, but with the restrictions in place as a result of the coronavirus pandemic the authorities there are unable to guarantee the arena will be at least a quarter full for Euro 2020 matches.
As a result, UEFA has dropped the venue with just two months to go until the tournament gets underway.
European football's governing body requires those hosting matches to be able to ensure the attendance of fans, albeit in reduced numbers. But authorities in Bilbao are said to have been unable to meet that requirement as it would contradict the restrictions currently in place.
San Mames was due to host Spain's Group E matches versus Poland, Sweden and Slovakia. Such is the local organisers' disappointment they have threatened to sue UEFA directly following the "unilateral" decision to drop the city as hosts.
Authorities in Bilbao have been left disappointed / Angel Martinez/Getty Images
An announcement regarding the host cities has been delayed until Friday due to the attendance concerns, and as of Monday, nine of the 12 original hosts had provided guarantees regarding 25% crowds, with doubts remaining over whether Bilbao, Munich and Dublin would be able to host.
The Spanish city has since been dropped, Ireland's deputy prime minister Leo Varadkar has suggested it would be too soon for Dublin to meet UEFA's demand of filling stadiums to 25% capacity, and with Munich still in the balance, there is plenty of work still to be done with just two months to go.