Bayern Are Still Brilliant, But Boy Do They Rely on Joshua Kimmich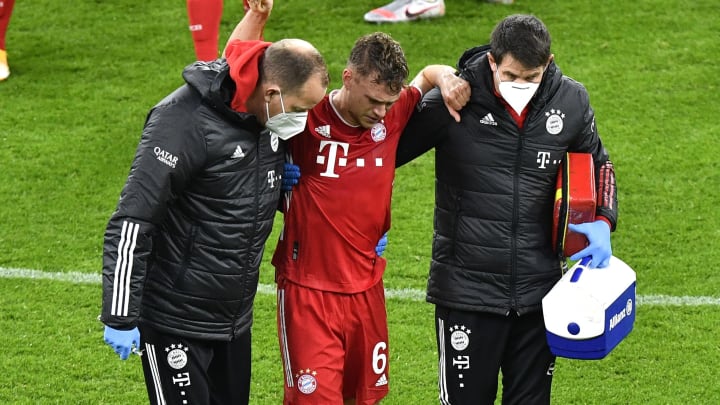 Kimmich has missed Bayern's last eight game since being injured. / Pool/Getty Images
Although the previous 12 months may suggest otherwise, Bayern Munich are not invincible.
Granted, since Hansi Flick took the reins at the Allianz Arena, his side have laid waste to pretty much all that have come before them - be it domestically or on the Champions League stage - and at times they have looked truly unbeatable.
But in recent weeks, Bayern have shown a slightly softer side; one that has come to the fore ever since Joshua Kimmich limped from the field in early November against Borussia Dortmund.
That game, a 3-2 victory, saw Die Roten's most versatile and dependable player injure the lateral meniscus in his right knee, which subsequently required surgery. He's not been seen since, and for Bayern, it really has been a case of 'you don't know what you've got 'til it's gone'.
Before Kimmich's injury, Bayern had put together an impressive ten game winning streak - with notable wins coming in the 4-0 drubbing of Atletico Madrid, 5-0 annihilation of Frankfurt, and the 6-2 swatting of everyone's favourite Red Bull promoters, Salzburg.
Since he went off, Bayern are still unbeaten; but have won just 50% of the eight games they've played. Javi Martinez has primarily deputised in his absence, and as savvy and sound with the ball as the ageing Spaniard is, he's no Kimmich in terms of athleticism and reading of the game.
Couple his inclusion in the side and Kimmich's absence with Leon Goretzka's injury woes, and you begin to realise why Bayern are struggling to get a grip of games; they are without their first-choice 'double six' pairing, after all.
Further evidence of Bayern missing Kimmich can be found in the narrow 2-1 win over Wolfsburg. Flick was forced to deviate from his usual 4-2-3-1 system and favoured double six, instead choosing to employ a 4-1-4-1 formation. The tactical tweak didn't work for Bayern and it was left to Robert Lewandowski to drag his side over the line, though not without help from Manuel Neuer - who made some impressive saves just to keep his side in it.
On that night, Bayern looked fragile defensively and were particularly susceptible to counter attacks throughout. They conceded the first goal for a staggering sixth straight Bundesliga game, as Corentin Tolisso was again unable to offer adequate Kimmich-like protection in front of centre-backs David Alaba and Jerome Boateng.
There is light at the end of the tunnel for Bayern, though. Kimmich is back in training, and though it's unlikely that Flick will opt to throw him in at the deep against Bayer Leverkusen - the club's final Bundesliga fixture before the Christmas break - he should have him available from the bench, should the game not be panning out the way Bayern would like.
If Flick opts not to use him, Kimmich can then use the Bundesliga's winter break - which stretches from 19 December to 3 January next year - to get himself back in tip-top shape, even if the 25-year-old doesn't want to wait that long to get involved again.
"I hope that Joshua will be with us again soon. I see him every day. He's here from morning-to-night working towards his comeback and sweating. It's very important to us as a team. He's in control of the game, he sets up a lot of goals and scores a lot for his position."

- Hansi Flick
"I always think about when I can give him a break, but then I have to expect he'll be angry. He always wants to be on the pitch." Flick remarked recently, quoted by the Bundesliga's official website, when talking about Kimmich. That mentality alone tells you everything you need to know about a player who is not only one of Bayern's most valuable assets, he's one of the very best in the world.
For Bayern, getting him back on the pitch of paramount importance, but ensuring that Kimmich is 100% ready for another tilt at the Champions League is undoubtedly the priority.