adidas senior product manager Artur Markowski talks the new Predator Freak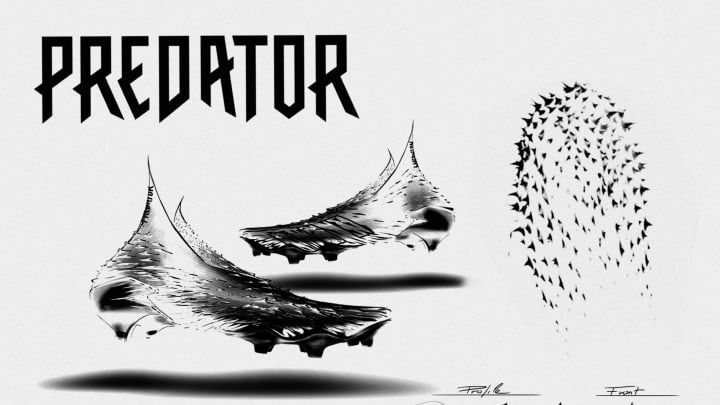 adidas Predator Freak / adidas Football
After months of teasing, testing and internet rumours, adidas football have today revealed the brand new iteration of the iconic Predator boot, the Freak.
To celebrate the launch of the boot we were invited along to adidas' exclusive event where senior product manager, Artur Markowski sat down with us to explain how this new model came to fruition, how the process works and the feedback adidas have received so far from players such as Paul Pogba.
---
Hi Artur, thanks for sitting down with us, I'll start simple: what does a senior product manager like yourself do on a day-to-day basis on a project like this?
"It changes throughout the creation process, it starts by watching what is going on in the world of football, what's going on on the pitch, what is going on also around football and different areas.
adidas Predator Freak sketches / adidas Football
"So I'm looking out for new trends, looking at what potential competition is doing, then identifying where it would be right to innovate, or which product do we need?"
So with this boot in particular, how long has this been in the making?
"Usually a creation process can take between two or three years. As this one is an upgrade, basically an update, the design of the previous version was roughly two years in the making. We always look at the previous version of the Predator to see how we can actually improve it in terms of visual appeal.
"And what is most important, how can we bring it to the next level in terms of performance? This is what happened here with the updated design and engineering of the 'demon skin', which is the main USP of the Predator."
Where did the inspiration for the Predator Freak come from?
"The starting point was basically 'how can we actually give the player more control?'. Plus how can we bring them on to the next level by enhancing their control? And the inspiration was we took the 'demon skin' of the previous version - it was very geometric , if you remember the last one, very well perceived by the players - but we looked at how we could actually make it more radical with uncompromising 360' control.
adidas Predator Freak / adidas Football
"So the inspiration came from almost transforming what we had into something that is even more radical and more iconic to live on the Predator legacy that is very long; as you know, it's 1994."
You mentioned athletes, how much athlete feedback do you get when you're creating a boot like this?
"The creation process is quite long. So there's a lot of opportunities to get feedback from different athletes. And it's not only the pro players - our testing and feedback programme is global across different regions, from amateurs to pro players, male and female.
adidas Predator Freak / adidas Football
"It's a compilation of different feedback that is coming in. What we're always looking for is a confirmation of how we expect this boot to perform. Any red flag that might be raised during the creation phase is obviously addressed and then redesigned or re-adjusted. But there's so much expertise on the team that it rarely gets completely rejected."
What has the feedback been like from athletes so far?
"I think the most interesting reactions are always the players that wore the previous generation. You give them the shoe in hand, and you see this 'oh, wow' with a cheeky smile on their face, Then you know something went right, you met their expectation or even surprised them in a way.
"So far the feedback from a performance side is that it's even outperformed the previous generation of 'demon skin' and that the Predator player that is wearing this and is looking for this control is getting what they were actually looking for.
"We will never put anything on the shoe that is only for the sake of having a nice looking shoe. Because it's a performance product, right?"

- Artur Markowski
"The quite interesting thing is always, when people put on the boot with a two-piece primeknit construction right now, first of all people don't know what it is about. But once you actually have it in hand, and you realise it's actually pretty clever and not that as expected in the world of football."
Obviously you want the boot to be aesthetically pleasing but also highly engineered, how much of a balancing act is that for you?
"We started with kind of a performance inside almost, so how can we actually make it perform better in terms of what the 'demon skin' is about? And luckily, that insight actually drove a completely new aesthetic. So it's a win-win situation. So we have a better performance, but it also brought us an aesthetic that has not been seen before on a shoe.
adidas Predator Freak / adidas Football
"There's always a situation where we want to add something that people haven't seen before on a boot, which is, for instance, the silhouette of the shoe. It's something pretty iconic, and will be iconic, hopefully in a couple of years time. But we will never put anything on the shoe that is only for the sake of having a nice looking shoe. Because it's a performance product, right?"
There's a new demon skin all over the boot, can you just give us a rundown of what the purpose of the small spikes are?
"The spikes, to say it in very simple terms, are increasing or actually interacting with a ball in terms of contact. So they increase the grip between the ball and the shoe, and allow the player to have more control over the ball; that would be to trap the ball or swerve the ball.
"The reason why we slightly changed the orientation of the spikes, is that in different areas of the shoe, the ball might hit the shoe in different angles. So the spikes need to be adjusted in an orientation to ensure that they actually hit the ball every time and at the correct angle and give the 360-degree control. So no matter where you hit the shoe, you'll get the same benefit."
adidas Predator Freak / adidas Football
The predator is one of the most iconic boots of the last 30 years, how intimidating is it for you working on a boot that you know people will feel so passionately about?
"I can tell you that internally a lot of people are quite attached, you know, I played in the 90s, I was attached to a couple of boots of that time. So it's always a balance between sticking to what's real and what's Predator.
"But at the same time, we are creating football boots in the now and to fit what the game of football is about right now. So it's always a balance between romancing history, and at the same time, creating innovation that is fitting in 2021. There are some elements that you might recognise from previous predators."
Do you get a lot of pushback when you're trying to create something as striking as this from the Predator traditionalists or is it very much a feeling of 'we need to push forward' and 'we need to create something new'?
"I won't say which I am. The game evolved across the lifespan of Predator. So the shoe had to adjust as well (the weight, the construction and also trends that are going on).
"We still have some hype drops in terms of nostalgic boots. But we're all pretty keen on bringing something new to the market."
Now it's all come together and it's finally in your hand, how does it feel? and how does it feel seeing it all come together?
"It's always a bit of a weird feeling because it was such an intimate process. Let's say 30 to 50 people were involved, and then all of a sudden you let it out into the world. It's on pitch, it's in the media. It's always a strange feeling of detaching from your own product.
adidas Predator Freak / adidas Football
"But at the same time, seeing it on pitch, seeing it working, seeing people scoring goals with it. Yeah, it's a quite satisfying feeling to me. And again, that's a connection maybe to predators in the 90s, like seeing them on TV as a kid, and then seeing it now, as part of adidas."
---