FanVoice
90min's Definitive European Player Power Rankings: Week 25
May 14, 2021, 6:15 PM GMT+1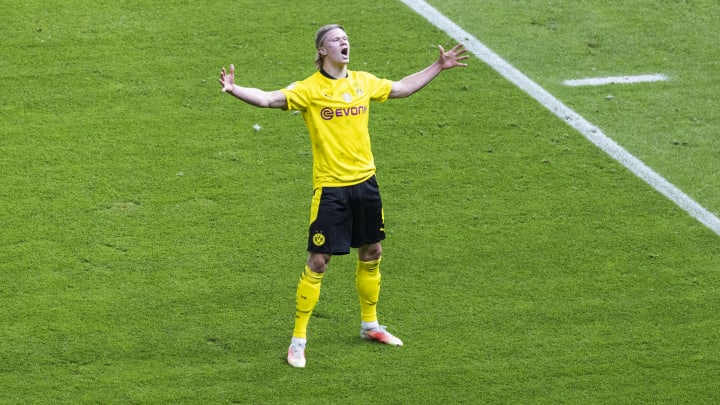 Erling Haaland won his first trophy in Germany / Mika Volkmann/Getty Images
We're rapidly approaching the end of the season, so if there was ever a time to start climbing up 90min's Player Power Rankings, it's now.
We've seen plenty of players do their best to do exactly that this week, so it's now time to wrap our heads around it all and get to doing what we love best - ranking.
This week, to celebrate Barry Jenkins' new series, The Underground Railroad, we're calling on some of the director's old work for some help.
10.

Ante Rebic (new entry)
Rebic is in electric form / Soccrates Images/Getty Images
"Remember love is what brought you here. And if you trusted love this far, don't panic now. Trust it all the way." (If Beale Street Could Talk)

AC Milan might have fallen off in their pursuit of the Serie A title, but thanks to Ante Rebic, their top-four hunt is very much alive.

He bagged a worldie in the 3-0 win over Juventus and then followed that up with a 12-minute hat-trick in the 7-0 thumping of Torino. Not bad.
9.

Paul Onuachu (down 3)
Onuachu can't stop scoring / Isosport/MB Media/Getty Images
"I don't want to talk anymore. I want to do something."
"What do you wanna do?"
"I wanna dance." (Medicine for Melancholy)

Dancing round Pro League defenders all year, Paul Onuachu just can't stop scoring.

The Genk man added a goal in each of his two matches this week, taking his tally to 34 strikes in just 39 appearances in all competitions.

Did somebody say big-money transfer?
8.

Dusan Vlahovic (new entry)
Vlahovic is tearing Serie A apart / Gabriele Maltinti/Getty Images
"You ready for this?"

"I've never been more ready for anything in my whole life." (If Beale Street Could Talk)

Dusan Vlahovic looks like he has been preparing for 2021 for his entire life.

The 21-year-old Fiorentina hitman, who netted twice this week, now has 17 goals in this calendar year - a tally only bettered by two people who just might feature on this list.
7.

Gerard Moreno (up 2)
Moreno is back among the goals / Angel Martinez/Getty Images
"Stop putting yo' head down in my house! You know my rule. It's all love and all pride in this house! Do you feel me?" (Moonlight)

After four games without a goal, Gerard Moreno fired back with two in two this week.

If he's not Spain's starting striker at the Euros this summer, something has gone horribly wrong.
6.

Dusan Tadic (down 4)
Tadic struck out for once / Soccrates Images/Getty Images
"I cry so much, sometimes I feel like Imma turn into drops." (Moonlight)

After a run of 12 straight games with at least one goal contribution, Dusan Tadic is back to zero.

He came off the bench late on in Ajax's 3-1 win over VVV-Venlo, so his run was doomed from the start.
5.

Erling Haaland (re-entry)
Haaland is up and running in Germany / MARTIN ROSE/Getty Images
"Who is you, Chiron?"

"I'm me, man. I ain't trying to be nothing else." (Moonlight)

The most unique striker on the planet won the first trophy of his Dortmund career this week.

Erling Haaland stole the show in his side's 4-1 win over RB Leipzig in the DfB-Pokal final, eating Dayot Upamecano alive en route to a glorious double.
4.

Ruslan Malinovskyi (up 4)
Nobody can stop Malinovskyi / Emilio Andreoli/Getty Images
"No, I ain't lost my mind. We are drinking to new life." (If Beale Street Could Talk)

With Papu Gomez's January departure freeing up a spot in the Atalanta team, Ruslan Malinovskyi has been on an absolute tear.

He's contributed to at least one goal in each of Atalanta's last nine games - a run which has yielded five goals and eight assists.
3.

Lionel Messi (down 2)
Messi made a costly error against Levante / Alex Caparros/Getty Images
"It seems like this city just pisses you off."
"Nah, I love this city. I hate this city, but I love this city." (Medicine for Melancholy)

Lionel Messi's love/hate relationship with Barcelona won't have been helped by the team bottling the La Liga title race this week.

He drew a blank in the goalless draw with Atletico and then made a crucial error in the shock 3-3 draw with Levante, leaving Barça third in the table with two games to go.
2.

Rodrigo de Paul (up 2)
De Paul can't be stopped / Francesco Pecoraro/Getty Images
"Let your head rest in my hand. I got you." (Moonlight)

Subtly emerging as one of Italy's most creative midfielders, Rodrigo de Paul has been on a tear for Udinese recently.

His team may be struggling, but the 26-year-old is racking up the goals and assists, adding one of each this week and proving why he's in high demand right now.
1.

Robert Lewandowski (re-entry)
Lewandowski's scoring streak lives on / Alexander Hassenstein/Getty Images
"You're my only, and I'm your only." (Moonlight)

Bayern have vowed not to sell Robert Lewandowski this summer, and his performance in the 6-0 win over Gladbach is exactly why.

Three goals and an assist was Lewandowski's haul this week, and he also picked up yet another Bundesliga title in the process.