Zenti St Petersburg offer Covid-19 vaccinations to fans attending home matches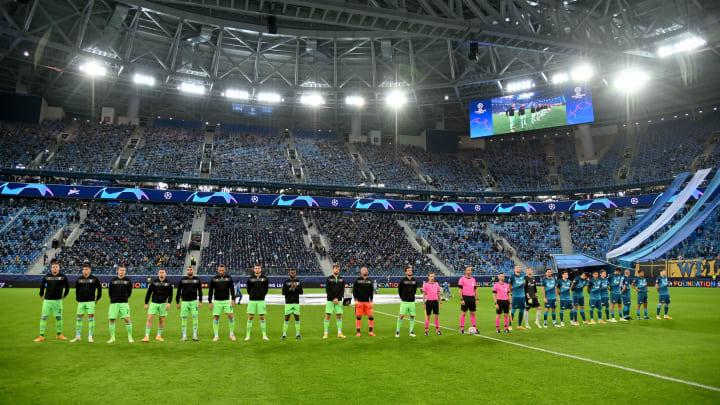 Fans attending the Gazprom Arena can get their Covid-19 vaccination / Marco Rosi - SS Lazio/Getty Images
Russian champions Zenit St Petersburg have taken the fight against COVID-19 into their own hands, offering vaccinations to fans who attend any of their remaining home matches this season.
It comes as the Russian-developed Sputnik V vaccine begins its rollout across the country.
The new jab is proven to be more than 90% effective, but uptake has been low, with many Russians distrustful. According to the BBC, only 28 pensioners signed up for a jab when it was offered at a local clinic earlier this month.
Zenit, though, have set out plans for a groundbreaking initiative to encourage fans to get their jab. Starting at their match with Akhmat Grozny on Saturday, they will offer those in attendance access to a 'mobile vaccination centre' in the stadium.
Stadiums aren't open to full capacity in Russia just yet, but low prevalence of the virus means fans are allowed to attend matches in their masses. Zenit's last home game with FC Rostov hosted almost 24,000 spectators, and there are plans to open turnstiles to even more in the months ahead - something that get easier as more Russian people are vaccinated.
A Zenit statement reads: "COVID-19 vaccinations will be available at the Gazprom Arena this Saturday
"Supporters attending our next and all future home matches this season will be able to get their COVID-19 vaccination at the Gazprom Arena. 
"The Sputnik V vaccine will be available to all visitors to the match aged over 18. Please bring your passport and national health card (SNILS) with you and you'll be required to be seen by a medical professional for approval before the vaccination. 
"The mobile vaccination station will open on the third floor of Stand C near sectors C110-111 and will be in operation at all Zenit home games until the end of the 2020/21 season."