Our World Cups
World Cup 2002: Ronaldinho breaks the hearts of English schoolchildren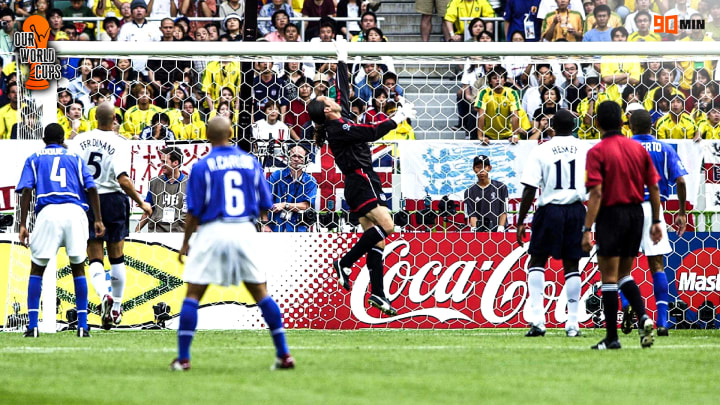 Ronaldinho's goal / Image by Briony Painter - 90min
The time is 07:20 in the morning and you're sat on a hard, wooden floor wiping sleep from your eyes, yawning as what is rather ambitiously termed 'the big TV' is wobbled out front and centre. The entire process is hazardous.
A teacher switches it on. It has to warm up first. You wait. Suddenly there's static. A tediously slow scroll first up and then back down through the channels to BBC One. A hard bash on the side for good measure. It echoes around the hall. The image arrives from the other side of the world. It's bright. It's the summer.
England are about to play Brazil in the World Cup and you're about to watch it before school and it all feels illegal somehow. It feels like this is the greatest thing that has ever, ever happened.
You do not yet know what pain and heartache lurk as Danny Mills' bald head sparkles in the Shizuoka sunlight. Come on England, you can do it. Even though it's Brazil. Forget about the fact that is Brazil, for a moment.
Harry Symeou hosts Scott Saunders & Toby Cudworth to look back on Korea/Japan '02 as part of the 'Our World Cups' series. We take a trip down memory lane - join us!
You're watching your heroes David Beckham and Michael Owen with all your friends and England are about to beat Brazil in the World Cup and you probably won't have to do any schoolwork later because everyone will be so happy, you'll probably just get to draw and stuff.
You are about to have the worst experience of your life thus far.
England are about to lose to Brazil in the World Cup in circumstances so ludicrous you can barely comprehend what has happened. You are about to hate two people more than you've ever hated two people and their names are David Seaman and Ronaldinho. This will all take a significant portion of your life to process.
---
Owen puts England in the lead after a mistake from Lucio, stealing in to nonchalantly chip Brazil's goalkeeper Marcos (not Dida, even though you definitely thought it was Dida, didn't you?) like it isn't, in fact, the World Cup QUARTER-FINAL AGAINST BRAZIL.
I have to now admit I can't even remember how we all reacted. There were, presumably, limbs. School hall limbs. Which might actually be the single best kind depending on which kind of school you went to. The one lad inexplicably wearing a counterfeit Brazil shirt bought on holiday in Mallorca is distraught. Everyone else is buzzing. St. George's cross painted on cheeks. Grins from ear to ear. Three lions on shirts. Just the way it was meant to be.
England were going to win the World Cup and they were going to do it playing Trevor Sinclair on the left wing. Life was good. In fact, it was the best.
You know the scene in Peep Show, the one in the hospital waiting room where Mark and Super Hans make up a lie about Jeremy's girlfriend cheating on him (with Super Hans) and he starts crying? Jeremy starts crying until he can barely speak between sobs but still comes out with what I think, to this day, is a universally applicable quote to most situations: "Everything has turned from gold...into sh*t."
That pretty much encapsulates everything that happens after Michael Owen scores against Brazil. The dream came crashing down around us after that.
---
Let's just talk about Rivaldo's equalising goal, very briefly. Ronaldinho gets most of the credit for his mazy run through midfield that wasn't actually mazy at all, just a straight-line half-sprint half-waddle, followed by a single lazy stepover that was still enough to scare and confuse Rio Ferdinand, Sol Campbell and Ashley Cole to within an inch of their life.
That's how good Ronaldinho was.
Rivaldo tucks it away first time on his left foot because it's the kind of shot he was born to tuck away first time on his left foot. It's right on the cusp of half-time and Brazil know for sure they are winning this game - and the World Cup - now.
But it all stems from Kleberson. Yes, that Kleberson, diving in on Paul Scholes to win the ball and set Ronaldinho away behind the England midfield.
A better touch from Scholes or more urgency to get to the ball first and who knows what might have happened. I'm not saying it's all his fault, because it's obviously all David Seaman's fault, but it's just worth pointing out.
Nicky Butt, playing alongside him, didn't do Scholes any favours by basically crawling back into position in response either, as both chased Ronaldinho down with all the enthusiasm a pale, ginger man can muster in 30-degree heat and 50% humidity.
Five minutes into the second half Brazil were awarded a not particularly dangerous-looking free-kick on the right side, about 40 yards from goal. Ronaldinho is over the ball. This will be fine, we all think, collectively as a school and as a nation. Brazil aren't exactly known for their aerial prowess. The angle isn't right for a cross. It's far too deep.
This. Will. All. Be. Completely. Fine.
---
Ronaldinho loops the adidas Fevernova up into the air and over David Seaman's head and runs off down the touchline bobbing his head like a chicken. Seaman collapses into the side netting, having back-peddled with all the unhinged ferocity of a sleepy baby turtle stranded on its back. His ponytail, suddenly, becomes the second most infuriating thing in the world, behind only Ronaldinho's smile.
There is complete and total silence in the school hall and thank god there is, because Brazil shirt's life is in serious danger, even among 10-year-olds. Disbelief is etched across the faces of children who think Power Rangers are real.
Ronaldinho gets very harshly sent off in the 57th minute for a late tackle on Mills and Sven Goran-Eriksson responds to this remarkable bit of good fortune in the only way he can: by doing absolutely nothing until the final ten minutes, and then by taking Michael Owen off for Darius Vassell. Ashley Cole is also replaced by 36-year-old Teddy Sheringham.
It's over.

The World Cup had only just begun and it was already over. In the studio, Peter Reid is very, very annoyed and 'Stop Crying Your Heart Out' plays over a soppy black-and-white montage of the England players and Sven looking mildly troubled.
You are barely out of velcro shoes and only just allowed to write with a pen rather than a pencil but you believe, sincerely, fundamentally and deep within your soul that you will never experience joy again.
---