Why Harry Kane is a better fit for Man Utd than Victor Osimhen | The Promised Land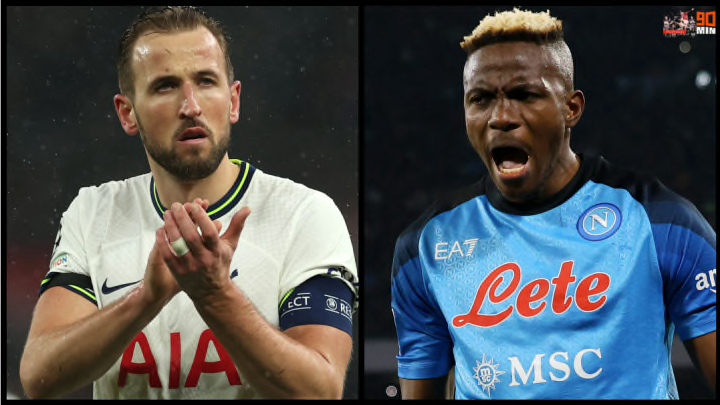 Harry Kane & Victor Osimhen are two of Europe's best strikers / Fantasista | Francesco Pecoraro/Getty Images
With a striker currently on loan from Burnley starting week in, week out, it's fair to say that Manchester United need to sign a new number nine in the summer.
And there are two standout candidates for the role.
One is arguably the best striker in the Premier League: Harry Kane.
The other is arguably the best striker in Serie A: Victor Osimhen.
To discuss which would be a better fit for Erik ten Hag's Manchester United, Scott Saunders and Rob Blanchette from The Promised Land, part of 90min's podcast network, went through the pros and cons of each.
---
Is Harry Kane worth £100m?
£100m man? / Mike Hewitt/GettyImages
Rob Blanchette: When looking at a player like Harry Kane, you're looking at what your needs are now. There are a few positions of concern that, if you solved tomorrow, you immediately become title contenders.
People will say that £100m for Harry Kane is a lot of money...but Kane is still cutting it at the highest level and scoring at least 20 goals a season. If you can go a get a player who can hit those numbers for two or three years, in the current market, that's good value.
I think if Kane came to Man Utd before the start of next season then I would be confident of a title challenge.
---
Would Harry Kane be a better signing than Victor Osimhen?
Osimhen is a goalscorer / Stefano Guidi/GettyImages
Scott Saunders: Regarding the idea that Harry Kane is 'too old': if was a striker that relied on pace and running in behind defences, or his physicality - like Cristiano Ronaldo - and you were signing him at 30 then absolutely that is a problem.
What makes Kane so good is his brain and, if anything - so long as he can stay injury free - he's only going to get smarter. With more experience, he'll know which roles to occupy.
The Marcus Rashford - Harry Kane partnership is potential gold. It's essentially Kane and Son all over again but with a younger version [of Son]. Rashford will massively benefit from having a striker like that in the team.
I think Kane is the perfect kind of striker that Man Utd should be looking at. And I know people will be shouting for Victor Osimhen and, if United end up signing Osimhen then fine. But I think he'll cost a lot more than Harry Kane, I think he'll take more time to adapt than Harry Kane, I don't think the fit is as natural, and I also think there's a step up from Serie A to the Premier League - you can see it with Kalidou Koulibaly this season.
What makes players stand out in Serie A is invariably physical abilities which can take them above the rest of the league, and in the Premier League that's a much more level playing ground.
They're the concerns with signing Osimhen.
If Man Utd do sign Osimhen I wouldn't have a problem with it, but Harry Kane is the one I'd pick.
---
LISTEN NOW
On this edition of The Promised Land, part of the 90min podcast network, Scott Saunders and Rob Blanchette discuss why Harry Kane would be a better signing for Man Utd than Napoli marksman Victor Osimhen.
If you can't see this embed, click here to listen to the podcast!