FA Cup
Why are FA Cup semi-finals played at Wembley?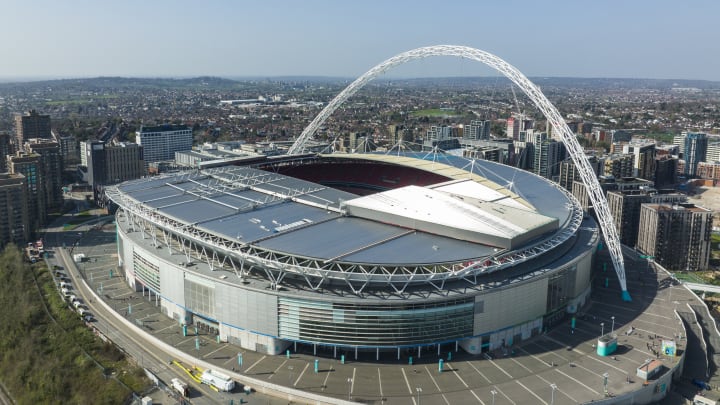 Wembley has been the exclusive home of FA Cup semi-finals since 2008 / Ryan Pierse/GettyImages
Wembley Stadium, to those in England at least, is considered the 'Home of Football'.
The old Wembley, with its iconic Twin Towers façade, was undoubtedly the home of the FA Cup from when it was first opened in 1923, hosting every FA Cup final until 2000 when the original venue was knocked down to make way for the stadium we know today.
Indeed, that first year's final – dubbed the White Horse Final because of an iconic photograph as police attempted to control fans spilling out of the stands – is still famous almost a century on, even if you don't know which teams actually played – for the record, Bolton beat West Ham.
Since 2007, when the new Wembley Stadium re-opened, the FA Cup has returned.
But while the final of the world's oldest club competition has nearly 100 years of Wembley history – the earliest FA Cup finals from its launch in the 1870s were actually held at the Kennington Oval, the original Crystal Palace and a handful of other stadiums, including Old Trafford – semi-finals being played at Wembley is a pretty new tradition. However, it does trace its root in history.
That is because FA Cup semi-finals throughout the 1870s were played at the Kennington Oval, now world famous exclusively for cricket rather than football, before the final itself also was.
Unlike in earlier rounds of the competition where one team is drawn at home, semi-finals have always been played at neutral venues. Yet from the 1880s until 2008, that was usually at a high capacity stadium somewhere in the country – but only Wembley on a handful of occasions.
For example, Manchester United and Arsenal played at Villa Park in Birmingham in 1999, while the tragic 1989 semi-final between Liverpool and Nottingham Forest was at Hillsborough in Sheffield. Villa Park and Hillsborough were both common FA Cup semi-finals hosts over the years, as was Old Trafford. Other semi-finals have been played at Goodison Park, Highbury, White Hart Lane, Maine Road, Elland Road and Molineux. Anfield was another, but the last semi-final there was in 1929.
The FA moved towards hosting both semi-finals at the same venue as the final in 2005 when all three games were played at the Millennium Stadium in Cardiff, which was the temporary home of the FA Cup from 2001 until 2006 while Wembley was being demolished and rebuilt.
The first FA Cup final to return to Wembley was 2007 when Chelsea narrowly beat Manchester United, and it was the following year that both semi-finals were permanently moved to Wembley.
The reason? In a word, money.
Wembley cost just shy of £800m to build and hosting both semi-finals there as well as the final helps offset the enormous costs of a stadium that is used relatively infrequently. Speaking to the BBC in 2014, former FA chairman Greg Dyke highlighted the 'economics' behind the decision.
"It is about the economics of building a stadium like this and having to use it to make enough money to pay for it," he said. "The FA took a commitment when they built the place that the semi-finals would be here. That is where it is unless the contractual situation changes. I can't see that happening."
Although now generally considered the norm, it has been an unpopular decision over the years – a poll conducted by The Guardian found 86% of respondents opposed to Wembley semi-finals.
It has been suggested that a Wembley semi-final makes a Wembley final less special, while there have been criticisms about a London venue being unfair if a team from the capital is playing one from elsewhere – neutral venues were typically chosen in cities roughly equidistant from both teams.
It has also been pointed out that should two northern teams be paired in a semi-final, like Manchester City and Liverpool in 2002, for example, a neutral venue located closer to both would be fair because of the burden of travel for fans.
Aside from helping with the financing, the FA's argument is that semi-finals at Wembley allow for bigger crowds – the 90,000 stadium can hold considerably more than even Old Trafford, Anfield or St James' Park and twice as many as Villa Park – and give more fans the opportunity to attend.
---
For more from Jamie Spencer, follow him on Twitter and Facebook!