West Ham fan arrested over anti-Semitic video on plane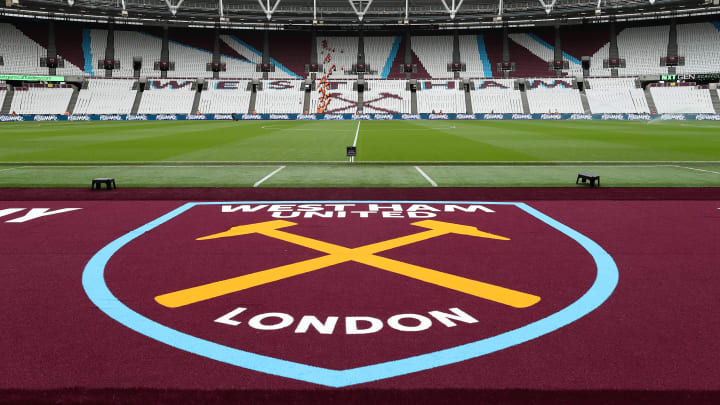 A West Ham supporter has been taken into custody / James Williamson - AMA/GettyImages
Essex Police have arrested a West Ham fan over a video of supporters aiming anti-Semitic abuse at a Jewish man on a flight to Belgium.
A number of fans were seen videoing an offensive chant in the direction of a Jewish man as he walked down the aisle of the plane, which was taking the supporters to watch West Ham take on Genk in the Europa League on Thursday.
One of the fans involved, a 55-year-old man, returned to London on Friday, with Essex Police taking him into custody as soon as he stepped off the plane.
"Essex Police will not tolerate racism or discrimination of any kind," a statement read. "Having been made aware of the incident this morning, officers worked quickly to secure an arrest at the earliest possible opportunity."
The investigation remains ongoing, with police keen to identify the rest of the supporters involved in the chant.
Ahead of Sunday's visit from Liverpool, West Ham manager David Moyes expressed his disappointment towards the behaviour of those fans.
"I have to say first and foremost that I don't see our football club being like that," Moyes said (via the Evening Standard). "I think we are a diverse football club.
"There's no room for any discrimination anywhere in the world, not just at West Ham, in the world there [should be] no discrimination. So I'm really disappointed to hear about it but I'm sure it was individuals and not a big section of the supporters. So I'm just sorry to hear about it."
The arrest comes in a week where a Chelsea fan was jailed for anti-Semitic abuse of Tottenham supporters on Twitter and another man was given a ten-week sentence for livestreaming himself racially abusing Bukayo Saka, Marcus Rashford and Jadon Sancho after England's Euro 2020 defeat to Uruguay.