Welcome to World Class
Welcome to World Class: Paulo Dybala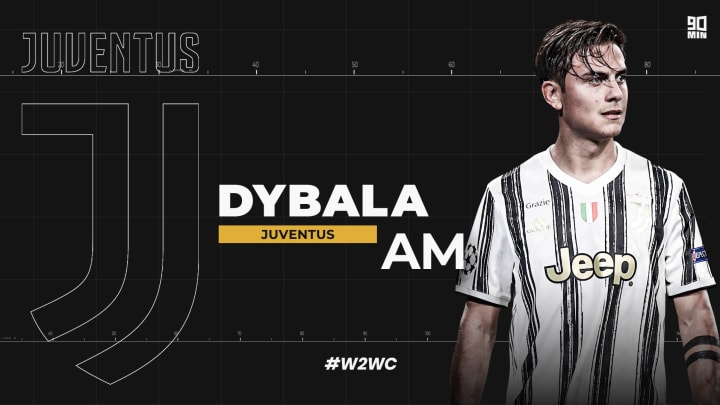 Dybala is a key cog in Juventus' relentless winning wheel | #W2WC / Matt Burt/90min
In an ever-evolving modern game, the attacking midfielder's role is one that has undergone the biggest transition.
No longer are these talented individuals allowed to roam free as 'luxury players', nor are they given special leeway due to their tendencies to pull a diamond from the rough or conjure the unthinkable from thin air.
Two legends of Italian football / Alessandro Sabattini/Getty Images
These players thrived only a handful of years ago, and their success was most revered in the glorious decade of the 1990's, when calcio ruled supreme across Europe. The likes of Roberto Baggio, Rui Costa and many other household names were let off the leash each week to strut their stuff at their own delightful tempo.
Unfortunately, football has moved on since then, with each player becoming increasingly vital in a game which values side over self more than ever. But one man who is as close to a 90's calcio throwback as possibly permitted in the modern era is Paulo Dybala.
Like many Serie A stars of years gone by, Dybala has been blessed with a glorious nickname befitting the style and grace he brings to the field: La Joya - the Jewel. And for Juventus, he is exactly that. The rest of his teammates conform to create the crown, and he is the jewel, standing alone at the front and centre.
How can he get away with this licence to roam in a team which is built upon a strict system, alongside the ideals that no player is more important than the collective? Well, because he's world class, that's why.
"God gives us a gift, but then that gift has to be worked"

- Paulo Dybala
It was evident from his introduction to Italian football with Palermo in 2012 that Dybala was destined for greatness. In a forward line which contained now established stars Josip Ilicic and Andrea Belotti, La Joya was the standout talent of them all.
What made him sparkle brighter than the others was the effortlessness with which everything came to him. His technique on the ball was so natural, and the grace with which he glided around the pitch immediately drew comparisons with that of the world's greatest player, Lionel Messi.
He instantly set out his stall as a nippy and tricky attacking midfielder. His close control, adventure in possession and love for the flamboyant and outrageous attracted the attention of Europe's big boys. After three years in Sicily, it was time for Turin.
Now a member of Italy's elite, it was time for Dybala to refine his art, fine tune his trickery into efficiency and become a regular contributor for the Old Lady. Juve were exactly the right team to aid his progression, and he was the perfect player to give this Bianconeri team the spark required to dominate Italian football.
The little man for the big occasion / Chris Brunskill Ltd/Getty Images
"As a fan of the film Gladiator, Paulo decided to wear the mask of Maximus, to prove himself as a warrior and someone who would never give up"

- Marcos Villalobo, author
The Argentine hit the ground running in Turin, scoring 19 and assisting four in his debut campaign, and he got the whole world talking in 2017 with a mesmerising display against heavyweights Barcelona in the Champions League quarter-finals.
He announced his arrival on the world stage with a wonderful brace, first collecting the ball on the inside right of the penalty area, before swivelling and curling a beautiful shot into the far corner all in one motion. Dybala then planted a second home, running onto a cut-back with precise timing and whipping an unstoppable strike beyond Marc-Andre ter Stegen
They were two efforts that a certain Mr Messi, who was watching on, would have been proud of - that's for sure. Dybala demonstrated that he had the talent to mix it with the best, along with the heart and steel to deliver vital goals at clutch moments in Juve's season.
This is a pattern that has continued throughout his career in Turin, after he posted his best numbers in the 2017/18 season, scoring 22 goals and laying on five assists. He started the campaign in electrifying form, hitting two hat-tricks in the opening four matches, and totalling 10 goals in six appearances.
While his contributions became slightly more sporadic throughout the year, they did not lessen in significance. Arguably Dybala's most crucial goal of the season came at Stadio Olimpico, where I Bianconeri were failing to break down a stubborn SS Lazio side.
But in their hour of need, the magic man delivered. Collecting a pass on the edge of the box, he somehow wriggled free of a challenge, nicked the ball through his marker's legs, and while being wrestled to the ground, poked an arrowing shot into the top corner. It was a season-defining moment, which propelled Juve one step closer to another scudetto.
That strike reignited his season, after which he bagged both goals in a 2-0 win over Udinese, scored and assisted in a victory against Milan, cracked another hat-trick against Benevento, and provided the all-important, last-gasp assist to fire Juve to a 3-2 victory over Inter at San Siro.
The big game players / Alessandro Sabattini/Getty Images
"He was a humble boy, he was never rude and coped with pressure naturally, with a smile. Some talented players, especially as kids, are also rebels, but Paulo's rebelliousness always came out on the pitch instead"

- Walter Saracho, Dybala's first coach
Since the end of that sensational season (or since the arrival of new talisman Cristiano Ronaldo, more specifically), Dybala's grip on the team has weakened, and his future in Turin has even been cast into doubt.
But even with the club ready to sell him, and with the critics believing he's lost his touch, La Joya has still stepped up and delivered for a team that deemed him dispensable on more than one occasion - because he's world class.
Forced to accommodate the Portuguese superstar, his free role became restricted, as he was shifted from wing to wing, and even to a central position, in order to get the best out of their expensive recruit. While his form in the last 18 months has not rivalled the levels of 2017, he has still been the deciding factor at crucial moments - particularly throughout the 2019/20 campaign.
With Juventus' title on the line, Dybala stepped forward and scored six goals in seven matches, blanking in only one, as the Old Lady defeated title rivals Inter in one of the biggest clashes of the season.
His string of selfless contributions saw the Argentine crowned the Serie A MVP for the entire season - not bad going for someone who Juve were trying to flog only 12 months prior.
Dybala's future remains in doubt, but one thing that can never be questioned is his quality. He has played alongside and against the world's greatest players, and not only has he never looked out of place, he has even stood out from the crowd.
He has delivered when no one else could, in season-defining matches against the strongest opponents on the planet. The time for Messi comparisons is over - he is Paulo Dybala, and in his own right, he is world class.