Welcome to World Class: Marc-Andre ter Stegen
Dec 9, 2020, 11:35 AM GMT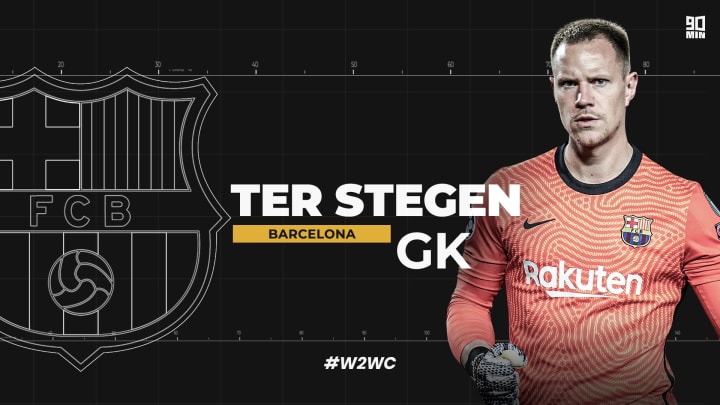 To be regarded as one of the top five goalkeepers in the world, you need to have an aura about you that sets you apart from your competition.
A skillset that few others can match, and a winning mentality that takes you to the very top of the game, no matter the obstacle.
That brief description is more than applicable to Barcelona goalkeeper Marc-Andre ter Stegen, who is without doubt one of the finest goalkeepers of his generation.
Ter Stegen made his name as a talented young star at Borussia Monchengladbach, and his sensational shot-stopping abilities soon caught the eye of European giants Barcelona. He made the switch in 2014, but it was followed by an air of cautious optimism.
After all, carrying a plucky underdog like Gladbach to unexpected heights is a far cry from standing as the last line of defence for one of the most demanding and anticipatory clubs in the world.
That's a different ballgame all together.
So much of a goalkeeper's performance is in the mind. Many great goalkeepers have earned a move into the spotlight of a top team, only to crumble under the pressure and never recover. Fortunately for Barça, they picked the most headstrong of men to guard their backline.
Ever since becoming the Catalan giants' first-choice goalkeeper at the beginning of the 2016/17 campaign, Ter Stegen has proven himself as a match-winner. His mind-blowing stops at the back often bear as much significance on the final result as Lionel Messi's goals at the other end.
In fact, his point-saving antics (along with his natural ease with the ball at his feet) have earned him the tongue-in-cheek nickname 'Messi with gloves'. While the 28-year-old laughed off this flattering moniker, it speaks volumes of his impact and importance to one of Europe's biggest clubs.
Simply to be mentioned in the same breath as the great Argentine is an honour, let alone being directly compared with his talismanic teammate. Not to mention, he did become the first Barça keeper to provide an assist in the 21st century last season. He managed two, in fact.
"I'm being called 'Messi with gloves'? I think he's had a great level over many years. You shouldn't compare yourself with that"

- Marc-Andre ter Stegen
Ter Stegen first announced himself on the European scene during the 2014/15 edition of the Champions League, when he pulled off what would later be recognised as the 'Best Save' of the tournament in a semi-final clash with Bayern Munich.
He stuck out a valiant left hand to deny a brutal close-range strike from Robert Lewandowski, taking all the sting out of the effort. The immense power of the shot still sent the ball trickling towards the net, but Ter Stegen reacted with lightning speed, charging back to his line and clawing the ball away with millimetres to spare.
It was one of the most dramatic moments of the season, and a save which ultimately allowed Barça to lift the Champions League a few weeks later. Without that (literal) touch of world class on the goal line, the eventual winners may never have even reached the grand final.
Selected Save Percentage Statistics

Average Top-Five Goalkeeper Save Percentage - 68%
Ter Stegen's Save Percentage in 2017/18 Champions League Group Stages - 96%
Another of Ter Stegen's greatest records arrived in the group stages of the 2017/18 European campaign, when a last-gasp low, diving save prevented Paulo Dybala from bagging a winning goal for Juventus in Turin. That stunning parry confirmed la Blaugrana's place at the top of their group, and not only that, it meant that the shot-stopper had repelled 23 of the past 24 shots on target.
That handed him a whopping save percentage of 96% - almost 30% better than the average top-five goalkeeper. That, is why he's world class.
Any doubts over his ability on the big occasions were quickly put to bed, too. Atletico Madrid suffered at the ginormous hands of Ter Stegen in the 2019/20 campaign, as he produced two of the best saves of his career against Diego Simeone's side.
Los Rojiblancos came up against the former Gladbach star in the form of his life in December 2019, as he first somehow deflected Mario Hermoso's close-range volley wide of the post with the inside of his left-leg. It was pure instinct combined with a touch of fortune - but you make your own luck in those situations.
He then pulled off a brilliant save to turn away a powerful downward header from Alvaro Morata, which caused commentators to draw comparisons with Gordon Banks' iconic stop against Pele in 1970. Barça pinched all three points in the dying minutes at the Wanda Metropolitano thanks to Mr Messi, but none of it would have been possible without Ter Stegen's previous miracles.
Ultimately, the German showcased just why he cruises into our prestigious shortlist of world-class goalkeepers in a 2-1 victory over Getafe in February 2020. With the Liga title still at stake, Barça came within a fraction of surrendering a two-goal lead at Camp Nou.
Angel Rodriguez diverted a deep cross towards goal from point-blank range, forcing Ter Stegen into drastic action. His first intervention was effective, but not sufficient. As the ball crept towards the goal line in slow motion, Ter Stegen threw out a second hand to push it to temporary safety, and then catapulted himself to his right, clawing it away for a third time from the onrushing Jaime Mata.
In the space of a second, we witnessed the traits that define an elite goalkeeper: cat-like reactions, a gut-instinct for snuffing out danger and the bravery and tunnel-vision to put victory ahead of his own personal well-being.
That impossible stop visibly sapped the energy and spring from Getafe's step, as it quickly dawned on the visitors that they weren't getting Ter Stegen again on that particular day. That's the power of a truly world-class goalkeeper.