Welcome to World Class
Welcome to World Class: Kevin de Bruyne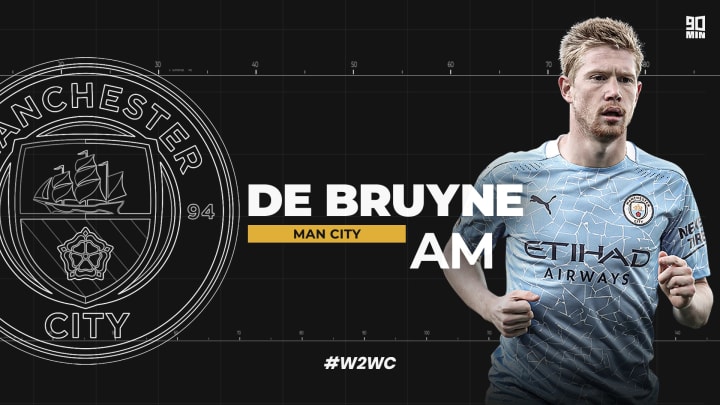 What a player, eh? Kevin de Bruyne is definitely world class. / Matt Burt/90min
When we think of the attacking midfielder, the term 'maverick' often springs to mind.
Mavericks are generally free-spirited and wildly unorthodox, but are often accused of lacking the capacity to work within a team. So what happens when you blend all the positive traits of our independent individual with the tunnel vision mentality of a serial winner?
You get Kevin de Bruyne.
No one has broken the mould of an attacking midfielder quite like De Bruyne. The Belgian superstar has redefined the way we judge this role, becoming the perfect all-rounder in the Manchester City team.
What typically makes the great attacking midfielders so memorable is their ability to almost slow the game down for a split second in order to conjure the timeless defence-splitting pass.
That's all well and good, but when you come up against a team which is well-drilled enough to deny you that extra moment in possession, our creators begin to come unstuck.
A cold-blooded killer / LINDSEY PARNABY/Getty Images
That's what makes De Bruyne so special, and thrusts him into this bracket of world class.
He refuses to reduce the pace of the game, nor does he require an extra touch or another millisecond to pick out a teammate. He plays the role of orchestrator at a rock and roll tempo.
"What makes Kevin unique is he executes even quicker. He can play in a No 10 position, false 9, right wing, left wing, can play even No 6. He just excels in all of those roles because he doesn't live in a system."

- Roberto Martinez on De Bruyne
He is the ideal attacking midfielder for this Man City side. He possesses the agility and nimble feet of your trademark playmaker, but the pace, power and running abilities of a box-to-box midfielder. In fact, De Bruyne averaged 12.29km per 90 minutes during the Citizens' 'quadruple' winning season of 2018/19, epitomising Pep Guardiola's motto of 'running like the most humble team in the world.'
In 2019/20, we saw the relentless and devastating best that the Belgian star has to offer. He posted career-best numbers, scoring 13 goals and notching a record-equalling 20 assists over the season, a feat that had not been managed since Thierry Henry in 2002/03. Not bad company to be in, then.
In truth, we've been blessed enough to witness this form since 2016, given he's recorded a whopping 64 assists over the four and a half years. Now, for a player to maintain these standards over the course of a season is extremely good going. But to preserve those peaks for almost half a decade? That's world class.
"When you score, it's a great feeling, but to give a great pass means it's something special for me. It's very underrated what we do."

- Kevin de Bruyne
But how is it possible for him to carve out 20 assists in a season, when the closest midfielder for goals created was teammate David Silva with only 10? Well, De Bruyne doesn't solely operate in the spaces you'd usually associate with attacking midfielders. He works the channels, picks up the ball from deep and makes himself impossible to mark, floating around and producing whipped deliveries with either foot from both flanks.
He's the ultimate footballer.
His deadly precision and unrivalled accuracy with both feet means he can run full pelt at retreating defences and pierce that corridor of uncertainty almost on demand - an aisle that most players only manage to locate once every couple of games or so.
He can swing his weaker left foot at a ball more sweetly than most other footballers could only dream of achieving with their stronger kicker. Perhaps the most famous evidence of his ambidextrous nature arrived in the form of a left-footed rocket against Chelsea back in 2017, on Man City's march to their first Premier League title with the Belgian in their midfield.
And as for assists? Well, there may be no better example than in Man City's 7-2 demolition of Stoke City back in 2017, when the playmaker tore the Potters limb from limb.
He first cut the defence to ribbons with a reverse pass to Leroy Sane, and the German teed up Raheem Sterling to double the lead. De Bruyne really turned on the style in the second half though, producing two almost identical cutting passes from the right flank, which flashed tantalisingly across the face of goal, each reaching its destination at the far post. It was sublime.
The truth is, this was just one example of a thousand we could hand pick to demonstrate his skills. He's done it time and time again in the toughest division in world football, scored a winner against Brazil in the World Cup quarter-finals, and dragged both club and country to previously unattainable levels.
It's not only his ability with his feet which makes him priceless to this Man City side. Without him, the team looks a much less complete unit when he's not dictating the play.
His influence is growing both on and off the field, too. De Bruyne has now assumed the role of vice-captain, regularly slipping on the armband in the absence of Fernandinho. He is the man Guardiola now turns to in their hour of need, and has become the official penalty taker after a string of poor misses from his teammates.
In the clutch moments, such as a Champions League knockout tie against Real Madrid at Santiago Bernabeu, the Belgian will stand up and be counted. He is a leader, both by example on the pitch and with his words in the dressing room.
Stepping up to the plate / Quality Sport Images/Getty Images
"He has something unique. He can run, the vision he has…. the personality right now. Right now he's the best."

- Pep Guardiola on De Bruyne (July 2020)
And he is able to shoulder all this responsibility because he has always had the mentality of a team player - with or without the armband, as he once explained in an interview with The Telegraph.
"Sometimes it is instinct," he said. "Sometimes you know what people are going to do. 
"What I try to master as a player is trying to know what my team-mates like and how they want the ball. You're a partnership and you know what my typical passes are and what I can play. 
That star of the all-stars / Naomi Baker/Getty Images
"As a midfield player you need to know. Some players like it in front of them. It's difficult to say. You just try to see the game, what's going to happen, before it even happens."
And that is De Bruyne in a nutshell. While supporters in the stadium gently rise from their seats in anticipation, the Belgian has already foreseen what the immediate future holds, for he is its creator and executioner.