Welcome to World Class: Jordi Alba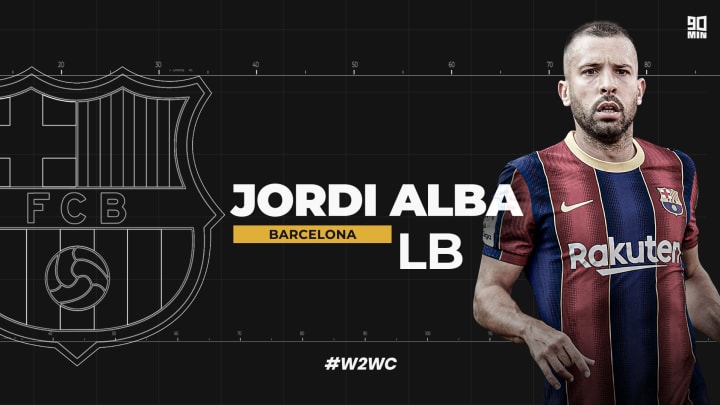 Jordi Alba remains a beacon of world class consistency at Barcelona | #W2WC / Matt Burt/90min
The sun was setting on the north coast of Spain when Jordi Alba took a pass from Xavi in his stride, in a game where Osasuna had taken Barcelona the distance.
They'd trailed for most of the game, squandering chance after chance and showcasing some tenuous defending, but got themselves level with ten minutes remaining. Naturally, they went on to find a winner.
It came when Alba, making just his second La Liga appearance for the club, looked up from his position on the left flank. He saw Lionel Messi abridge his run to open up a yard of space and that was all the evidence he needed to make a decision.
Skilfully sliding the ball into the feet of the Argentine magician, he had teed up Barça's second successive win to start the season, and set the wheels in motion for one of the most prolific footballing partnerships of our time.
It was the big stage arrival of a truly game-changing full-back.
Alba celebrates with Alexis Sanchez / JOSEP LAGO/Getty Images
It quickly became apparent that Alba wasn't just good, he was potentially on another planet. His telepathic understanding with Messi, that has seen him assist him 21 times in La Liga since joining Barcelona, spoke to his football intelligence; he reads the game exactly the same way as one of the greatest players to have ever kicked a ball.
His arrival helped the club transition out of the legendary tenure of Pep Guardiola while keeping the trophies coming in. The downward spiral was on its way, but they regained La Liga under Tito Vilanova and went on to have a second wave of dominance under Luis Enrique, with Alba firmly installed as a source of devastating creativity.
What stands Alba out from the pack is how quintessentially Spanish he is. His vision and natural technical ability are virtually unrivalled by any of his positional contemporaries, and this is why he was a perfect fit for Barcelona - a club defined by possession-based football and synonymous with some of the most naturally gifted players to ever grace the pitch.
Alba celebrates winning the Champions League in 2015 / VI-Images/Getty Images
All of that, yet he can still go from box to box in the blink of an eye, running with an extraordinary power incongruous with his diminutive frame. What's not to love?
Unfazed by playing for one of the biggest clubs on the planet, Alba's consistency and attainment since arriving at Camp Nou has been staggering. His 72 assists average out at ten per season over a seven-year period - a stretch in which he has won La Liga five times, a Champions League and a European Championship.
We may be seeing Alba's influence fade now as Barcelona's identity dissipates, yet his numbers haven't. He cleared double figures for goal involvements during the 2019/20 season and has started the 2020/21 term in impressive individual form, already assisting six in all competitions.
Even when he's not quite at it, Alba still finds a way to make things happen for his team. That is surely the hallmark of a truly world class player.
For the most part of the last decade, anyone claiming their team has the best left-back on the planet has been hit with a simple response. 'No, because Jordi Alba exists.'
That may not be the case any longer; as you've seen and will continue to see in this series, there are other contenders to the throne - Andy Robertson and Alphonso Davies to name just a couple. Yet it speaks to the impact Alba has made that even now, he mixes it with the best of them. He's one of the most accomplished, complete full-backs in the game, and he's still got that aura of world class about him.
---
* Statistics accurate at time of publication.