Welcome to World Class: Jan Oblak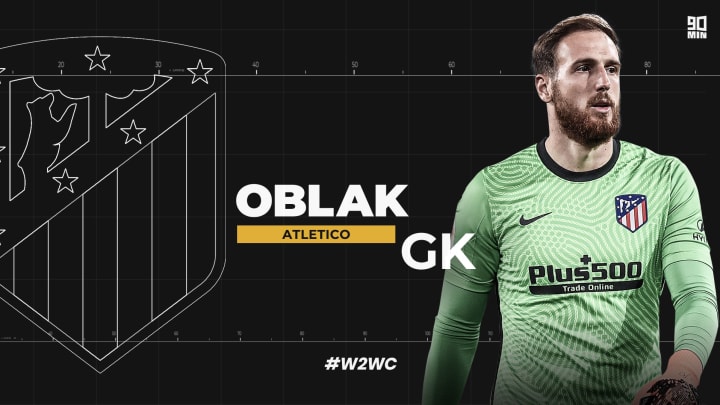 Atletico Madrid goalkeeper Jan Oblak is a world class performer / Matt Burt/90min
Sometimes in life, just being able to do your job isn't enough. People demand more, they expect you to go above and beyond your pay-grade, learn extracurricular skills and become the full package you never promised to be.
No sweat.
In a world where the modern goalkeeper is expected to not only save shots, but act as an eleventh outfield player, pass the ball as well as any elite-level midfielder and manage 1000 kick ups as a bare minimum, you could forgive the more traditional of shot-stoppers for questioning just where this lust for evolution and all-round perfection came from.
Nowadays, being a solid, hard-to-beat goalkeeper just isn't enough. That is, unless you are Jan Oblak.
And there's good reason for this gigantic exception to the typical criteria: Oblak is the best shot-stopper in world football. He covers and surpasses every basic requirement of the traditional goalkeeper, making himself the hardest man to put the ball past in the sport.
Even in today's advanced game, that has to count for something.
A fresh-faced Oblak announcing his arrival at Atleti / JAVIER SORIANO/Getty Images
---
La Liga Save Percentages (*at the time of writing)

2014/15 - 75%
2015/16 - 81.8%
2016/17 - 80%
2017/18 - 83.3%
2018/19 - 82.1%
2019/20* - 93.5%
---
The Slovenian joined current club Atletico Madrid in 2014, as Diego Simeone's charges went in search of an adequate replacement for the departing Thibaut Courtois. It was going to be difficult finding a comparable alternative to the Belgian star, but somehow, the recruitment staff managed to go one better.
There has never been a more suitable fit between club and player than Oblak and Atleti. Coached by the pragmatic and blue-collar Simeone, the shot-stopper's first, second and third requirements are - well, exactly that: stop shots.
The keeper embodies his leader on the field. No fancy footwork, no playing out from the back, no sombreros over onrushing attackers. Just start the game with a clean sheet, and end it with one. And he has ticked this box with aplomb. Oblak is world class in his own way.
Statistically, the Slovenian keeper is the best in Spain - and one of the greatest in La Liga's long history.
"We have a goalkeeper who is the best in the world, no doubt. I have been saying that for some time. It's like Barcelona who have Messi. He decides games with his attacking play; Oblak resolves them with his saves."

- Diego Simeone, Atletico Madrid manager
In June 2020, Oblak wrote his name into the record books, becoming the fastest goalkeeper to reach 100 clean sheets in Spanish top-flight history - it took him a mere 182 appearances, for those of you asking. That's 40 games - effectively an entire season - fewer than previous record holder Miguel Reina.
Over the next 18 matches, the 27-year-old kept a further 12 clean sheets, taking his tally to 112 from 200 games played. Frightening numbers. He also leads the way for the most shots saved and held in La Liga by a considerable distance..
Admittedly, Oblak plays in front of the best-drilled defence in Europe, but that shouldn't detract from his own personal contributions to this avalanche of blanks.
He has rightly earned this reputation as an unbeatable brick wall which precedes him before every match, and his status as one of the top five goalkeepers in the world. Oblak is the Ivan Drago of his position. There is nothing flash about him. He turns up, breaks opposing strikers until they concede to his superiority, and then goes home.
Just stepping onto the field is now half the battle towards scooping another clean sheet. But when called into action, Oblak doesn't disappoint. He has regularly boasted a save percentage of around 80% - which compared to world's most expensive goalkeeper Kepa Arrizabalaga (54% in 2019/20), that's a giant leap.
This consistency and unbreakable mental strength is the foundation on which Atleti are built. The entire team recognises that scoring one goal is often all they need. Do the business once at one end, and Oblak will do it for 90 minutes at the other.
He gave England a taste of just how frustratingly good he is in the 2019/20 Champions League clash with Liverpool, where he almost single-handedly knocked the holders out of the tournament at Anfield.
Jurgen Klopp's men had 34 shots over the 120 minutes, with 11 of those landing on target. Fortunately, Oblak was in the form of his life, producing an array of stops from close range, long distance and repelling a barrage of balls into the box. It was the most saves in a single match in that edition of the competition. Anyone surprised still?
It was attack vs defence, or more accurately, attack vs Oblak. On that day, he triumphed against the most feared and dangerous forward line in Europe. Of course, the whole backline played their part that night, but it all starts with his contribution in goal.
That tactic has served Atleti well for the past half-decade. Although Simeone's men have not won La Liga with their Slovenian superstar between the sticks, they have bagged a Europa League, a UEFA Super Cup and finished runners up in the 2015/16 Champions League.
Obviously, their clean sheet machine has been honoured individually, too, earning La Liga's Best Goalkeeper award from 2016-19 without fail. Richly deserved, too.
The ease at which Oblak plays the game is frightening for the neutral, and soul-destroying for those he plays against. He possesses every necessary trait to the nth degree when building the perfect traditional goalkeeper and much like Drago, looks as if he's been constructed in a lab; rippling muscles, the wing span of an eagle, and the stare of a man who is ready to demolish all before him.
Of course, in the cinematic world, Drago was eventually defeated by his (and everybody's) kryptonite, Rocky Balboa. Only, the Rocky Balboa of strikers has yet to be discovered.
So for now, Drago vicariously lives on through Oblak, crushing all in his wake.