Welcome to World Class
Welcome to World Class: Harry Kane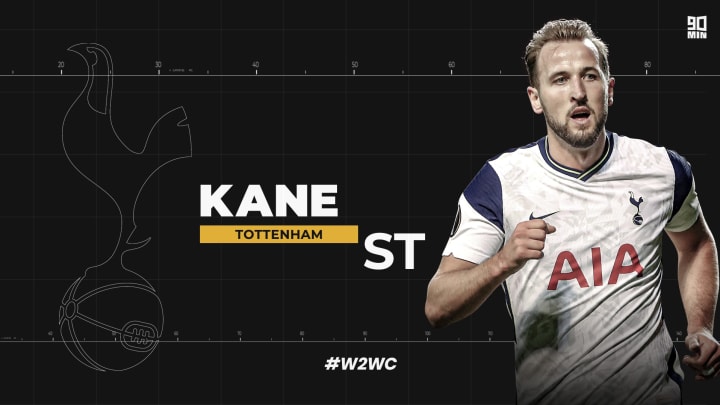 Harry Kane is on track to become England's most prolific goalscorer - ever | #W2WC / Matt Burt/90min
England has seen some phenomenal goalscorers in the past. Michael Owen, Jimmy Greaves, Gary Lineker, Wayne Rooney, Alan Shearer... the list goes on. They're some of the biggest names in history.
Shearer scored a ridiculous 260 goals in the Premier League - 52 more than any player in the competition's history.
Rooney bagged 53 goals for England - four more than legendary World Cup winner Bobby Charlton.
Rooney is England's leading scorer / Ian Walton/Getty Images
There's a good reason those two are viewed as some of England's finest-ever players, and yet Tottenham Hotspur's Harry Kane is on track to overtake both and set the new bar against which English strikers will be compared.
Now, before we go on, it's important to mention the elephant in the room. A large part of the criteria we at 90min used to define 'world class' was the ability to lead a team to trophies. After all, it's very rare to see a player go down as an all-time great if they end their career with an empty trophy cabinet.
Kane is an exception to the rule. He may not have the biggest haul of team trophies, but when it comes to individual records, there are few who can even hold a candle to the Spurs superstar.
Let's just run through some of his numbers. Kane has played six full seasons of Premier League football and never managed fewer than 17 goals. He's hit the 20-mark in four of those years and even stretched up to 30 in 2017/18.
Keeping up that kind of pace saw Kane bag his 150th Premier League goal in November 2020 in a 1-0 win over West Brom, which was just his 218th game in the competition. By contrast, only Sergio Aguero (217) and Shearer himself (212) did it faster.
Kane projects to match Shearer's tally of 260 goals in around five more seasons, which would put him at 32 years old, and there's no reason to suggest he couldn't continue racking up the goals for years to come.
Just think of all the players who have played in the Premier League. There are some superstar names, and yet Kane is just a few years off being their poster boy. Cristiano Ronaldo and Thierry Henry's goalscoring exploits will be compared to those of Kane, and the Spurs man will comfortably come out on top.
What makes Kane so impressive is how little anybody actually expected him to achieve anything close to this.
Kane has always faced critics / GLYN KIRK/Getty Images
Infamously released from Arsenal's academy as a youngster because of his lack of athleticism, Kane went on to fail a trial at none other than Tottenham. Nobody believed he had the talent, but even as a child, Kane used that as motivation.
He soon proved Tottenham wrong and earned himself a place in the academy, but even then, nobody really saw his talent. However, what did come through was the kind of elite mentality which many seniors do not possess. Kane was going to be the world's best, he would make sure of it.
"For me, the quality that made him stand out as a youngster was this incredible self-belief," former Spurs youth coach Les Ferdinand told the Telegraph. "What he was he was very single minded. He always knew precisely where he wanted to go."
That determination earned him a chance to turn pro, but when tasked to prove himself on loan with Leyton Orient, Millwall, Norwich and Leicester City, he struggled to impress. He was good enough to be a professional footballer, but maybe not at the highest level.
Kane felt that. He felt the doubt around him, and it spurred him on.
Pochettino helped bring the best out of Kane / Ian Walton/Getty Images
He eventually earned a permanent spot in Mauricio Pochettino's first team in the 2014/15 season, and he has never looked back. The goals have continued to pour in with devastating speed, and nobody in England's top flight has been able to match that.
By 2017, Kane's pedigree was already well-known, and Gary Neville was one of many to claim that Kane had already reached the top of the football mountain.
"Before the game we put him in the categories of Alan Shearer and Wayne Rooney and I'm comfortable to sit here and put him in the category of Lewandowski, Cavani, those world-class centre-forwards," Neville told Sky Sports.
"I think you can take Messi, Cristiano Ronaldo and Neymar a little bit out of it. They're incredible, they're freaks. But of what you would call the traditional centre forwards, the number-nines, Cavani, Lewandowski, Shearer... I'm really comfortable putting him in that company. And they're outstanding centre forwards.
"He's a dream. He's gold. This is a lad who is never going to have a bad run because although he'll not score goals [all the time] he'll always contribute to the team. He'll be a target man, he'll bring people into play."
It's not only at club level where Kane has succeeded. For England, he's already sixth in the all-time scoring charts, and he projects to overtake Rooney by the time he turns 29. It's not unreasonable to suggest that he will still be at the peak of his powers for years to come at that point.
Kane is on track for international greatness as well / Michael Regan/Getty Images
"In terms of what is possible, the goalscoring record is the really interesting one because his strike rate for us is phenomenal and he has time on his side to chase Wayne Rooney's record which would be a remarkable feat," England boss Gareth Southgate said (via Goal). "I know from his perspective, while the personal achievement is something he is driven towards, it is the team achievement."
Few have ever made goalscoring look as easy as Kane, whose effortless eye for goal has combined with his phenomenal mentality to create a glittering career which is nowhere near its end. In fact, it's only just getting started.
---