Welcome to World Class: Dani Carvajal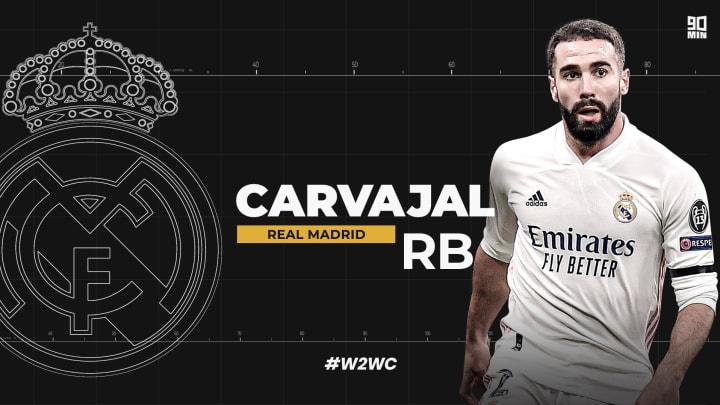 As the saying goes, you don't realise how much you love something until it's gone.
That's something Real Madrid have had to learn when it comes to star right-back Dani Carvajal on a number of occasions.
Back in 2012, when he was a 20-year-old academy defender with a grand total of zero senior appearances to his name, Real offloaded Carvajal to Bayer Leverkusen on a permanent basis, but inserted a buy-back clause to cover themselves. He might end up good. Who knows?
Carvajal's importance to Real is unbelievable / DeFodi Images/Getty Images
One year and a €1.5m loss later, not only had Real accepted that this kid could play, but also that he was ready to become the starting right-back for the biggest football club in the world.
At the time, that could hardly have been a riskier move. Real's defensive woes were the talk of the town after they shipped four to a Robert Lewandowski-inspired Borussia Dortmund in the semi-final of the previous season's Champions League.
That kind of result could have inspired a big-money spend on a new defender, but Real chose to focus all their financial might on landing Gareth Bale instead, safe in the knowledge that Carvajal was coming home.
---
""One player I didn't know much about was Carvajal. He's a very good right-back, with a lot of intensity in both training and games. He has impressed me.""

- Former manager Carlo Ancelotti (2013)
---
With the gauntlet thrown down, Carvajal didn't take long to rise to the challenge. By the time his debut season had come to an end, the Spaniard was a champion of Europe, having led Real to La Decima as he played 120 minutes in the Champions League final victory over cross-town rivals Atletico Madrid.
Winning the Champions League is always enough to get you in the conversation for 'world class', but to us, accolades aren't everything.
Sure, with four Champions League and two La Liga titles to his name, Carvajal's CV stands out more than most. It commands a place in football's top drawer. However, it takes more than just some shiny silverware to make it into that elite bracket, and Real began to learn Carvajal's true greatness early in the 2018/19 season.
Julen Lopetegui's Real enjoyed a five-game unbeaten run to start the season that year. Life was good. Even a minor knock to Carvajal, which forced him to miss that fifth game, couldn't dampen the spirits.
Injuries began to weigh Carvajal down in 2018 / Soccrates Images/Getty Images
Game six came around, a trip to Ramon Sanchez-Pizjuan Stadium to face Sevilla, but Carvajal was still unavailable, and Real really suffered. Los Blancos conceded three first-half goals and failed to reply after the break, and stuttering without Carvajal soon became a real issue for Los Blancos.
A one-game return to help Real keep a clean sheet against Atletico was great, but then a calf injury struck Carvajal down again, and their struggles without the Spaniard were abundantly clear.
Real lost 1-0 to Alaves, 2-1 to Levante and shipped a whopping five goals against Barcelona in El Clasico. They even let Czech side Viktoria Plzen snatch a goal and lost 3-0 to CSKA Moscow at the Bernabeu in the Champions League, which was unacceptable for a side who had won the competition for the last three years.
As you can see, Real's defence struggles without Carvajal, but that's to be expected. Take any team's starting right-back away from them and you'll see a downturn in form. However, what sets Carvajal apart from the rest is how his absence offsets every aspect of Real's game.
Despite playing in such a theoretically isolated area of the pitch, Carvajal manages to play a pivotal role by bombing up and down the right wing to involve himself at both ends. In defence, he's obviously a remarkably powerful athlete with fantastic defensive awareness, but that's only half of his game.
In attack, he constantly finds himself in the kinds of positions needed to link up with those ahead of him. Carvajal provides an outlet for midfielders like Luka Modric, while he also knows how to combine with whichever winger is deployed ahead of him. He's the third point which turns a straight line into a triangle.
Because Real trust Carvajal so much, the rest of the team are prepared to take more risks. Defenders will make more passes and midfielders will push higher up the field, safe in the knowledge that Carvajal will be there to mop up any mess if needed.
When Carvajal is gone, Real lose that composure. It started with a lack of faith in Danilo, but more recently, Zinedine Zidane has rejected the chance to employ a reserve right-back and has instead gone with centre-backs Nacho Fernandez and Eder Militao or even winger Lucas Vazquez.
Zidane has found it impossible to replace Carvajal / Soccrates Images/Getty Images
None of that trio understand the right-back position well enough, which is fair enough since, you know, they're not right-backs. However, that uncertainty bleeds out into the rest of the team, who alter their game to compensate for a potential weakness.
The reluctance to fly forward and risk exposing this weak link leaves Los Blancos' attack looking somewhat stale at times, and all that stems from the off-ball impact of a right-back who isn't even there. It's remarkable.
With so many superstars and expensive signings in Real's squad, Carvajal's importance regularly flies under the radar. After all, he's not scoring or assisting with any real regularity and he's not the leader of the defence.
However, if there was ever an example of a player about whom the stats sheet doesn't tell even close to the full story, it's Carvajal.
Carvajal is integral to Real's play / Quality Sport Images/Getty Images
Not only does Carvajal have the respect of his team-mates, but he has also won over most of the neutrals who have watched him, including two-time World Cup-winning right-back Cafu.
"He is very good, one of the best in the world after Daniel Alves," Cafu said (via Marca) of Carvajal back in 2017. "He's been playing well for many years, attacking with force and defending with the same determination.
"Real Madrid haven't had a full-back as good as him for a long time."
---