Welcome to World Class: Cristiano Ronaldo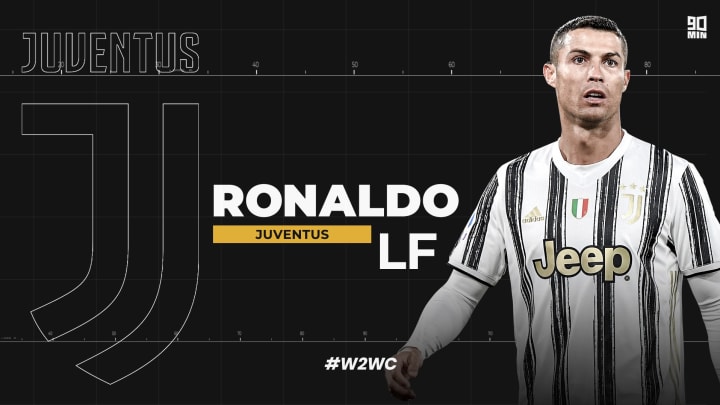 You cannot score over 750 career goals for club and country, win countless trophies, break all manner of individual records and not be considered world class. It is impossible.
Ronaldo has been at that level for the best part of 15 years and, even now, fast approaching 36 years of age, he's still one of the very best in the world. It is truly remarkable longevity and an unbelievable achievement, not only to reach unprecedented heights, but to stay there.
He is utterly irrepressible.
Ronaldo has scored over 750 goals for club and country / Jonathan Moscrop/Getty Images
Former Juventus coach Massimiliano Allegri worked with Ronaldo in the player's first season in Turin in 2018/19. He has worked with numerous other greats over the years, including Clarence Seedorf, Andrea Pirlo, Zlatan Ibrahimovic, Alessandro Nesta, Gennaro Gattuso and Giorgio Chiellini, but considers Ronaldo to be a step above in terms of his mentality and drive.
"Ronaldo is the top player for mentality," Allegri said earlier in 2020.
"Ronaldo has a different head to everyone. He's won five Ballons d'Or, five Champions Leagues and one European Championship for Portugal, and that is so difficult, and it's always him being the difference. Every year he has a new objective."
Never satisfied with what he has done, he is always striving for more and more.
Ronaldo always wants to win more / VI-Images/Getty Images
Ronaldo has been a superstar from an early age. Manchester United were already interested in him before an iconic performance in a friendly against them for Sporting CP, but that only sealed the deal and ensured the teenager previously offered to Liverpool for £4m moved to Old Trafford for just over £12m. He was initially reluctant to take the club's number seven vacated by David Beckham and previously worn by other club legends, but Sir Alex Ferguson insisted because of his talent.
In the days before social media and even YouTube, Ronaldo was an unknown outside Portugal when he made his United debut aged 18 as substitute against Bolton. But it was immediately obvious to everyone who saw him play that day that this kid was special, the way he played with such confidence and without any fear.
Just how special, even the greatest optimists could never have predicted.
As part of a developing team, Ronaldo improved year on year in Manchester, but 2006 was the real turning point in his career when he transformed himself from a promising but inconsistent and occasionally frustrating youngster into a world class game-changer.
Ronaldo has been consistently world class since 2006 / PAUL ELLIS/Getty Images
He had learned how to make the most effective use of his immense talent in the right situations, while he also physically bulked up to become an incredible athlete.
In his second three seasons at United, Ronaldo scored 91 goals and won three Premier League title, as well as the Champions League, FIFA Club World Cup and his first Ballon d'Or. That in itself was world class, but he took it to unfathomable new levels after an £80m world record transfer to Real Madrid in 2009. His first season's goal tally of 33 was insanely his worst in nine years there.
Six years in a row between 2010 and 2016, Ronaldo got over 50 goals every season for Real. He twice hit the 60-goal milestone in that run and more often than not averaged a goal per game.
Real struggled to consistently break the domestic dominance of Barcelona in La Liga, but it was they who had the upper hand in Europe and Ronaldo won his second, third, fourth and fifth Champions League titles in 2014, 2016, 2017 and 2018 respectively. The latter three were part of a historic run in which Real became the first club in the Champions League era to retain the trophy, and the first to win three in a row since the great Ajax and Bayern Munich sides of the 1970s.
Ronaldo has 12 Ballon d'Or top three finishes / Gonzalo Arroyo Moreno/Getty Images
By then, Ronaldo had already won five Ballon d'Or awards, with 12 top three finished in total. In 2019 he was third in the final vote and would have been up there again in 2020 were the ceremony not cancelled due to the coronavirus. In the end, he was still honoured by getting a place in the all-time Ballon d'Or Dream Team alongside other all-time greats instead.
Even at 33 in 2018, Juventus saw fit to pay €100m for Ronaldo, taking the superstar to his fourth different country. Juve maintained their Serie A dominance and Ronaldo has continued scoring goals, despite having to adapt to a new league. His two Italian titles have taken his tally of domestic league trophies to seven and his 31 league goals in 2019/20 was his best since 2015/16. It shows that, despite his age, he is still capable of performing at the very highest level.
At international level, Ronaldo has always scored goals, but the last four years have seen him step that up as well. He got 13 in 13 appearances for Portugal in 2016 as they became European champions, his first international trophy. He's scored 34 times in 34 games since then to hurtle towards a century of international goals – only the second ever male player and the first European.
Ronaldo has scored over 100 senior international goals / David Lidstrom/Getty Images
The numbers do not lie and it is impossible to argue again them. That is why Ronaldo, even now, is still one of the top five left forwards on the planet and that makes him world class.
---
For more from Jamie Spencer, follow him on Twitter and Facebook!