Welcome to World Class: Casemiro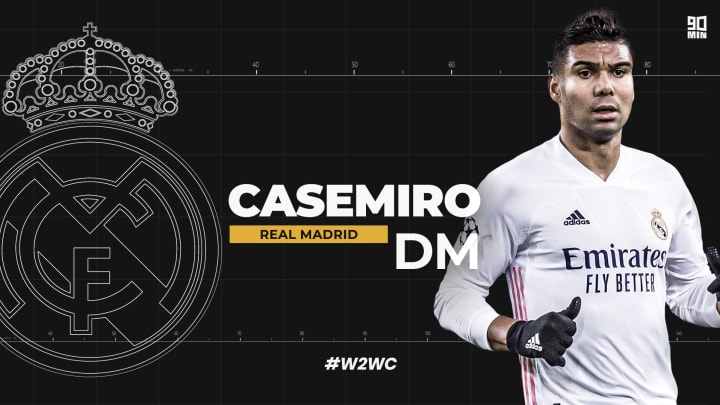 Casemiro has been a steady, reliable, world class performer for Real Madrid | #W2WC / Matt Burt/90min
As counter intuitive as it seems, there are professional footballers who do not really care for football.
As soon as training ends, their mind turns to other things, probably Fortnite or FIFA in most cases. There's nothing wrong with this of course, but in order to be a truly world class operator football must be your obsession.
Few players fit this description better than Real Madrid's Casemiro.
Casemiro enjoying a rather heavy looking hat / Jonathan Moscrop/Getty Images
In an interview with the Guardian back in August, the true extent of the Brazilian's commitment to self improvement was laid bare.
"I have [football analytics platform] Wyscout and watch everything, from China or anywhere. My wife gets annoyed. It's my work. There's a time for everything but it's my job. And I love it. My life is football. I have to think permanently about football."

- Casemiro
This self portrait of a considered, footballing philosopher may come as a somewhat of a surprise. In the past, Casemiro has often been characterised as an unsophisticated enforcer. Although tough tackling and physicality is a significant part of his game, it is not the only thing he brings to the table. Nor is it the attribute that makes him world class.
Instead, what sets Casemiro apart from his counterparts is his incredible footballing brain. No doubt honed from the hours of analytics footage he trawls through each week, few players in world football read the game better than him.
Often in games, Real seem to be in trouble, only for their no. 14 to come steaming in from the corner of the screen after anticipating his opponents' moves perfectly.
His devilish intelligence is something Casemiro was keen to emphasise in the same Guardian interview.
"It's not the legs, it's the mind that's in charge. You have to be strong, aggressive: I like challenges, contact. But you play with your head; I always thought the key was thinking: being better positioned, seeing the move before it happen"

- Casemiro
It is difficult to overemphasise just how much Real have relied on Casemiro over the past few years. He is the glue that holds their midfield together and lets their attacking stars shine bright. Much in the same way as Claude Makelele's defensive discipline brought the best out of Zinedine Zidane during his playing days, Casemiro similarly lets Toni Kroos and Luka Modric focus on the more creative aspects of the game.
It's no wonder that Zidane made tying his down to a new deal him his number one priority when he took over as Real Madrid manager in January 2016.
Patterns of play for Real since then have often begun with Casemiro winning back the ball with one of his trademark sliding tackles, or making an interception. After this, an accurate short pass to one of his more expressive team mates is never far away, although he is not entirely absent in his side's build up play.
He is Brazilian after all and a quick YouTube search will return examples of the deft flicks and subtle feints that prove he is comfortable in possession.
As he is such a pivotal part of the team, Zidane has avoided rotating Casemiro at all costs. He did not miss a single second of their three victorious, back-to-back Champions League finals and also played a significant role down the stretch in La Liga last season.
When the campaign was brought to a screeching halt by coronavirus in March, Barcelona topped the table by two points. Draws against Valencia and Athletic Club - both games that Casemiro did not feature in - as well as several other underwhelming results cost them. However, after the break, Los Blancos were unstoppable.
They did not lose a single game post-lockdown with Casemiro missing just one match due to suspension. During this run, six of Real's wins were by one goal. This was not vintage football, far from it. This was Zidane's charges grinding out points and at the epicentre of their gritty attitude was the 28-year-old.
The club's first game back after lockdown set the tone. Against Eibar, Casemiro registered a game high five blocks, as well as 17 pressures to help his side secure a statement 3-1 win. He continued to impress as Real just about got over the line, netting a vital winner in a 1-0 over Espanyol and also laying on an assist as his side beat Granada 2-1.
Without Casemiro, Real have no balance. Take him away and three Champions League titles, as well as a string of domestic honours, go with him. If that's not world class, we don't know what is.
---