Welcome to World Class
Welcome to World Class: Bruno Fernandes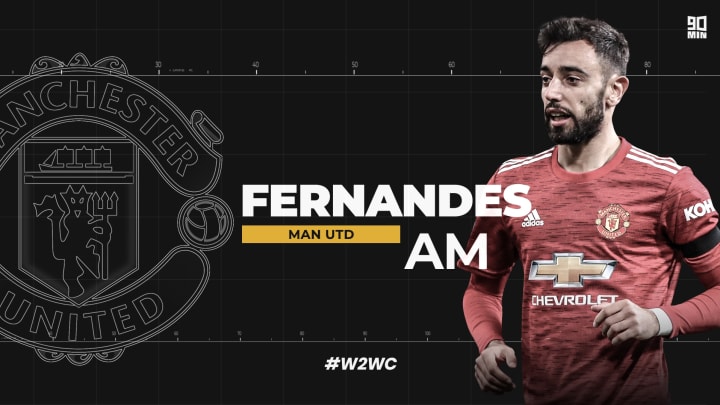 Bruno Fernandes has taken the Premier League by storm | #W2WC / Matt Burt/90min
How good does a player have to be in order to completely transform the fortunes of the biggest football club in the world?
Manchester United have wasted hundreds of millions of pounds on finding the missing pieces to their jigsaw, which, despite this, has appeared more incomplete with each passing year. But on 29 January 2020, the Red Devils took one last punt on completing the puzzle - and they hit the jackpot.
Bruno Fernandes joined Man Utd for a fee of £47m, and the world watched on in curiosity, uncertain of the breed of player the Premier League giants had landed. He wouldn't have been the first attacking flop to have graced Old Trafford, and for many doubters, he would last just as long as those who had failed before him.
But Fernandes is different from his predecessors. He is world class.
Perhaps we have never seen a bigger contrast in a side's fortunes as Man Utd pre and post signing Fernandes. His superior quality stood out on his league debut against Wolverhampton Wanderers, and although he failed to register a goal or assist in this stalemate, he had already adopted the role of team leader.
"You can be a leader without being a captain. It's the way you live your life, how you are on the training ground, in your own life, how you grew up, your mentality, it's a little bit of all this."

- Bruno Fernandes
It is rare for an attacking midfielder to accept such roles of authority within a side, but the Portuguese star demanded it. With his demands for power came demands for his teammates to match his levels of commitment and talent. He is as influential off the pitch as on it.
If the knives were sharpening after his first blank, they were soon put back in their sheaths. Fernandes failed to register a goal contribution on only three more occasions over the next 13 matches. In that time, he earned eight goals and seven assists, and took a team languishing six points outside of the top four to finishing third in the table with relative comfort.
As if to stress his influence upon their fortunes, Man Utd had lost eight games in 24 matches before his arrival, and then went unbeaten from his debut to the end of the season. Ole Gunnar Solskjaer's side won nine and drew only five of their 14 fixtures, with Fernandes contributing to over 50% of their goals scored.
Now, despite these incredible numbers catapulting Man Utd to an unlikely lofty position, Fernandes' genuine quality was somehow still called into question. He was mocked for his efficiency in dispatching penalties, and some critics labelled him a stat-padder and a threat purely from set-pieces.
Nothing could be further from the truth, and his statistics from the 2020/21 campaign only strengthen his title as world class. In the Red Devils' 15 matches in 2020, Fernandes scored 10 goals and provided seven assists, arriving at more than one goal contribution each game.
He is also responsible for the most passes into the box with over 110, highlighting the value of his direct eye for goal. Over the entirety of 2020, Fernandes had a hand in 32 goals, a higher return than any other Premier League player - and he only made his debut on February 1.
Make no mistake, without Fernandes, Man Utd would be absolutely nowhere near the top of the Premier League table.
When he was foolishly left out of the starting lineup by an overly optimistic Solskjaer, his absence was felt more than ever. Man Utd's Fernandes-dependence has never been more apparent than in their trip to West Ham United on December 5.
Solskjaer had claimed that he hoped not to have to use his attacking midfielder against the Hammers, but after his players produced one of the most lacklustre and dismal performances in recent times over the first 45 minutes, Fernandes was thrust into the midst to save his coach's skin.
Sure enough, he turned the match on its head - singlehandedly. Pulling into unattended areas of the pitch and dragging tired defenders out of position, Fernandes took West Ham apart in one of the best individual displays we are likely to see in Premier League history.
He created eight chances from open play, in one half of football - more than any other Premier League player has created in an entire match all season. He bagged an assist for the equaliser, and had a hand in the final two goals, turning Man Utd from hopeless into ruthless.
That's how good Fernandes is. He is the heartbeat of the biggest club on earth, and when removed from the body, the rest of the organs shut down. He is not only the heart, but the brain and the soul of this unit.
He possesses the clinical nature of any elite striker, combined with the guile and craft of the greatest playmakers. His vision is up there with the very best to have graced the English game, and his ambition and technique allows him to attempt and execute passes that the rest of us can't even comprehend.
In the Premier League alone this season, Fernandes has created 10 'big chances', which represent clear, overwhelming goalscoring opportunities for his teammates. He completed 656 of 850 passes in his first 15 matches, giving him an impressive pass completion percentage of 76% - a stunning return for a man whose job is to create something from nothing.
Demanding the ball / Matthew Ashton - AMA/Getty Images
"He creates chances, scores goals, takes risks -- which any United player should be allowed to do and be brave enough to do. He's definitely a brave boy. He sees the pass."

- Ole Gunnar Solskjaer on Fernandes
And his will to win and relentless search for perfection implores him to chase back every ball, hound every opponent and not stop until his team has won the game. The Portuguese star attempted 63 tackles in the opening 15 matches, a crazily high figure for an attacking midfielder.
He wants to win, and as long as he is a Red Devil, he will make it his life's work to bring glory back to Old Trafford. His passion encapsulates the rage of every supporter who has seen their heroes drop from title winners to Europe League contenders, and he carries that hunger for retribution onto the pitch each week.
And despite the responsibility of a sporting behemoth on his shoulders, he is still maintaining impossible levels of form. Week after week, month after month, his game remains impeccable.
What is equally as impressive, is how quickly he adapted to the rigours of the Premier League.
Many top flight legends required an adjustment period to settle into their new surroundings, and then blew the division away when they found their feet. Fernandes hasn't required that grace period, and has produced possibly the strongest 12-month debut for any Premier League arrival.
Head and shoulders above the rest / Pool/Getty Images
On the 11-month anniversary of his time at Old Trafford, United hosted Wolves - the very same fixture as his Red Devil debut. The game seemed destined to hold the same fate as that encounter on February 1, with the hosts turning in a similarly stodgy performance.
But a winning mentality can be bred through a group. Unlike last year, Man Utd managed to get the three points in the bag through a Marcus Rashford strike - and a Fernandes assist... Who else?
It was a victory which sparked talk of a title challenge against rivals Liverpool, and if that proves to be the case, then it is down to the arrival of one man on his quest to become the greatest attacking midfielder in the world.