Ex-Spurs star Walter Tull inducted into National Football Museum Hall of Fame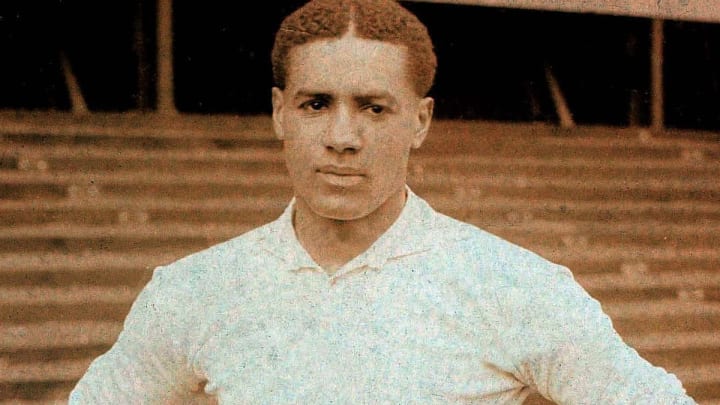 Walter Tull was one of Britain's first black professional footballers / Finlayson Family Archive
Ex-Tottenham midfielder Walter Tull, one of Britain's first ever black professional footballers, has been inducted into the National Football Museum Hall of Fame.
The honour recognises his incredible achievements and is part of ongoing celebrations for Black History Month.
Tull, who also played for Northampton during his pro career but was sadly killed in action during the First World War, now joins fellow legends of the British game like Bobby Charlton, Bobby Moore, George Best, John Barnes, Ian Wright and many more.
L-R: Ledley King, Edward Finlayson (Walter's grand nephew), Phil Vasili (Walter's Biographer) and Tim Desmond CEO of National Football Museum / National Football Museum
Tull's posthumous award was presented to his grand-nephew Edward Finlayson at the National Football Museum in Manchester also attended by former Spurs captain Ledley King.
"We're delighted to present this award to Edward on behalf of Walter. The National Football Museum Hall of Fame aims to recognise a wide diversity of individuals who've made an outstanding contribution to the game," National Football Museum CEO Tim Desmond said.
"Walter's story is one that everyone should know. He truly was football's hidden pioneer, and we hope this helps to recognise his impact on both the game and society itself."
Tull was born in Kent in 1888, the son of Daniel Tull from Barbados and local woman Alice Palmer. Sadly, his parents died when he was young and he was later raised in an east London orphanage.
Tull became a printer's apprentice and also played amateur football for Clapton FC. He joined Clapton in 1908 and was hailed by one London newspaper as the club's 'catch of the season', before signing professional terms with First Division club Tottenham a year later shortly after turning 21.
Walter Tull enlisted in the British Army in 1914 after the outbreak of the First World War / Finlayson Family Archive
But as one of Britain's first professional black footballers, Tull had to overcome much adversity and was subject to racist abuse. On 2 October 1909, a report in the Football Star newspaper covering Tottenham's match with Bristol City featured the subheading 'Football and the Colour Prejudice'.
The report on Tull read, "…he is the Hotspurs' most brainy forward. Candidly, Tull has much to contend with on account of his colour. His tactics were absolutely beyond reproach, but he became the butt of the ignorant partisan."
Following a 1911 move, Tull then went on to play over 100 games for Northampton, before enlisting in the army soon after the outbreak of war in late 1914. He joined the 17th (1st Football) Battalion of the Middlesex Regiment, rising to the rank of 2nd Lieutenant by 1916.
Not only had he already been one of the country's first black professional footballers, he was also one of the army's first black commissioned officers, giving him an incredible legacy and a lasting place in history.
2nd Lieutenant Walter Tull was killed in action at the Second Battle of the Somme in March 1918 / Finlayson Family Archive
Tull was recommended for a Military Cross for bravery and leadership for his service in Italy during the conflict but sadly never received the honour as he was killed at the Second Battle of the Somme in March 1918 at the age of just 29. Like so many WWI soldiers, his body was never found.
---
The Hall of Fame, supported by the Professional Footballers' Association, celebrates the achievements of those who have made an outstanding contribution to the game, either on or off the pitch. As part of the Hall of Fame induction, the National Football Museum have also partnered with education initiative Everycolour to launch knowtheirnames.co.uk - a new primary schools resource highlighting the stories of eleven trailblazing black footballers. 
---
For more from Jamie Spencer, follow him on Twitter and Facebook!