USMNT
USA fail to qualify for third straight Olympics after crushing 2-1 loss to Honduras
Mar 29, 2021, 9:30 AM GMT+1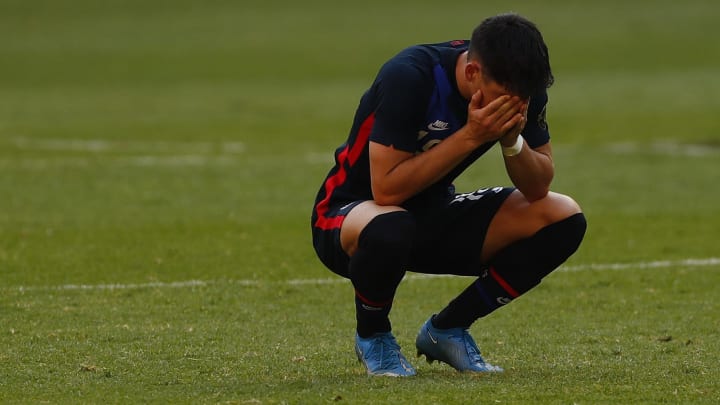 The USA failed to qualify for their third straight Olympic Games after failing to a crushing 2-1 defeat to Honduras on Sunday.
Having been bested by Mexico earlier in the week, the USA went into Sunday's game knowing that only a victory over Honduras would be enough to see them end their 13-year wait for a spot at the Olympic Games.
However, a few minutes of madness either side of half-time saw Jason Kreis' Under-23s give themselves too much work to do. Juan Carlos Obregon bagged for Honduras deep into first-half stoppage time, but after the break, an error from US goalkeeper David Ochoa gifted Luis Palma a second to change the tone of the game completely.
Captain Jackson Yueill managed to pull one back in the 52nd minute with an impressive curling effort from distance, but despite creating a huge amount of good chances, Kreis' men simply could not find a way through.
Jonathan Lewis had two or three excellent opportunities to equalise, but it seemed as though Johnny Cardoso was going to save the day when he was handed an open header deep into second-half stoppage time, only for the 19-year-old to fluff his lines.
The US collapsed to the floor at the full-time whistle, visibly distraught at having missed out on a third-straight Olympic Games and failing to atone for the embarrassment that came about from the 2018 World Cup qualification campaign.
"Obviously, we're devastated, absolutely devastated," Kreis said (via The Guardian). "In our locker room, the guys are like it's a tragedy – a tragedy.
"We lose an opportunity to play in an international tournament with more pressure, where these players have to be in these environments and continue to improve with that pressure.
"I don't know that if I've ever seen a game where we've had players mis-control the ball so much by going under people's feet, passing out of bounds. These are things that are just really — you just really kind of scratch your head, you think of what's going on here?
"But I also have been around the game enough in our country at a pro level to tell you this is what you see in pre-seasons and at the beginning of MLS seasons it's typical."