Nations League
UEFA Nations League: Everything you need to know & how it works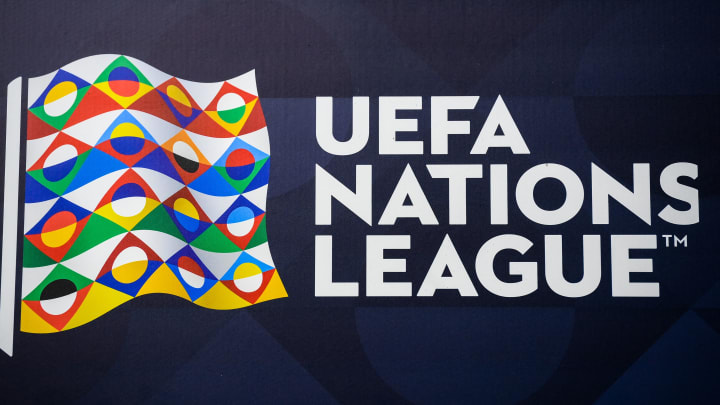 The 2022 edition of the Nations League is underway / FRANCK FIFE/GettyImages
The 2022/23 UEFA Nations League is underway with a four-game bonanza coming right off the back of the club season.
The finals tournament is not due to be held for a whole year, with the location due to be confirmed early next in 2023.
Here is everything you need to know about the latest edition of the UEFA Nations League...
---
What is the UEFA Nations League?
First introduced as recently as 2019, the aim of the Nations League is to add 'more sporting meaning' to international football and reduce 'meaningless friendlies', per UEFA.
It is a competition that involves all 55 European member nations and essentially eradicates the need (and the time) for those international breaks for meaningless friendlies.
However, in 2022 it was still possible that a UEFA member could play a friendly outside of the scheduled Nations League period, just as England did when they faced Ivory Coast and Switzerland in March.
---
What is the UEFA Nations League format?
The 55 member nations have been split into four divisions: A to D.
The strongest countries are in A, with the 'Leagues' getting progressively weaker as you go along the alphabet.
Leagues A, B and C feature four groups of four countries (16 teams each), while there are seven teams in League D (one group of four and one group of three) as of the 2020/21 edition.
The sides who finish bottom in Leagues A and B will be relegated to the next lower league. Because League C has four groups and League D only has two, League C relegation is determined by 'play-outs' in March of even-numbered years.
---
2022/23 UEFA Nations League groups
League A
Group A1: France, Denmark, Croatia, Austria
Group A2: Spain, Portugal, Switzerland, Czech Republic
Group A3: Italy, Germany, England, Hungary
Group A4: Belgium, Netherlands, Poland, Wales
League B
Group B1: Ukraine, Scotland, Republic of Ireland, Armenia
Group B2: Iceland, Russia*, Israel, Albania
Group B3: Bosnia and Herzegovina, Finland, Romania, Montenegro
Group B4: Sweden, Norway, Serbia, Slovenia
League C
Group C1: Turkey, Luxembourg, Lithuania, Faroe Islands
Group C2: Northern Ireland, Greece, Kosovo, Cyprus
Group C3: Slovakia, Belarus, Azerbaijan, Kazakhstan
Group C4: Bulgaria, North Macedonia, Georgia, Gibraltar
League D
Group D1: Liechtenstein, Moldova, Andorra, Latvia
Group D2: Malta, Estonia, San Marino
*Russia will not participate in Group B2 as a result of the war in Ukraine. They will automatically finish bottom.
---
2022/23 UEFA Nations League fixture dates
Matchdays 1-4: 1-14 June 2022
Matchdays 5 & 6: 22-27 September 2022
Semi-finals: 14-15 June 2023
Final & third-place match: 18 June 2023
Play-outs: 21–23 & 24–26 March 2024
---
How to watch the UEFA Nations League on TV/live stream
Channel 4 has secured the UK broadcast rights for England's Nations League matches in 2022, with the games also available to watch online on their streaming platform All 4.
Other countries' matches are available to watch across Premier Sports, while some games are also on BoxNation.
In the US, Fox Sports and fuboTV have partnered to provide English-language coverage.
---
Who will host the 2022/23 Nations League finals?
Four countries have declared an interest in hosting the finals tournament in June 2023: Belgium, Poland, the Netherlands and Wales.
UEFA will appoint a host nation in January 2023.
---
Previous UEFA Nations League winners
2019
Portugal 1-0 Netherlands (Porto)
2021
France 2-1 Spain (Milan)
---
UEFA Nations League prize money
€76.25m in prize money was distributed for the inaugural Nations League, with the winners taking home €10.5m. Runners-up the Netherlands took €9m, third-placed England were awarded €8m, and Switzerland - who finished fourth - were given €7m.
The overall prize pot was expected to rise to €100m for the 2021 edition, with the winner taking €14m.
---
When will the next UEFA Nations League be played?
It is expected that the next instalment of the Nations League will be played from September to November 2024 with the finals once again in June 2025 - although FIFA are yet to confirm the international calendar for 2024.
---
How the UEFA Nations League affects Euro 2024 qualification
Per UEFA, three of the 24 places at Euro 2024 will be determined by play-off spots via the 2022/23 Nations League.
The 12 group winners in Leagues A, B and C will be selected unless they have already qualified, in which case they will be replaced by the next best-ranked team in their League.
If there are not enough non-qualified teams in the same league, then it filters down to the next league, finishing with League D.