10 Years
Top 10 Champions League moments of the decade (2011 - 2021)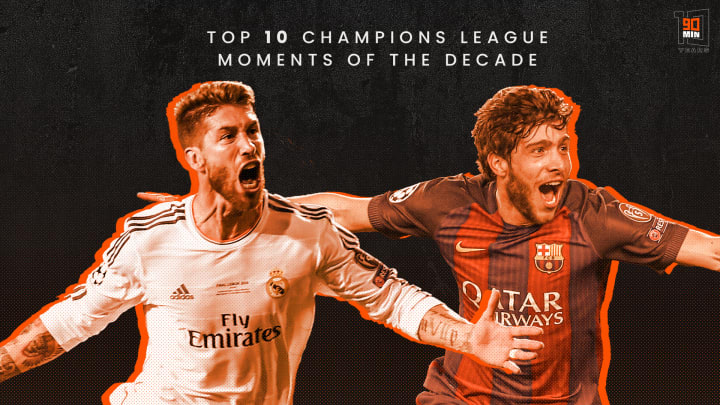 The best Champions League moments of the last decade / Briony Painter
The last ten years have seen the Champions League reach new heights of drama and intrigue - despite what the 12 clubs who formed the abortive European Super League would have you believe.
Yes, the group stages can be uneventful at times, but once the knockout stages kick off it is hard to find football that is more suspenseful or captivating.
With so many great moments to choose from, selecting our top 10 was not an easy task...
---
10.

Robben settles an all-time great final (2013)
What a game of football this was / Ian MacNicol/GettyImages
The 2013 Champions League final was everything you want from the biggest club game in the continent.

Both Bayern Munich and Borussia Dortmund treated us to some incredible football over the course of the 90 minutes.

Right at the end the contest was settled when Arjen Robben - who also set up his side's opener - burst through a crowd of players in the box before rolling a scuffed finish past Roman Weidenfeller. Time seemed to move in slow-motion, before the ball eventually trickled over the line.
9.

Barcelona smash Manchester United (2011)
Barcelona won the 2011 Champions League final but that did not tell the whole story.

After the game, Man Utd boss Sir Alex Ferguson admitted that Barcelona had toyed with his incredible side all night, describing Pep Guardiola's charges as the best team he had ever faced in his career.
8.

Ronaldo scores his best ever goal (2018)
When opposition fans applaud your goal, you know it was a bit special.

Cristiano Ronaldo has netted some screamers in his time but in terms of both technique and what it meant, this has to be number one.
7.

A Greek god in Rome (2018)
Barcelona thought they had their quarter-final tie against Roma sewn up after romping to a 4-1 victory in the first leg.

How wrong they were.

They didn't count on La Lupa channelling their inner Roman god energy and they also did not count on an unsensational Greek centre-back scoring a last-gasp header to send them out.
6.

Unbelievable Torres (2012)
Chelsea's entire run to 2012 Champions League glory was completely bonkers.

However, in a long list of incredible moments, this one just stands out above the rest. Sorry Didier Drogba.

Gary Neville certainly seemed to enjoy it on commentary...
5.

Gareth Bale - super sub (2018)
There has been plenty of debate over whether Gareth Bale or Zinedine Zidane (in 2002 against Bayer Leverkusen) can boast about scoring the best goal in Champions League final history.

Regardless of which side of the argument you fall on we can at least agree that only one happened in the past decade, so it's Bale who makes the list.
4.

"Corner taken quickly... ORIGIIIIIII!" (2019)
The archetypal: "one of those European nights at Liverpool."

Divock Origi's early opener gave the Reds hope but the real drama came during a truly bonkers two second-half minutes when Georginio Wijnaldum netted twice to level things up.

You know what came next.
3.

Lucas Moura scores sends Tottenham to the final (2019)
Tottenham so nearly messed up a once-in-a-lifetime opportunity to reach a Champions League final in 2019, losing the home leg of their semi-final tie against Ajax 1-0 before shipping two more goals in the return game before half-time.

Fortunately for them, Lucas Moura did not fancy spending the rest of his life wondering about what might have been.

The Brazilian notched two quickfire strikes just before the hour mark and then, in the very final seconds of second-half injury time, he grabbed a winner. A truly ridiculous series of events.
2.

Sergio Ramos breaks Atletico hearts (2014)
We think he enjoyed that one / Shaun Botterill/GettyImages
It is rare to get a cross-city derby in the Champions League final, but we were treated to two during the past decade.

In the first tussle between Real and Atletico, Sergio Ramos left it very late to send the game to extra time. If not for his 93rd minute leveller, Atleti would have toasted their first-ever Champions League.

Instead, Real went on to finally claim La Decima in extra time.
1.

La Remontada (2017)
Prior to that night in Barcelona no team had ever overturned a 4-0 deficit in the second leg of any Champions League.

Barcelona managed it - even if Luis Suarez did dive for their fifth goal - with Sergi Roberto's 95th strike capping off a impossible evening of football.

Enjoy the highlights.
---
For more from Matt O'Connor-Simpson, follow him on Twitter!