Chelsea
Thomas Tuchel unconcerned by Callum Hudson-Odoi's England snub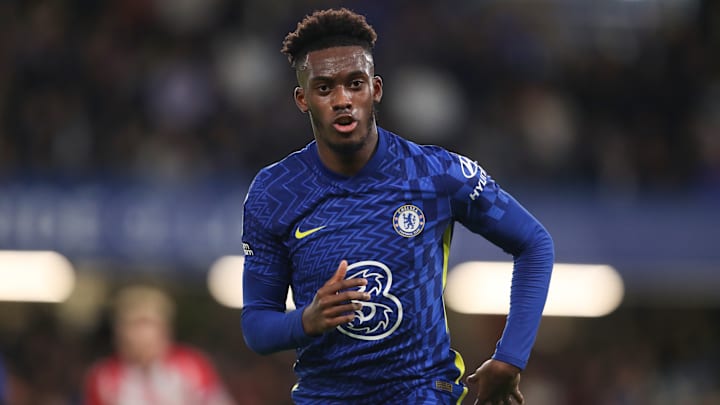 Hudson-Odoi is out of the England setup / James Williamson - AMA/GettyImages
Chelsea boss Thomas Tuchel has admitted he is looking forward to spending more time working with winger Callum Hudson-Odoi, after the youngster rejected another invitation to the England Under-21 squad.
Hudson-Odoi hasn't represented his country at any level since November 2020 after rejecting multiple call-ups to the Under-21 setup, with Gareth Southgate recently confirming that the 20-year-old has chosen to stay and work with his club instead of jetting off with the Three Lions.
It's a decision which has attracted a lot of criticism for the forward, who is eligible to switch his international allegiance to Ghana before he makes one more appearance for England, but Tuchel confessed he is doing his best to stay out of the whole thing.
"I did not get involved in this discussion," Tuchel told the media. "I know it's been a discussion between the federation and Callum and if I am right, it ended up with Petr Cech being in discussion with the federation. I was happy about that.
"I've no interest to get involved and to know the exact reasons. If Callum is here, we have full control over what he is doing, his load, his focus, and his approach to his game. So it's also a good thing when we are in charge of him.
"He is clearly in the right way, you can see in the matches and how effective he is. I feel him very focused. He waited a long time for these chances and now they've arrived. The best reaction from him is to show the consistency we need at the moment for him. He is in a good way."
However, despite his wish not to get involved, Tuchel did take the chance to reject criticism from Trevor Sinclair, who told talkSPORT that he believes Hudson-Odoi's choice to snub the England call-up was down to 'arrogance'.
"I can understand if people don't understand it or if they don't like it," Tuchel said. "I don't give too much about judgements outside.
"First of all, I don't read them and I hear them when you mention them. I think Callum is very aware that if he takes a decision like this not everybody will be happy about this decision. But you should ask Callum and he will probably have good reasons why he is not joining or why he thinks personally it is better to stay and to be here in training and fight for his place.
"It is easy to judge from outside. You should hear both sides if you want this case to be solved. I am not involved and I am happy because I do not think it is necessary that I get involved. I'm not here to convince players to join where they don't generally feel that they want to join.
"So we do the best out of this situation and if there are consequences I am sure Callum takes the consequences because he is a young adult and that's it."