The Oldest Football Stadiums in the World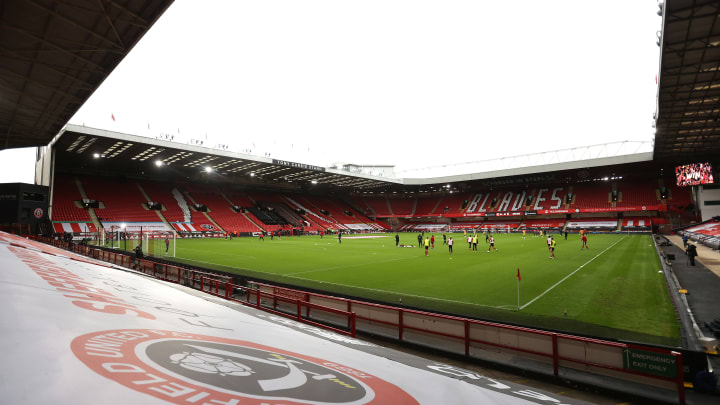 Sheffield United's Bramall Lane was built in 1855 / Pool/Getty Images
Football stadiums... when will we meet again? It seems like a lifetime since we were last allowed to visit these spiritual homes. Although, it's comforting to know many have been standing for well over 100 years and will (probably) still be around when all of this is finally over.
The newest and shiniest stadiums across the world are well documented from Bayern Munich's colour changing Allianz Arena to Tottenham's innovative - in design if not in name - Tottenham Hotspur Stadium - but what about the oldest ones?
Luckily if these historic arenas are more your thing, 90min have compiled a list for you to add to your 'places to visit' pile once the world is back to normal.
---
10.

Portman Road
Ipswich Town's Portman Road has been home to the Tractor boys since 1884 / James Baylis - AMA/Getty Images
Built: 1884

Ipswich Town moved from Broomhill Park to Portman Road in 1884 and have played there ever since.

The stadium underwent significant development in the early 2000s, which increased its capacity to 30,311. It was rewarded - in a roundabout way - by hosting its first, and to date only, senior international friendly in 2003 when England hosted Croatia.
---
9.

Anfield
Anfield is home to the current Premier League champions / Chloe Knott - Danehouse/Getty Images
Built: 1884

Some people may be unaware that Liverpool's famous stadium was actually originally home to their fiercest rivals Everton for the first seven years of its existence.

A dispute with the club president saw the Toffees move just a few hundred metres away and settle into Goodison Park, and a year later, the Reds were born.

How different the footballing landscape would be if people could just get along, eh?
---
8.

Turf Moor
Turf Moor has been Burnley's home since 1883 / JON SUPER/Getty Images
Built: 1883

Burnley have played at Turf Moor since 1883, just a year after the club was founded.

The stadium was originally a cricket ground before the football club took ownership and was even the first senior football ground to be visited by a member of the Royal Family when Prince Albert Victor attended a match between Burnley and Bolton Wanderers in October 1886.
---
7.

Ewood Park
Ewood Park saw Blackburn lift the Premier League trophy in 1995 / ANDREW YATES/Getty Images
Built: 1882

Burnley's Lancashire rivals Blackburn Rovers have been calling Ewood Park home since 1890, but the grand old stadium had been hosting football, athletics and greyhound racing from 1882.

Rovers lifted their only Premier League trophy in 1994/95 after Jack Walker had invested heavily on and off the pitch resulting in Ewood Park now having a stand named after the former owner.
---
6.

Deepdale
Deepdale was home to the first English Football League title winning team / Athena Pictures/Getty Images
Built: 1878

Deepdale, home of Preston North End, is widely recognised as being the oldest continuously used football stadium in the world for a professional side.

Preston were a founding member of the Football League in 1888, and in the inaugural 1888/89 season they won both the league title and the FA Cup. They were the first team to achieve the domestic double in English football and are remembered as the original 'Invincibles' after going the entire campaign unbeaten.

So if you want a stadium steeped in history, there's surely no better place to go.
---
5.

Rodney Parade
Rodney Parade recently hosted Tottenham Hotspur in the FA Cup / Michael Steele/Getty Images
Built: 1877

Rodney Parade is home to Newport County Football Club and two local rugby sides - not always a perfect situation when trying to play the beautiful game in the modern era.

The Exiles have only been playing at Rodney Parade since 2012, but the ground has a long and illustrious rugby history, having played host to the likes of New Zealand and South Africa in the past.
---
4.

Stamford Bridge
Chelsea have put plans to move away from Stamford Bridge on hold / GLYN KIRK/Getty Images
Built: 1877

Commonly known as the Bridge', Chelsea Football Club have occupied their current home since 1905.

In that time, there have been major developments in order to get it into the state it is in now, and the club struggled for many years to finish renovations due to financial restraints.

The club had plans to leave their historic home in recent years before suggestions of further expansions were muted. Neither has come to fruition so far, so you may still have a chance to witness football in this famous ground yet.
---
3.

Tannadice Park
Dundee United's home is only 180m away from their city rivals stadium / Paul Thomas/Getty Images
Built: 1870

Dundee United have been playing at this famous old stadium since 1909.

It is located just 180 metres from city rivals Dundee Football Club's stadium, Dens Park. The two grounds are the closest senior football stadiums in the UK.
---
2.

Field Mill Stadium
Field Mill Stadium is home to Mansfield Town / LINDSEY PARNABY/Getty Images
Built: 1861

Field Mill Stadium is home to Mansfield Town in Nottinghamshire. It's currently the oldest ground in the English Football League and has been the home of the Stags since 1919.

The historic arena has witnessed many grand events throughout its time, but arguable none as notable as when Westlife brought their 'Where We Are Now' Tour to the ground in 2010. The event was such a success that when the previous owner sold the stadium two years later - a clause preventing use for non-sports events was inserted lasting until 2032.
---
1.

Bramall Lane
Sheffield United's Bramall Lane is the oldest stadium in the world / Laurence Griffiths/Getty Images
Built: 1855

Originally used as a cricket ground and occasional home to Sheffield Wednesday and Sheffield F.C., Bramall Lane became the exclusive home of Sheffield United in 1889.

A record attendance for the ground was set in 1936 after the Blades hosted Yorkshire rivals Leeds United in the FA Cup. 68,287 people witnessed the fifth-round tie on the day but the ground, much like most in England, was extensively renovated in the wake of the Taylor Report, and now has an all-seated capacity of 32,050.

They are currently no plans for Sheffield United to move out of their spiritual home, so making a trip to south Yorkshire is a 'must do' with time on its side.
---