The Most Chaotic Penalty Shootouts of All Time - Ranked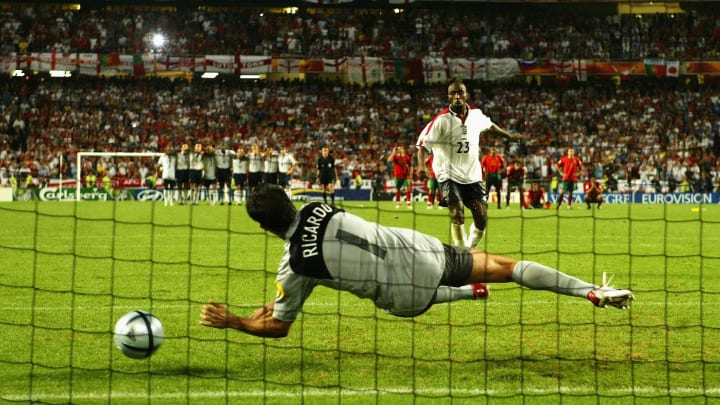 One of the most iconic penalty saves of all time / Shaun Botterill/Getty Images
Who doesn't love a penalty shootout?
Anyone who has ever been involved in one, that's who.
For the neutral, it's a delight. Drama and unpredictability normally followed by limbs of the highest order. It's what football is all about.
For those with a horse in the race, however, it's a waking nightmare. Just ask fans of Orlando City or New York City FC, who were recently subjected to this.
It got us thinking, though...what are the most insane penalty shootouts we've ever seen?
---
8.

Serbia vs Scotland (2020)
OK, so compared to some of the others here, this one wasn't that chaotic. But it did end Scotland's 22-year wait for a major finals, and sent a 70s disco hit back to the top of the charts, so what do you want from me?

Scotland and Serbia, it turns out, are both very good at penalties. The one player in either camp that you would definitely bet on to convert, however, was the one who missed. Poor Aleksandar Mitrovic.

The look on David Marshall's face when the referee gave him the signal that all was good will live long in the memory, as will the various videos of the players living it up in the dressing room.

What a time to be alive.
---
7.

Czechoslovakia vs West Germany (1976)
The term Panenka didn't just appear out of thin air. It's named after former Czech international Antonin Panenka, who revolutionised the art of the penalty kick with the winning kick in the final of the 1976 European Championship.

Czechoslovakia were clinical in the shootout, and after Uli Hoeness missed the Germans' fourth effort, it was all down to Panenka.

When he stepped up and sold out Sepp Maier with a borderline offensive dink, he probably didn't expect his name to outlive his country's historic success, but he'll take it
---
6.

Manchester United vs Chelsea (2008)
John Terry falling on his arse at the decisive moment and sending his penalty crashing wide off the post. What's not to love?

A 7-6 blockbuster was eventually brought to an end when a rain-drenched Edwin van der Sar got down to stop Nicolas Anelka's kick and end an all-English Champions League final in the only fitting manner.
---
5.

Portugal vs England (2004)
Has there ever been a more chaotic sequence of events than Darius Vassell stepping up to save David Beckham's blushes, only for the keeper to remove his gloves, save his spot-kick without them, and then bury the winning kick himself?

Portugal vs England in 2004 is one of the most memorable matches in the European Championship's modern history, mostly for all the wrong reasons, but also for Ricardo being an absolute unhinged maniac and sending his side to the semi-finals.

"I felt that I had to do something after conceding three penalties all in the centre of the goal," the keeper later admitted. "Taking the gloves off was what occurred to me at that moment and I did it to try and motivate myself and to put Vassell off."

Not following the logic there, but there was evidently method to his madness.
---
4.

Macclesfield vs Forest Green (2001)
Remember Rickie Lambert? And how he was a penalty specialist?

Yeah, that wasn't always the case.

Once upon a time, the Liverpool hero was no more than an emerging youngster at Macclesfield, and saw his penalty saved in a shootout that stood for 18 years as the longest in FA Cup history.

11-10 it finished, with Lambert's side eventually progressing.

We couldn't find any footage of the shootout, so enjoy Lambert's 40-yard thump instead,
---
3.

KK Palace vs. FC Civics Windhoek (2005)
It wouldn't be a list of the most chaotic penalty shootouts ever, without the Guinness World Record holder for 'longest penalty shootout', would it?

The Namibian Cup isn't the most prestigious of world footballing competitions, but KK Palace's record-shattering shootout with Civics lasted for 48 kicks. More than any other shootout on record, ever.

Six players were onto their third kick by the end of a sequence that lasted longer than a half of football itself.

Chaos.
---
2.

Rio Ave vs AC Milan (2020)
Who would want Rio Aves' luck?

It looked as if a slog-fest of a shootout was finally nearing an end when, after 16 consecutive successful penalties had been scored, Lorenzo Colombo finally missed.

Up steps Nelson Monte to send Rio Ave to the Europa League group stage and...it hits both posts but stays out.

BLOODY HELL!

Both keepers would blaze their kicks over the bar before Gianluigi Donnarumma finally made a save that counted to send Milan through by the skin of their teeth.

---
1.

Ludogorets vs Steaua Bucharest (2015)
Champions League qualification for the first time in your history hangs in the balance, but your keeper has gone and got himself sent off with a minute to play of extra time, and you've no subs left.

You probably don't fancy yourself in the resulting shootout, do you?

Not unless you've got Cosmin Moti on your team, anyway. Donning the gloves, the big defender converted the first spot kick, and then saved two of Steaua's to write himself into Romanian football history.
---