The Switch
The history of adidas at the European Championships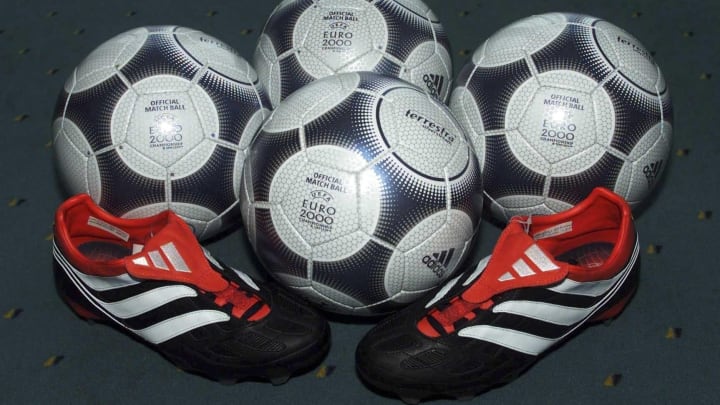 adidas and the Euros have a rich mutual history / Alessandro Sabattini/Getty Images
One of the most recognisable sports brands out there, adidas is synonymous with all things football these days.
If you're reading this, chances are at least one thing in your wardrobe features the iconic three stripes somewhere on it. Football helped the German brand blossom into the beast it is today, but truthfully, football owes as much to adidas as adidas owes to football.
Here's a deeper look at the history of adidas at the European Championships.
---
Euro 1960
Describing something as a 'gamechanger' is an overused cliché, but in the case of adidas, it could not be more true. The introduction of screw-in studs by adidas founder Adi Dassler almost single-handedly gave the German national team an advantage at the 1954 World Cup, with Die Mannschaft coping better on the rain-sodden pitch than anyone else, and it was at that point that players realised boots weren't just for protecting your foot, but rather for amplifying your game.
Further modifications on Dassler's design, including the introduction of a nylon sole in 1956, saw adidas' popularity grow even further. Athletes went wild for adidas' new designs and they were worn by many at the first European Championship in 1960.
adidas' popularity was quickly spiralling out of control, and they would continue to expand and grow as the years progressed.
---
Euro 1968
In anticipation of the 1968 tournament, adidas opted to try something different. In 1963, work began on the famous Telstar football, which was the first of 13 balls to be used at the Euros over the years.
adidas balls used at the Euros
1968 - Telstar Elast
1972/1976 - Telstar Durlast
1980 - Tango Italia
1984 - Tango Mundial
1988 - Tango Europa
1992 - Etrusco Unico
1996 - Questra Europa
2000 - Terrestra Silverstream
2004 - Roteiro
2008 - Europass
2012 - Tango 12
2016 - Beau Jeu
2020 - Uniforia
---
Euro 1976
adidas took pride of place in 1976 / Getty Images/Getty Images
Despite already sponsoring teams in the years previous, 1976 was the first time that the adidas logo featured in the competition.
The four teams at the finals - West Germany, Netherlands, Czech Republic and Yugoslavia - all rocked the famous three stripes, reinforcing the standpoint that adidas was the brand at the time.
---
Euro 1980
adidas were made to cover up their logos / STAFF/Getty Images
UEFA actually banned the presence of manufacturers logos for the 1980 tournament, but the idea of remaking every team's kit was just not financially viable at the time. They had to come up with an alternative.
The decision? To cover the logos with masking tape.
It didn't do a lot to take the attention away from adidas, who were laughing as West Germany lifted the trophy with the three stripes down their sleeves. It might not have said 'adidas', but we all knew.
---
Euro 1984-88
adidas went in on their kits / Alessandro Sabattini/Getty Images
Now permitted to have their logos showing again, adidas went hard during the 1980s.
Some of the game's all-time greatest kits came out for these tournaments. From 1984, France, Belgium, Germany and Portugal brought some fire, but 1988 somehow managed to outdo them.
Germany and Spain were among the best on show that year, but they don't come better than the 1988 Netherlands kit. It may well be the best shirt ever made.
1984 was also the first tournament that saw players sporting the iconic Copa Mundial boots, which had been designed specifically for the World Cup in Spain two years earlier. To date, no boot has been more popular.
---
Euro 1992
Sweden's beauty of a kit / Simon Bruty/Getty Images
This Sweden kit. That is all.
---
Euro 2004
Greece sent the world into a frenzy / Milos Bicanski/Getty Images
Greece? Greece?
Rocking a tidy little adidas number, the Greeks stunned the continent (and the wider world) when they came out on top against big teams like France and Portugal en route to winning Euro 2004.
2004 was the birth of the brand's famous Impossible Is Nothing slogan, and a Greek victory this summer was the perfect way to embody that.
---
Euro 2008
Torres bagged Spain's winner / Alex Livesey/Getty Images
2008 saw players sporting a number of different adidas boots. The F50.8 TUNiT came out that year, but players were still loving the Predators which had come out a few years earlier. They were everywhere.
We got an all-adidas final between Spain and Germany, both of whom were rocking some glorious kits. In the end, it was Fernando Torres who fired home in the first half to bring Spain their first title since 1964.
---
Euro 2016
adidas went wild with their Beau Jeu / Matthew Ashton - AMA/Getty Images
After a few years of quietly sponsoring Spain to dominance, adidas chose to step up their ball game too. We got the Beau Jeu for this one, and the science behind it was wild.
18 months of extensive testing brought us a ball that was thermally bonded together, with the absence of seams allowing for a smoother, more-reliable strike. It also reduced water uptake by almost 20%.
That witchcraft was also used to create the famous ACE16 boots, which helped propel wearers like Paul Pogba and Mesut Ozil to some stunning performances.
---
Euro 2020
adidas have been busy in the build-up to Euro 2020.
Among their finest releases for the tournament are home shirts for Germany, Belgium and Russia, although the latter needed a few tweaks after their sleeves ended up looking like Serbian flags by mistake.
There will be a lot of adidas boots on show this summer, but one design to keep an eye out for is the Copa Mundial Primeknit - a modern twist on one of the game's greatest-ever designs.
---